Ready to hit the water? Then this article is going to accelerate your boating adventures on Big Bear. And you would be glad to know that there are a bunch of paddleboards, kayaks, and boat rentals in Big Bear Lake that offer some great ways to enjoy the stunning lakes and waterways. With miles of coastline and waterways to explore, there's something for everyone.
From calm lakeside bays to whitewater rivers and canyons, renting a boat is the perfect way to spend a day in Big Bear. Overall, Big Bear is a great place to rent any boat, including kayak and canoe, paddleboard, along with others.
In short, there are a good number of companies that provide paddleboard, kayak, and boat rentals in Big Bear Lake. If you're looking for a way to enjoy the lakefront without having to worry about your own transportation, renting a paddleboard, kayak, or boat is a great option.
---
And depending on the weather and the season, there are a number of spots in Big Bear Lake that offer some good fishing. In the summer, there is largemouth bass can be found in the larger bays of the lake. These fish are best caught on drop-shot rigs, Texas rigs with Senkos, and Ned riggers with Z-Man worms.
These fish are often aggressive, so keep an eye out for them. You can have a look at bass fishing do's and don'ts from here.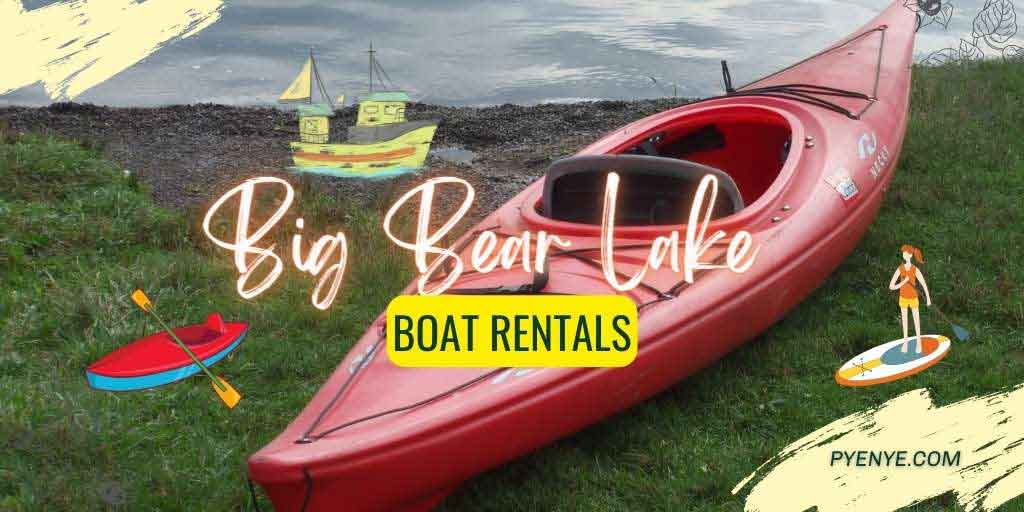 Top 7 Paddle Board, Kayak And Boat Rentals In Big Bear
When visiting Big Bear, you'll want to take advantage of the many watercraft rentals available. The choices are endless. You can rent a jet ski or a pontoon boat or even go on a paddle-boat tour. There are also lessons for kids and adults, and you can even rent kayaks.
There are some great options for families, so you can enjoy the beautiful scenery together. In addition to boats, you can also rent paddleboards, kayaks, or pedal boats.
Here are all the top paddleboard, kayak, and boat rentals in the Big Bear;
Northshore Landing Kayak & Boat Rental
Kayaks and personal watercraft are available for rent at Northshore Landing. You can also rent boat slips and take wakeboarding lessons there. You can take a waterski ride or wakeboard lesson on the Time Bandit Pirate Ship that leaves from Holloway's Marina & RV Park. It takes you out onto Big Bear Lake and back. It's a fun way to spend the day.
With many choices to select from, there's sure to be something ideal for your next outing! There are many different types of boats offered for rent at Northshore Landing, including pontoon boats, power boats, and ski boats.
Captain John's Fawn Harbor & Marina
Captain John's Fawn Harbor & Marina is the perfect place to kayak in Big Bear Lake. Located right on the lake, Captain John's Fawn Harbor & Marina is the perfect place to rent a paddleboard or kayak. This marina has everything you need for a fun day on the lake. They have kayaks and paddle boards available for rent and can also arrange a boat tour.
They offer kayaks, paddles, and life vests for rental at very reasonable rates. The kayaks are stable and easy to maneuver, making them perfect for beginner kayakers. There are plenty of beaches and coves to explore on the lake, and Captain John's Fawn Harbor & Marina makes the perfect basecamp from which to explore.
There's nothing better than catching some fish on a fishing charter in Big Bear. Captain John's Fawn Harbor & Marina has a fishing charter with a 20-year veteran who can show you all the best spots on Big Bear Lake. Guests are encouraged to use tricks they've learned from their professional experiences and wait for the bite.
The marina captains have years of experience teaching beginners and veteran paddlers alike. They also offer paddle fit courses for newbies to help improve their skills.
Pleasure Point Marina
You might want to try the Pleasure Point Marina Paddle Board rental services if you're planning a trip to Big Bear. Located at 603 Landlock Landing, the Pleasure Point Marina is home to a variety of boats, kayaks, fishing boats, and paddle boards.
The rentals include motorboats, paddle boards, fishing boats, 2-person electric boats, wave runners, and even standup paddleboards and pedal boats. There's everything you need to get started, whether you're fishing for a few hours or eight hours.
Boat and kayak rentals, as well as slips and lake permits, are all available in this marina. They also have standup paddle boards, fishing boats, and pontoon boats available for rent. Additionally, Pleasure Point Marina sells fishing licenses and offers free 2-hour kayak rentals for up to eight people. You can also rent motorboats at Pleasure Point Marina and enjoy the scenic Big Bear Lake with your family.
Paddles and Pedals Boat Rentals At Big Bear
If you're in the mood for a fun and exciting water adventure, Paddles and Pedals can help you get in the water and experience the thrill of paddling. Their service includes kayaks, pedal boats, standup paddle boards, and other boat rentals in Big Bear Lake. The shop is located on the Northern shore of Big Bear Lake, near the Discovery Center. There's also a beach nearby. The staff is friendly, and they offer lessons and advice.
As Paddles and Pedals are in the San Bernardino National Forest, you'll be able to see wildlife on the water as well as tall pine trees and snow-capped mountains. You can also try out some snowshoeing tours while you're at it!
Whether you're looking for a relaxing day with the family or a fun outdoor activity with your friends, Paddles and Pedals can help you find it.
Big Bear Marina
When it comes to boat rentals in Big Bear Lake, one of the best places to find one is at the Big Bear Marina. There, you can rent everything from fishing boats to pontoons. There are even rentals for water play equipment. Aside from the boats, you can also rent water bikes, jet skis, and even jet skis. All of these options are convenient for a relaxing day on the water.
The Big Bear Marina boat rentals have a variety of water sports you can do on your vacation. Water bikes, kayaks, standup paddleboards, and more are available for rent in the area. Besides offering a variety of services related to water sports, the marina also has fuel services, boat launches, and slips for rent. It's a good way to enjoy the lake and the area.
In short, the marina features an extensive rental fleet that includes fishing boats, pontoon boats, standup paddle boards, kayaks, and more. You can rent various water sports here or just enjoy the marina's outdoor barbecue and picnic area. The marina is located close to Big Bear Lake, so you can enjoy the area while renting your kayak. You can even rent standup paddleboards and kayaks for a romantic evening.
Bear Valley Stand Up Paddle Board Rental
At Bear Valley SUP, you can find different types of kayaks, canoes, paddleboards, as well as other boats for rent on Big Bear Lake, California. The company is located at 506 Knickerbocker Rd. It is listed under the canoe and kayak store category. There are 0 reviews for Bear Valley Standup Paddle Board. The average rating for this business is stars.
For a relaxing paddling experience on Bear Lake, sit-on-top kayaks are the best choice. If you prefer a more challenging paddle, a sit-in kayak is your best option. Both options are accessible from Rendezvous State Beach. However, you can have a look at the sit-in vs sit-on kayak comparison from here.
Miss Liberty
If you're looking for a fun way to spend your vacation day, consider booking a ride on Miss Liberty Paddle Board rentals. Located on Big Bear Lake, the boat is the perfect choice for parties, corporate events, or private events. With a comfortable interior and a spacious upper deck, the Miss Liberty can accommodate up to 125 passengers.
In addition to Paddle Board rentals, they also provide watersports activities such as jet skiing and standup paddle boarding. Wakeboarding is also available if you'd like to add a little excitement to your vacation.
The Miss Liberty paddlewheel tour boat takes you around Big Bear Lake for an hour and a half. While the captain tells stories about the lake and the area, you'll learn more about its history. You'll even have an opportunity to see local celebrities!
Get Boards Boat Rentals On Big Bear Lake
Get Boards at Big Bear is another place to go if you want to enjoy a full day of water sports. Not only do they rent kayaks, standup paddleboards, bikes, and skis, but they also offer discounted cabin rentals. Get Boards even provide you with maps and free maps of the surrounding area.
They offer rentals at two locations – Veterans Park and Boulder Bay Park – and they are both rights on the water. Veterans Park provides an assisted launch from a private dock. Boulder Bay Park offers a self-launch experience. In addition, they will deliver your kayak rental right to your Big Bear Lakefront Cabin.
Veterans Park Kayak & SUP Rentals
Another option for boat rentals in Big Bear is the Veterans Park Marina. They offer a variety of rentals, including a variety of sizes and styles. These outfitters are located near the Big Bear Dam. In addition to providing rental kayaks, this location also offers lake permits and fishing licenses.
And if you're staying in Big Bear, you'll want to rent a paddleboard as well. This is a great way to see the scenery and wildlife while paddling in Big Bear.
Fishing Charters In Big Bear
Big Bear is a popular destination for fishing, and with good reason. The lake here is stocked with a variety of fish, from bass to trout. If you're looking for a fishing adventure without leaving the comfort of your own home, renting a fishing boat is an option that can't be beaten!
Big Bear Lake has plenty of spots for fishing, but the North Shore is the most popular area for shore fishermen. Juniper Point is located just west of the East Boat Ramp, and Boulder Bay Park has a fishing dock for families. Another good location to fish is the Stanfield Road cutoff point.
Prices range from around $500 per day to $5,000 per day, depending on the size and type of boat. It's important to remember that not all boats are available for rent at all times, so it's best to check the calendar before making a reservation.
It is important to consider the type of fishing you want to do before renting a fishing charter. If you are looking for a romantic evening out on the water, then renting a boat from a private company may be the best option for you.
No matter what your preference, you're sure to find the perfect rental option here. Just be prepared to spend some time on the water, as fishing in Big Bear is a full-time pursuit.
Big Bear Speed Boat Rentals
There are several speed boat rentals at Big Bear Lake that offer a unique opportunity to experience the thrill of speed on a luxury vessel.
Pine Knot Marina, Big Bear Marina, and Holloway's Marina are some of the top-speed boat rentals in Big Bear. These companies offer a variety of options, including both personal watercraft (PWC) and powerboat rentals.
PWC rentals typically offer shorter rental periods and are perfect for fishermen or recreational boaters who only need to use the boats for a few hours at a time. Powerboat rentals, on the other hand, can be rented for longer periods of time and are often more accommodating for larger groups.
With speeds reaching up to 50 mph, guests can cruise through the clear waters of Big Bear Lake at their leisure.
Whether taking in the breathtaking beauty of the lake or enjoying some exhilarating racing, Big Bear Speed Boat Rentals provides an unforgettable experience.
Big Bear Boat Launch
If you're planning a day on the lake and are wondering where to launch your boat, you've come to the right place. The Big Bear Municipal Water District has public boat launches on the east and west sides of the lake.
The east ramp, known as the Carol Morrison Public Boat Launch, is located near the Stanfield Cutoff, which separates the lake from the Stanfield Marsh Waterfowl Preserve. You'll also pass Juniper Point, Lighthouse Trailer Resort and Marina, Solar Observatory, and Captain John's Marina in Grout Bay. You'll also pass the Meadows Edge Picnic Area and the Alpine Pedestal Path, and the Discovery Center, which is nearby.
Lastly, there are a lot of outdoor activities to keep everyone busy in Big Bear, whether you're looking for fun or competition. From water sports to winter sports, there's something for everyone. Kayaking in the Big Bear requires physical strength and a strong desire to explore water-bound worlds. And the boat rentals in Big Bear Lake offer a lot of water activities. So come on out and try kayaking this summer! You won't be disappointed.