Kayaking with your kid is an amazing adventure. Life is about exploring, adventure, and enjoying every moment. But in this tightly scheduled life, it's really difficult to manage time to explore the beauty of nature. And kids kayaking offers them all!
However, kayaking with a kid provides a bunch of benefits. Moreover, kayaking is not only adventurous and entertaining but also increases practical sense. And helps to keep body fit.
Kayaking with your kid is not only adventurous but also has an impact on the development of your kid. Excellent natural beauty, superb weather as well as the atmosphere help kids overcome their tiredness, depression, and daily moans of life. Kayaking is the exercise of an exhaustive body. Kayaking with kids also strengthens the relationship between kids and parents!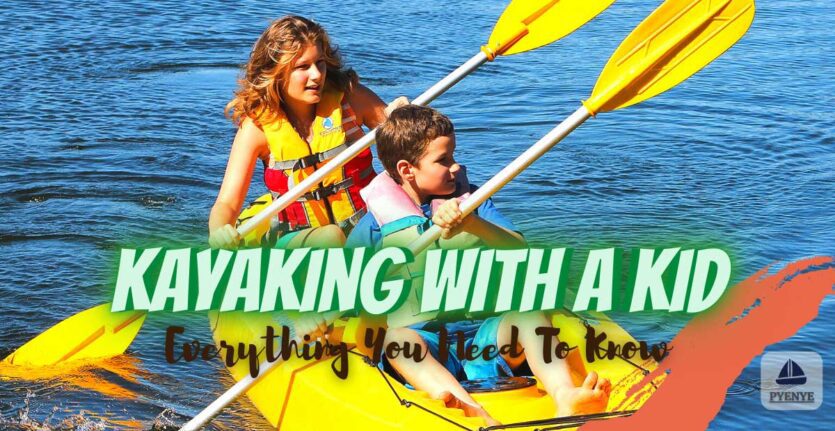 It's a great way to surpass the depression and conquer the water world. Taking new challenges and risks, overcome failure and frustrations are the outcomes of kayaking with a kid.

Team PyeNye
3 Reasons Why You Should Try Kayaking With Your Kid
Kayaking is like living in the Water world. It's full of new adventures, new weather, new challenges, and learning new skills. These things will make your kid love kayaking. Besides, it will also be a magnificent experience.
Therefore, kayaking with your kid is a great way to make your kid physically active. You can learn more about kayaking exercises from this article.
Here are the 3 amazing reasons why you should try kayaking with your kid;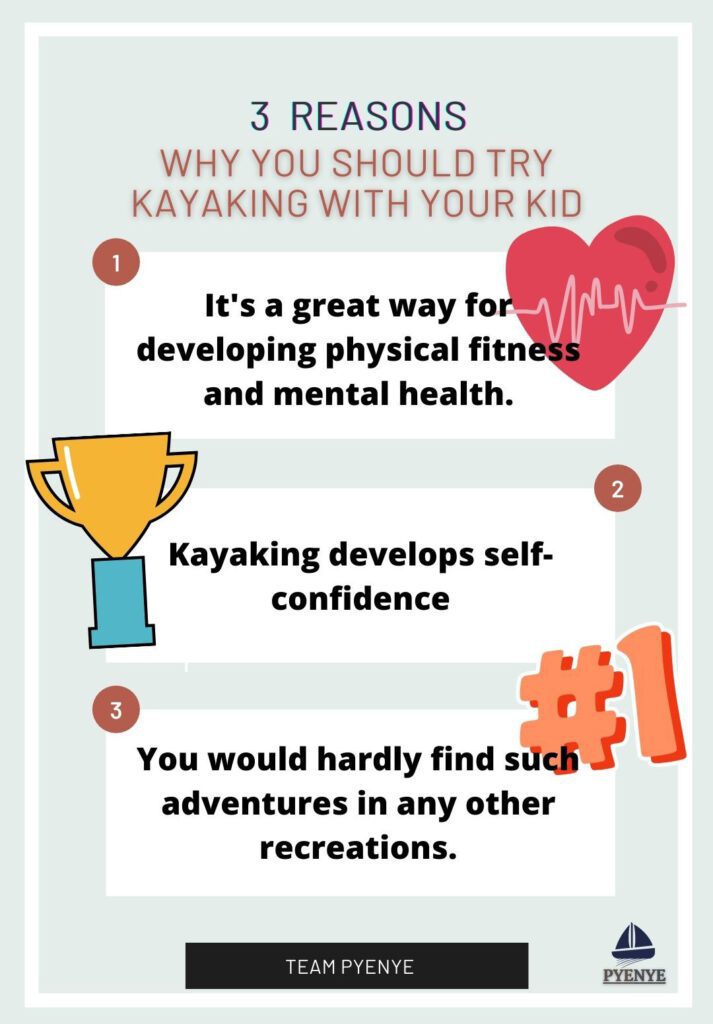 It's a great way for developing physical fitness and mental health.
Kayaking develops self-confidence
You would hardly find such adventures in any other recreations.
Kayaking increases stamina level. Above all, it helps the core muscles, abdominal and lower backs of the body, gives the body more strength, and develops the energy level up to 15%.
However, we've explained the benefits of kayaking with your kid later in this article.
Basic Regulations For Kayaking With Your Kid
As a parent, you need to follow the do's and don'ts before going kayaking with your kid.
Above all, kayaking is an exercise of a full body. It requires continuous paddling, hand-eye combination. Kids, as well as beginners, have not that much patience nor stamina level of kayaking spontaneously.
Balancing is an important factor in kayaking. It can be a difficult task for kids to balance, control a kayak. However, you can learn more about how hard is kayaking from this blog post.
PFDs or life jackets are the most important out of all kinds of stuff. Even if your kids have a lot of experience with water, never underestimate safety issues. Bring PFDs for every single person going on the trip.
Don't give them a driver's seat especially when they are on their first kayaking trip. Having no experience of paddling may impact their mind badly. Don't peddle them more than their physical ability limit.
Avoid alcohol and drugs on a kayaking tour with kid. It'll not only distract the mind but also hamper the physical development of kids. Taking alcohol, drugs are also a crime and punishable action on a kayaking journey.
Don't permit your kids to kayak alone. Having no paddling skills, no experience is a highly risky action on the water. You can have a look at the complete kayaking safety regulation from here.
Avoid unnecessary risks or adventures. Kayaking is a funny and entertaining as well as instructive action to spend quality time with family. So taking risks and bringing dangers is an act of stupidity.
Taking rest at times is also momentous duty if you are kayaking with beginners. It'll also help in hydration, gaining energy, and also relax their body and mind from feeling bored and restless on continuous paddling.
7 Guidelines For Kayaking With Kids
Here we've prepared a list of 7 ultimate guidelines so that you can get the best form kayaking with your kid. Have a look;
Plan your trip well
First of all, you need to seek out the right weather condition for kayaking. Then you have to look for your kayak.
Kayaks come in a large range of sizes and shapes. You can also rent a kayak, it'll save you money. Pick a suitable kayak for you and your kids. Our article on kayaking as an exercise shows how kayaking helps our body muscles.
Then find out a suitable place for you and your kids for kayaking depending on the level of experience and skills. You can take advice from your kids, it will help you sort out the best location for the trip also will make your kids feel great to be able to participate in the planning. Choose the apparel lightweight and brightly colored.
In this case, wetsuits are recommended as you and your kids will stay a long time on the water. Here are the guidelines on what you should wear on kayaking trips. Bring the perfect paddle, Life jackets for every single person going on the trip, hats. As for safety issues, first aid kits are also important for kayaking. Bring snacks that are healthy, easy to eat, energetic, and dry foods like –cookies. Also, fetch a gallon of water to be hydrated.
Keeping the map of the location is an important part of the journey because it will help you if you lost the way to return or find out where the washroom could be. Keep eyes on your kids as they are a novice on water. Kayaking is an adventurous and entertaining trip. Kids may get excited finding out mysteries of natural beauties, feel crazy when they see birds fly, fish under the water, mountains or hills next to rivers, or kayaking in the bay area.
It'll be more pleasing when they will learn to angle. Fishing is a very hobbyist act. In leisure time kids love fishing, it gives pleasure. Kayaking introduces kids to fishing and improvises their skill of fishing.
Try kayaking in the calm water first
Kayaking in calm water is amazing. Especially when you are kayaking with your kids. For beginners, kids who are not afloat with kayaking, clam water is the best option. However, you can also try freshwater kayaking.
Calm nature, fabulous sceneries gives pleasure at the same time helps novices to learn and develop their skills of paddling, balance the kayak, dos, and don'ts in kayaking trips, learn different types of paddling strategies, swimming, fishing puts marvelous experience and adventure in their annoying hustle and bustle of life.
Besides, kayak racing advances them into the next level of kayaking. However, it's a great way for kids to spend quality time outdoors with their parents out of their electronic world. Calm water kayaking indicates kayaking in the rivers, lakes, etc.
But in hostile weather, rainy, acute/furious tides flow it's difficult to paddle especially for beginners like kids who never experienced these circumstances on water.
Kayaking in calm water beneath the magnificent hills, the tremendous glory of the environment brings serenity to their mind. Capture such moments on camera, they will not want to forget.
Go with the basics while you are kayaking with your kid
Kayaking is venturesome as well as recreational activity outdoors. Kayaking is an aerobic sport on the water. Thereby, it might seem risky and dangerous for beginners.
Simple Kayaking basics For Kids
Kayak: You can buy or rent a kayak from dealers or shops. Kayaks are available according to seat capacity, weight capacity, also age, and adventure levels. However, a canoe is the best choice for kids under 7 as they can't take steps on propulsion. Here are the comparison on kayaking vs canoeing. For adults on a family trip, a large kayak is a right selection. Make sure you go through the kayak buying guide, before buying it!
Paddles: Paddles come with a huge range with different categories by experience, ability, ages, and sizes. Paddles should be a lightweight, strong shaft with comfortable, high-performing blades. kids who are 5feet tall should pick a 2m paddle, 4feet kids should try paddles between 1.8-2m, and under 4 feet need to avoid longer paddles than 1.8m. Here are the guidelines on kayak paddles float.
Clothes: Wear normal or sports apparels which brightly colored and lightweight, avoid fabrics like cotton which absorbs water remain wet
Foods: Dry and mild snacks are recommended on kayaking. Continuous paddling in sunlight causes dehydration. So bringing energetic, hydrating, and simple lightweight foods like cucumber, carrots, apples, cookies is the right choice.
Water plays a vital role in hydration. So bring the water of sufficient amount.
Safety kits: Always put on a life jacket no matter how skilled or experienced you are. Be alert on water, especially with kids. Kids get amazed, delighted by wondering about the environment and forget about the dangers around them. Keep an attentive eye on them. Bring first aid kits like –bandages, germicides, and analgesics in your bag. Here are kayaking safety tips.
Check everything: Despite you have taken adequate precautions, for the final time before the trip checks all items like – kayak, paddles, PFDs, foods, whistles, etc. for a safe journey.
Don't go kayaking with kids in the inappropriate weather conditions
Bad weather -flood, downpour, strong eddies, and wind blow makes a difficult situation for kayaking. And it's pretty disappointing but true that you don't have any regimens over weather conditions. Further, there are man-made inappropriate weather conditions like strong current flow and dams which may cause serious troubles and annul your kayaking adventure in the middle of the journey.
Therefore, you should research well about the weather condition and the condition whereabouts you are going to kayak.
Concentrate on your trip duration
Plan around 45-60 minutes at most. Going outdoor on a kayaking trip with kids is adventurous as well as a great way to spend a fantastic time with family. Paddling continuously for hours may affect adversely both mentally and physically. So be concentrated on the duration of kayaking. Don't spend much time on the water if your kids are inexperienced.
Always keep attentive eyes on them, Kids pass into oblivion by Natural beauties of environment, fishes, wildlife sceneries, water. Shortening the length of time spent on water save kids from getting bored and relax their minds regardless.
Choose the most comfortable kayak for kids kayaking
Since you will kayak with your kid so priorities will shift. Lightweight, easy to paddle, comfort will be salient matters. Choose kayaking according to price, age, ability, skills, and experience. For toddlers canoe or tandem are best. Check the towing system, capacity before buying a kayak.
Sit-on-top kayaks are perfect for kayaking with kid, because it's easy for beginners to control and learned to paddle. Sit-on-top kayaks are not too big, have good balance, and are comfortable.
If your kid is under the age of 3, then a single-person kayak is the right choice. However, consider kayak's weight limit before choosing it.
For 3-8, year kids tandems are perfect as it allows parents steering from back-seat and kids sit in front.
If you are kayaking with your kid who are under 10y, then small single-person kayaks will be a great opportunity for them to explore the journey.
Concentrate on your outfits
Tips For Warm Weather Kayaking With Your Kid:
Kayaking in the warm condition is dreadful! But appropriate outfits can relax you from a condition like this. Kayaking in a sunny day, hot climate the most important part is to stay cool and calm, rescue the body from sun exposure.
Lightweight short or long-sleeved shirts, shorts or sports pants, hats are the best apparels for kayaking in warm weather. Wetsuits are the best choice of outfit for kayaking. Also, put on sunglasses and use sunscreens to protect your eyes from the ultraviolet rays of the sun.
Kids Kayaking In Cold weather
Kayaking in cold weather is a more ticklish task than kayaking in warm conditions. Humidity level goes down so it's difficult to get dried if you get wet. So put extra 2 or 3 layers on the body. But the ultimate way is to wear dry suits.
A cold condition where both air and temperature remain cold can cause hypothermia, fever, and many other diseases. So you need to dress up well to keep your body warm.
3 Tips For Fishing And Kayaking With Your Kid
Kayaking is an adventurous and exploring activity from the daily monotony of life. Moreover, kayaking introduces kids to lives under the water. Kayaking is the perfect way to improvise knowledge about the spiffy world under the water. Also, teach your kid how to fish from a kayak. Kids and fishing go are really difficult to separate. Learn about freshwater kayak fishing from here.
Little ones always love fishing and when they get the chance of fishing they grab the chance without any hesitation. Honestly from the parent's side, it's a great way of fun and adventure with kids at low investment. Kayaking made it a next-level adventure. Nowadays, If kids want to kayak, fishing automatically comes to their minds.
Select Fishing pole: you can buy a good fishing pole for under 50$. Choose a fishing pole respectively to the age of your kids and their experience.be concern about the pole's durability, built-in accessories. Select the fishing pole medium length, lightweight, and strong body. tailwater, Croix travel spinning, Okuma Cedros jig casting, fishing rods are the best types of fishing rods.
(Rig, catch, unhook, throw all are parts of fishing.)
Find out the best place of kayaking with fishing opportunities: Don't go for too long, too far. Select the place cautiously as you are going with your little darlings. Keep an eye out on time, because spending a long time on water may cause serious diseases. Avoid deep seas, rivers for safety issues if you are going kayaking with your kid. You can read our guidelines on whitewater kayaking, bay kayaking, river kayaking for more.
Choose correct weather conditions for kayak fishing: Kids love fishing. So, look for a fishing-friendly weather condition for kayaking with kids. Select favorable weather like – tranquil water flow, low wind flow, calm temperature. Too hot or cool weather is not a proper kayak fishing Condition. Fishes are animals on water, they are cold-blooded creatures. In cool conditions, they exodus the bank of seas, oceans, and rivers.
We highly recommend autumn or spring as the best kayak fishing condition. As the weather remains dime wind flow, clear and calm atmosphere its perfect for kayaking with a kid.
Never compromise with the safety issues
Not going to lie, kayaking means carrying several congenital dangers. Especially when you are kayaking with your kids. Needless to say, kids are always capricious, agile, crazy, and volatile. And it's the instinct of kids, doesn't it?
As a parent, it's a kind of responsibility or challenge for you to protect them from danger. So, not in the world, compromise in safety issues. Here are the complete safety tips for kayaking.
Put them on PFDs with appropriate sized
Dressed up well for spending a long time on the water
Keep your attentive eyes on them
Teach them how to kayak, swim, fishing
Make them learn how to stay cool and calm on the water
Always bring two lines
Bring Float bags, bottles.
Don't hesitate or panicked them, always give them confidence.
Most importantly keep first aid kits on a kayaking trip
Give them knowledge about dangers they might face on water like –getting lost, sharks, or any other wild animals can attack while kayaking.
Many Diseases like – hypothermia, fever, cold water shock, etc. may attack them during the water trips. So teach them how to keep health condition good in these crucial situations.
Benefits Of Kids Kayaking
Kayaking is a great way for developing self-confidence for your kid
Little ones get way to be active on the water at a very early age. Kayaking with kids is an unbelievable approach to get your kids out of the electronic world, Netflix, or video games. Above all, kayaking improves their mentality more exploring also increase their self-confidence. Here, we have compiled a list of 17 benefits of kayaking.
Kayaking coordinates the hand-eye focus combination which is immensely necessary for a child's development. Kayaks also come with paddles so coordinating those paddles' strokes to move kayak helps their accuracy. You can teach your kids types of kayaking like backward for a sharp turn or j-strokes they will figure out the best way.
Kayaking with your kid and other family members will help kids coordinate, timing, figure the best way to paddle, steer kayak, sail, balance kayak, facing problems together, they will automatically learn solving problems. These little things will develop their self-confidence incredibly. Self-esteem plays a vital role in a child's development.
Kids kayaking ensures physical fitness for both of you
As an aerobic sport, kayaking is a good exercise for the whole body. If you paddle for 4mph it will burn 400 calories per hour. The key fact is that in other exercises like running, treadmill we don't enjoy the exercise that much, but kayaking is not the only exercise but also it's really enjoyable and adventurous. If weight loss is one of your goals then the afternoon session is the best time for you.
We know that vitamin D is important for the physical development of kids. Especially for bones, the brain, and gearing up the vital immune system. And kayaking offers that by calling up you in sunlight.
Kayaking is beneficial for the development of the shoulders, arms, chest, leg muscles of you and your kids. The muscles become more toned and stronger.
Kayaking offers to enjoy the beauty of nature and having quality time with your kid
Kayaking with a kid is an excellent way to spend quality time with your family. Refreshes the mind from the daily monotony of life. Kayaking with family and kids develops your relationship and communication with them. Besides, kayaking boosts the relationship with nature closer to kids.
Kayaking is an unstructured play for kids. They can play as they want to and this is what kids are meant for. Paddling in the rivers, seas feeling the fresh air, water, fishing, enjoying amazing sceneries of nature will give you and your kid's spick and span mind as well as relax the body from the electronic and mechanized world. You can also have fun by playing kayak races with your kids.
Kayaking with a kid provides marvelous benefits which play a vital role in both the physical and mental development of kids. Kayaking leads Kids to learn the tremendous way of relaxation and spend quality time with family.
To enjoy perfect outdoor leisure nothing can deliver pleasure as much as kayaking with your kid. Family members especially the Youngers, the kids are always excited to adventure, know the histories, explore the mysteries. Above all, you will fall in love with kids kayaking just after a few sessions!