Kayak buying is not that easy. If you ever stuck buying a kayak, follow this kayak buying guide! There are lots of choices which make it really hard to pick the best one. Therefore, you need to concentrate on a lot of things when you go buy one!
Moreover, there are different types of kayaking, such as; ocean kayaking, river kayaking, whitewater kayaking, flatwater kayaking, etc. Above all, water type and flow are completely different in such waterways. According to these different waterways, there are different suitable kayaks. This is why we need to go through the kayak buying guide.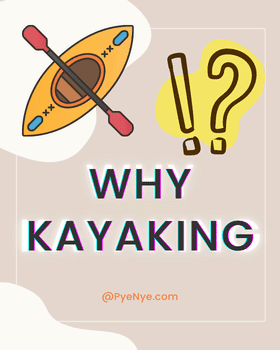 Kayaking has become one of the most popular outdoor adventures of this time. It allows our involvement with water and nature with the purity of the mind. Besides, it improves our aerobic fitness, stamina, flexibility, the strength of our body. Here's the complete instruction on the kayaking exercise.
After a lot of research, we have prepared the kayak buying guide, especially for beginners. Here we include features, materials, along with every other information. The following kayak buying guide will help you choose the perfect kayak for your plan!
Let's begin the kayak buying guide with a common query;
What kayak should a beginner buy?
There are a lot of different types of kayaks in the market. Therefore, anyone can easily get messed up when it comes to buying one. To be frank, you need to buy a kayak according to your plan. If you would like to perform kayaking for recreations then buy a recreational kayak. Recreational kayaks are mainly sit-on-top type kayaks. Besides, you can have a look at the comparison on sit on vs sit-in kayaks.
You can easily enjoy lake or river kayaking, freshwater kayaking, kayaking, and fishing with sit-on recreational kayaks. Moreover, these kayaks are beginners friendly.
How To Buy A Kayak As A beginner?
When you have gone kayaking only a few times, then you should not get overwhelmed to go to sea with the kayak. Therefore, you need to upgrade your experiences and clearly know the techniques.
You also should know how far you can paddle on a sea and when you should turn the kayak. Some specific features are also applicable for sea kayaks. If you maintain all the safety measures and instructions clearly, kayaking on the sea will no longer create any risk for you. Above all, ocean kayaking is fully enjoyable with nature with a pollution-free environment.
We recommend you to know the differences between kayaks vs canoes as well as follow the kayak buying guide first. This will assist you in deciding your purposes for kayaking. Then you would be able to buy the perfect kayak according to your plan!
Decide Where to Kayak Before Buying It
It is necessarily important to decide where you're going to kayak before buying. It actually depends on your experience as well as your interest.
For example, racing kayaks are designed for competitive sports. And it's not friendly for fishing. If you want recreational kayaking, you should measure the fishing friendliness.
On the other hand, you should learn about the ins and outs of different water kayaking. Features and advantages are important in kayak buying.
For example, if you love kayaking on the high flow of water and are comfortable with it, choose ocean kayaks. As ocean kayaks are designed for high water flow. Here is our guideline on bay kayaking.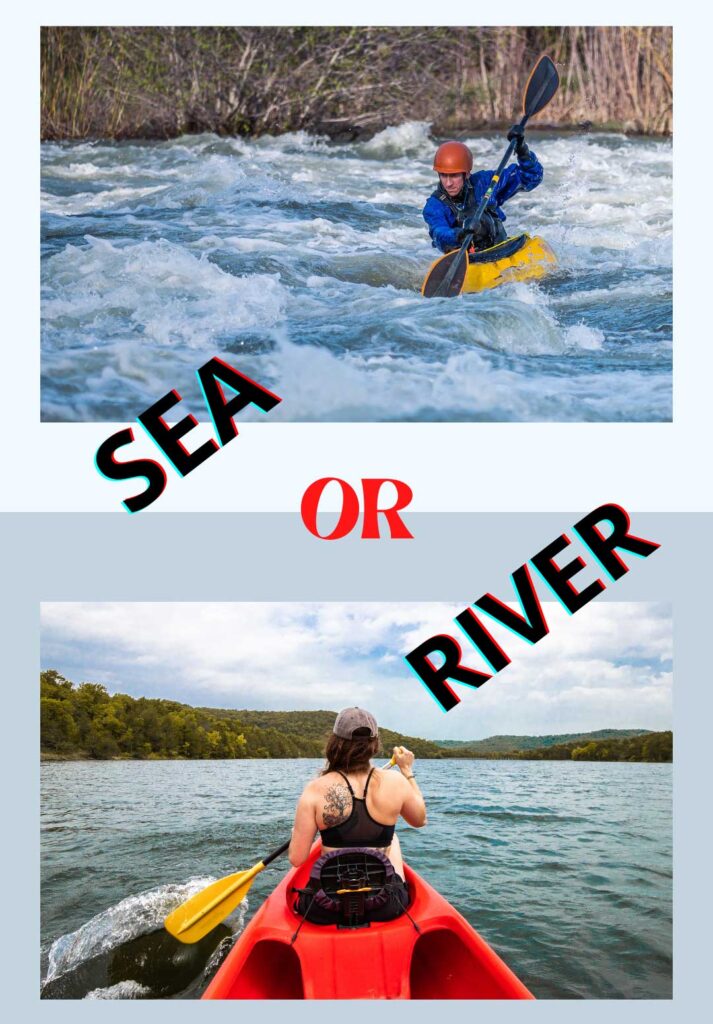 In the same way, there are different kayaks according to the different water.
Know The Features Before Buying A Kayak
Modern kayaks are made for special purposes according to their application such as sea or touring kayaks, whitewater or river kayaks, fishing kayaks, recreational kayaks, etc. The broader categories can be categorized in Sit in which are known as traditional kayaks and sit on top kayaks.
Kayaks are featuring with rotating moving propellers, electric motors, or outboard motors. Different characteristics and styles of various kayaks may create you overwhelmed.
You need to decide first on which water you want to practice kayaking and want to be experts such as in calm water, rough water, or ocean. So of course you need to get some tips before buying a perfect kayak for you.

PyeNye Blog
You can easily decide water type and best kayak type from the following kayak buying guide.
Kayak Buying Guidelines For Different Water Kayaking
In our kayak buying guide, we have categorized kayaks for different water. However, the particular feature, advantages, and practice levels are also important for getting the maximum adventure from it.
Let's get started with the best kayak buying guide, and here you will find everything mandatorily needed for buying a kayak;
Kayak Buying Guide For High Water Flows
If you are planning to kayak in the whitewater, then you should learn kayaking with turbulence. Whitewater kayaking also brings a broader meaning like kayaking in any river or creek. Have a look at our guidelines on Hudson River kayaking.
You should be an expert with active, demanding, moving, or extreme whitewater kayaking. However, whitewater kayaking has some hazardous zigzag creeks. This is why sit-inside kayaks are more suitable for whitewater kayaking.
Different types of whitewater kayaking provide you with the offer of best adventurous moments. It offers you a high wave with kayaking. Thereby, we recommend you go through the beginner guidelines for whitewater kayaking first.
Calm Water Kayak Buying Tips
Calm water kayaking is far different than kayaking in the higher water flows. Therefore, there are several differences between the kayaks. Calm water kayaking simply indicates kayaking in freshwater. It's like kayaking in the rivers, lakes, etc.
Moreover, if you're planning for a calm water kayaking, then the best part of your decision is you can experience different types of environments with the kayak. Sit-on-top type kayaks would be a better choice for kayaking in the calm water. Because sit-on kayaks are designed for such recreational activities.
However, lake and river kayaking is most preferable for kayak fishing. Besides, the calm water is safer for beginners. You need not rush here and it gives you exhilaration. It is an exciting journey with paddling.
Above all, practice these safety guidelines for kayaking. You can get the detailed kayaking safety instructions from here.
Sea Kayak Buying Guide
Sea kayaking is really amazing. Even it's the passion of a lot of outdoor enthusiasts. But it's quite different than other types of kayaking. Therefore, you need to pay attention to a few things before buying a sea kayak. Make sure the internal capacity of the kayak let you carry the necessary supplies.
For kayaking in the sea, you should choose less maneuverable kayaks than other types of kayaks. And it also should need a long length, straight paddling capacity with comfort. So that during the time of sea kayaking, the kayaks can cover long distances efficiently and comfortably.
However, Sea kayaking demands a sea-worthy kayak with a graceful appearance which has low seat, covered deck so that it may help to prevent water from the kayakers from entering inside.
Above all, if your kayak is lightweight, you'd get some extra advantages. Besides, check for the materials for long-lasting benefits. We recommend sit-inside kayaks for bay kayaking activities.
Sea kayaking is like a voyage that needs a perfect kayak with modern construction materials like fiber glasses, Kevlar, carbon, polythene, thermoformed plastics which are stronger and more efficient than other kayaks for safe sea kayaking.
However, if you are new to bay kayaking, have a look at our bay area kayaking guidelines.
Ultimate Kayak Buying Guide For Beginners
Kayaking is the most enjoyable hobby which allows you to explore nature and the surrounding with some beautiful moments. A kayak can give you a break from your normal routine bound life and take a fresh breath. You may rent a kayak for experience and after that, you want to purchase it.
But when it is the first time buying a kayak, you should not get overwhelmed and ask yourself some questions and consult with the experts, so that everything will be positive and you also should remain in your mind the specific purpose of your kayaking.
You should decide whether you buy the kayaks for a lively or active outing with spending a good time and exploring or for fishing purpose or trip or sporting purpose. You also should consider your area of kayaking such as calm water or rough water.
Here are some important buying guides for you about kayaks that definitely remain in your mind:
Width of the kayak
If you buy a wide kayak then it will remain more stable than the narrow kayaks. The tall paddlers can also feel comfortable with the stability of wider kayaks.
So in that sense, the sit-on-top kayaks are good. But the narrow kayaks are more efficient than the wider ones.
Length of the kayaks
Long kayaks can track straight, move faster. And it's also very efficient. However, longer kayaks also have the proper stability or capacity. So sit inside the kayaks have those capacities. But the shorter kayaks are easier to handle and less maneuverable.
Generally, 17 feet long kayas have much speed but the 9 feet long kayaks have less maneuverability. For example, if you are 6 feet tall, 14- 16 feet long kayaks are more suitable for you.
Depth of the kayak
Depth is the key component of the fitness of the kayaks. If a kayak has a proper roomy place, the paddlers will love it, because they can comfortably keep the leg, especially the taller paddlers. Deep kayaks also have carrying capability.
So you can choose the sit-on-top kayaks in that sense. But on the other hand, shallower kayaks may be less affected by the wind and better for the short and small paddlers.
Hull of the kayak
Hull shapes are related to the efficiency, seaworthiness, and intended use of the kayaks perfectly. Flat bottoms hulled kayaks may become difficult to control in rough water. The hulls of the kayaks have a complex combination of different shapes blended together.
Such as the Arch shape with initial stability and high maneuverability, V shape with lively feelings and comfortable stability, go through the straight lines, Rounded shape with more maneuverability and less stability, Soft chin with a smooth transition, etc.
Materials of kayaks
The best materials for kayaks are roto-molded polythene for which the kayak becomes less expensive. But it is heavy material for kayaks. If you want to buy a recreational kayak, this material is the best choice.
Polyethylene is simply the best, flexible, and soft material that can help to become fast and slower in the kayak during paddling on the water. This material also helps to make the kayak durable. It is suitable material for sea kayaks. Thermoformed or polycarbonate plastics, fiberglass are the next materials that help to shine the kayaks. Fiberglass is a common choice for sea kayaks and recreational kayaks. Above all, fiberglass makes the kayaks stronger and protects them from damage.
Kevlar is another important material. It helps to become the kayaks light weighted. So the materials of the kayaks depend on different types of kayaks. Besides, you can have a look at this kayak weight comparison for more details.
Carbon fiber is another material of kayaks. Which is a good choice for sea and expedition kayaks. It also helps to become the kayak lighter, elastic, strong, and heatproof. But it is a costly material. ABS plastic is a little more expensive than Polyethylene. It is a protective material of kayaks from the UV rays of the sun.
Cockpit of kayaks
The cockpit is the best material for your comfort, safety, and control of the kayaks. The cockpit totally depends on your adjustability and the condition of your kayaking.
Therefore, pay attention to the size of your cockpit which is fitted with your body, expert level, and water level of kayaking. Sit on top kayak is suitable for the taller paddler in the sense of cockpit size.
Weight and storage capacity of the kayak
Comfort with the kayaks
During your practice session, you can choose, which kayak is suitable for your comfort. So you need to buy that kayak according to your comfort.
As you will plan to spend a significant period of time on the water with the kayaks, so sitting with comfort is an important feature of your kayak.
Fishing with kayaks
Fishing kayaks need to be the average price, stable, comfortable cockpit, easily maneuverable, durable with enough storage, lightweight, tremendous freedom, portability, comfort, convenience, good speed, and safety systems. A flat hull with primary stability is also needed for fishing kayaks.
Thereby, in all senses, the sit-on-top kayaks, day touring kayaks, and recreational kayaks are the best suitable for fishing purposes. More 40 inches beam is necessary for fishing kayaks.
Stability of kayaks
Stability means the change of direction or the displacement of the kayaks. However, the stability of the kayaks can be categorized into two types. 1. Primary stability with the initial steadiness of the kayaks on flat water, 2. Secondary stability with remain stable on poor water.
Typically kayaks remain stable in rough water and low stable in flat water. Longer and narrower kayaks remain more stable and slower. Sporting kayaks need efficient stability. The most stable kayak is the outriggers. But sit on top kayaks are also considered ultra- stable kayaks.
Safety and durability of kayaks
Durability, reliability, kayaking on flat water, rivers, or even oceans without fear, incredibly well design, stability, supportiveness, safe paddling, and structures of the kayak, gear, modern materials, rigidity, and comfortable seating are some characteristics that are related with the safety of the kayaks. Depending on all the characteristics of the inflatable kayak are suitable for a safe and versatile kayak.
But you should not use these types of kayaks in harsh or risky conditions. And inflatable kayaks are made with coated fabrics. But the safety of the kayak is also depending on your maneuverability and comfort.
Adventure with the kayak
This is a key fact. We recommend you to choose that kayak, which gives you the freedom of nature, sound of the water, birds, fish, and flora with paddling in a time-bound trip.
Price of the kayak
The price guarantee and budget of the kayak totally depend on you and up to your choice. But obviously, you should pay concentrate on safety first.
Kayak Buying Guide For Different Kayaks
After deciding the location your kayak buying would become easier. For example, if you plan for lake kayaking, then you can easily go for recreational kayaks or sit-on-top kayaks.
In the same vein, there are a lot of different kayaks according to the different waterways. That is why here we include a kayak buying guide for different kayaks. Here, we focus on the basic features. Besides, we concentrate on the advantages as well as disadvantages in the following kayak buying guide.
As we mentioned before, you only need to pay attention to your adventure plan. After that, choose the most suitable kayak that suits your plan. And then have a little practice with it. Kayak is a piece of love and company like a good friend to you.
Let's have a look at the kayak buying guide for buying different kayaks;
Buying Guide For Sit-On Kayaks
Sit-on kayaks are known as recreational watercraft. These kayaks are specially designed for calmer waters like easy flowing waterways. For casual recreations, sit-on-top kayaks are better. Because it hardly fills with water if you tip over. Above all, re-entering a sit-on kayak is much easier for a beginner. And these kayaks are good for kayaking and camping, fishing, and overnight kayaking trips.
Sit-on-to kayaks are easy to get on as well as comfortable to paddle. On the other hand, these are quite heavy than the sit-inside kayaks. Overall, sit-on kayaks are much friendly for beginners.
Sit-In Kayaks Buying Guide
Sit-inside kayaks offer a wide range of touring purposes. It's comparatively lighter than the sit-on-top kayaks. Besides, it can move faster. However, sit-inside kayaks are effective for cold weather kayaking.
For long touring, and racing activities sit-inside kayaks are much better. But these kayaks need more practice. And here re-entering is comparatively difficult than the sit-on-top kayaks.
Sit inside kayaks are good for kayaking in high water flows like whitewater kayaking. Lastly, sit-inside kayaks are good for intermediate and advanced kayakers. Therefore, make sure about your plan first!
Guide For Buying Fishing Kayak
Fishing kayaks have become popular in both fresh and salty water are especially in warmer areas. These kayaks are wider with stability.
Fishing kayaks are inexpensive and have fewer maintenance costs. Some people like to customize their general kayaks for fishing purposes. This process is known as rigging.
Above all, there are different types of fishing kayaks. And all the different types are designed for different purposes. However, pedal fishing kayaks would be the best if you're comfortable with it.
In a pedal fishing kayak, you need not hold the paddle. As a result, you can more concentrate on your fishing. You can have a look at the Florida Keys kayak fishing guidelines from here.
Recreational Kayaks buying Guidelines
Recreation kayaks are specially designed for casual recreational purposes. These kayaks offer a wide range of water recreations. Their materials and design are aimed for comparatively calmer water. However, recreational kayaks are slightly heavier. But they are more stable than others.
Generally, these kayaks have quite larger cockpits. And these kayaks are quite wider than other types. However, the manufacturers use polythene plastic as the main material for producing recreational kayaks.
If you are planning for freshwater kayaking, recreational kayaks would be a better choice.
Tandem Kayaks Buying Guide
Tandem kayaks offer you kayaking with your partner and friends. And the good is tandem kayaks are comparatively larger. Besides, these kayaks are more stable and beginners friendly. Above all, tandem kayaks are designed for recreational purposes.
We recommend every beginner have some practice with tandem kayaks. However, tandem kayaks are good for family kayaking or group kayaking purposes.
These types of kayaks have enough space or storage which is helpful for longer trips. If you can choose it, as it is a great opportunity to share your kayaking.
Pedaling Kayaks Buying Guide
If you are having shoulder pain or back pain or problem, then pedaling kayaks are the perfect choice for you. In 1997, Hobie designed the pedal kayaks for the first time.
However, pedal kayaks are comparatively friendly. So you can go further distances with it. But one disadvantage about the pedaling kayak is expensiveness.
The hull of the pedal kayaks is quite heavier. Overall, pedal kayaks are undoubtedly better for kayak fishing activities, especially for freshwater kayaking fishing.
Folding Kayak Features
Previously these kayaks are used for military purposes. Folding kayaks are wooden kayaks with synthetic skin, polyester, cotton, polyurethane, Hypalon. These types of kayaks are more expensive than inflatable kayaks. But has portability, stiffness, and seaworthiness but is less durable than other kayaks.
However, do you know how safe are the inflatable kayaks? If not just have a look at these guidelines.
Rigid Kayaks
Rigid kayaks are popular as hard-shell kayaks. These kayaks are more durable. Hard-shell kayaks are generally made of fiberglass, plastic. And the other material is wood. These kayaks would be good for intermediate kayak paddlers.
Outrigger kayaks Buying
Outrigger kayaks have enough stability with speed. The two main hulls of the kayaks can enhance the stability of the kayaks for fishing, touring, and sailing, and motorize purposes. Learn more about outrigger kayaks from here.
Diving Kayaks
Diving kayaks are popular for the alternative use of powerboats. These types of kayaks can be suitable for both sit in or sit on kayaks. The large storages and wide beams of the kayaks offer you to use these for recreation purposes. But not suited for long touring.
Modular kayaks
Modular kayaks can divide into two pieces. These kayaks offer you durability, portability, and on-spot customization. Modular kayaks also have single-person and tandem kayaks.
Twin hull kayaks
Twin hull kayaks have two long narrow hulls with stability as well as outfitted with outriggers. You can learn more about dual hull kayaks from here at Wikipedia.
Military kayaks
Kayaks were first used for military purposes in the Second World War. The military kayaks are made for watercraft, submarines, motor launches. In World War 2, the British commandos and Special Forces improved such kayaks. This is how the US military use kayaks.
To sum up, choosing the perfect kayak can be difficult without proper kayak buying guidelines. We recommend you decide your plan first. Then know the features of different kayaks. And point out what matters for your plan. And go through the kayak buying guide carefully. However, our kayak buying guide will assist you in choosing and buying the perfect one for you.