Adventurous people never get tired of doing things in different ways. Thereby, night kayaking becomes one of the most enjoyable adventures among all the paddlers. And nothing else can bring you the flavors of night kayaking. Sometimes, kayaking at night is much more enjoyable than under the burning sun. As a kayaking lover, you shouldn't miss such a flavor of kayaking!
Moreover, if you are a pet lover, your night kayaking will more entertaining. But for that this adventure, you need proper training on kayaking with a dog. You can easily train your dog for night kayaking from the blog.
Besides, our cover on "The Benefits of Kayaking at Night" and "Why You Shouldn't Miss Night Kayaking" ensure you have one of the best kayaking experiences.
Some Frequently Asked Questions
Is night kayaking safe?
Kayaking at night is safe but some rules ensure the safety. Kayaking is one of the most adventurous activities on the water. And there are some difficulties. When it comes to night kayaking safety, we must learn safety lessons carefully.
Besides, we should practice moves and kayaking techniques that make kayaking easier. And follow the kayaking safety instructions form here. And beware of things that make kayaking difficult.
Do kayaks require lights for kayaking at night?
The simple answer is YES! Kayak requires lights for kayaking at night. It is one of the vital pieces of equipment for your night kayaking trip. In short, if you can't see well you may not recognize the danger. Using kayak lights is necessary for having a safe night kayaking.
What things are required for a night kayaking trip?
There are several different things that we need for kayaking at night. In a brief, we need a rain jacket, life vest, dry bags, much water, enough food, bug spray, a pocket knife, extra paddle blade for having a hassle-free night kayaking trip.
Is it legal to kayak at night kayaking?
In a brief, kayaking at night is legal. The U.S. Coast Guards haven't declared anything against night kayaking. Though there are certain regulations in some local governance.
The Beauty of Night Kayaking
First of all, we love kayaking at night for great pleasure. Besides, night kayaking is the best way of having fun differently. Kayaking at night is much more enjoyable than kayaking in the middle of a day under the burning sun.
Secondly, by kayaking at night, you can enjoy the affection of nature differently. The shining moon, twinkling stars, psychedelic light, and the breezing of wind will make your journey more beautiful. Moreover, you can feel the tranquility of nature as well as the babble of water. Lastly, nature teaches us to be great, humble, and quiet. Nature purifies our soul also. The night sky teaches us to be noble, the shining moon teaches us to work for others, the twinkling stars demonstrate us not to lose hope. Moreover, night kayaking can give you all the opportunities in a single chance.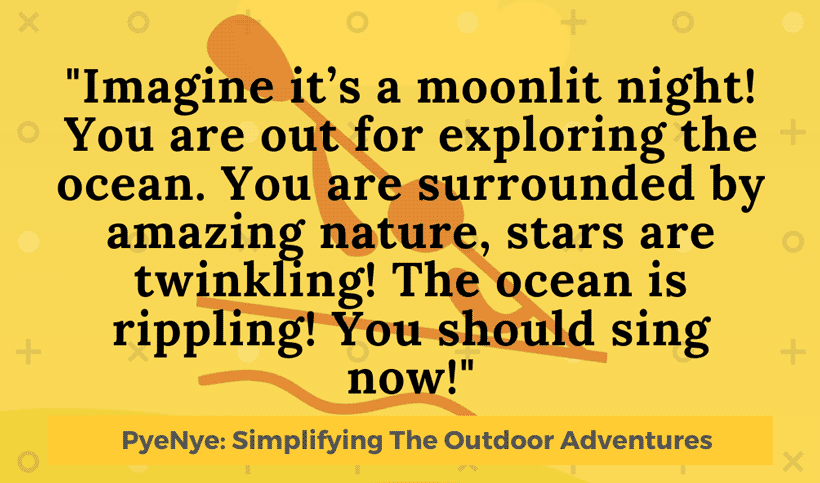 Above all, if your main purpose is an adventure, night kayaking will bring it to you with the wave of the sea. The faster your heart will beat, the more thrill you will feel. Kayaking at night will give you perplexity with the wave of the sea, the silence of nature, and the loneliness of yourself. And lastly, only this perplexity & frightening moment will help you get the pleasure, thrill, and joy. For sure, that experience will be evergreen to your mind in your entire lifetime.
Is It Legal To Kayak At Night?
The simple answer is YES! There is nothing illegal with kayaking at night. It's a common query among kayak paddlers, whether they are violating any laws or not.
It's lawful to kayak during the night. There're no certain regulations embedded by the United States Coast Guards that mentions certain thing. Nevertheless, rules and regulations for kayaking at the night may vary in different states.
The most important thing is, there are some specific regulations on kayaking at the night. These are like; using light, sound-producing devices like a whistle, floating devices, and etc. Above all, such regulations can make your kayaking safer and more entertaining.
5 Reasons You Shouldn't Miss Kayaking At Night
There are a bunch of reasons that one must try out night kayaking. People who are concerned about getting thrilled, exploring the world, and enjoying the beauty of nature must try out night kayaking. Among all the reasons for experiencing night kayaking, some of the glorified are mentioned here. However, if you haven't made your Florida kayaking yet, get the best Florida kayaking destinations and guidelines from here.
If you are still waiting for your first-night kayaking then the following reasons will boost you up for the trip.
Night Kayaking Ensures Memorable Experiences
Who doesn't want to make evergreen memories in this world? Everyone in this world wants to be happy, want to have evergreen memories, want to get pleasure, want to be bound with memorable experiences. For having all those feelings mentioned above, one should try out kayaking at least once in a lifetime. You will never find the flavors of kayaking at the night in other adventures.
For Exploring The Divine Nature
Nature has endless beauty. Many a man tries to explore nature, tries to find out the extreme beauty of it. But all of their efforts go in vain just because of following the wrong method of exploring nature. For being attracted, charmed, and amazed by the beauty of nature, one must try out kayaking at night. William Wordsworth, a famous English romantic poet, once said, "Nature did never betray to the soul that loved her". In that sense, I would like to say that, kayaking never disheartens a man who wants to explore nature completely.
Having fun in a different way
Different flavors of entertainment make the adventures of night kayaking so unique. Kayaking is only for those people, who are highly interested in uniqueness. Such kayaking can give you fun and pleasure in such a different way that can nowhere be found. Therefore, for being unique, having a good taste of adventures, making your style, and having fun in a different way you must try out a kayak at night.
Getting The Chance To See Jelly
Jellyfish have an organic reaction that helps them glow at night. Jellyfish light up to protect themselves in the deep sea. If you are fortunate enough, you may get the chance of seeing the glowing jellies while paddling through the water at night.
Kayaking At Night Ensures Mental Happiness
The tranquility of nature is very helpful for keeping mental peace. Fresh air refreshes our mind; we can breathe deeply, think positively, and have wisely felt through meditation with the help of fresh air. And, more specifically, we can have that much necessarily fresh air by such kayaking trips.
5 Must Have Night Kayaking Equipments
Before we begin, we need to focus on the essential equipment. These are the key things. Here we have prepared a brief checklist for having the best night kayaking. Let's get amazing;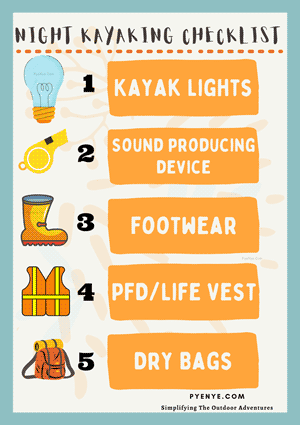 Dry bags are the key things behind safe and easy kayaking. It is necessarily needed for keeping things dry. For example, you need to keep your mobile phone, food, etc. dry for a hassle-free kayaking experience.
Kayak light is the first and foremost thing that one must need for a night outing with a kayak. It's a piece of essential equipment.
And if you haven't set up kayak lights, take time and follow the guidelines.
It is recommended to carry a sound-producing device when you are going for a night kayaking trip. It's a way of sending signals. Above all, kayak lights and sound-producing devices are two essential things for safe kayaking.
Footwear is another essential piece of equipment for better kayaking. Whether you use Specific Water Shoes, Sandals, Neoprene, or Skin Boots, you have to choose your footwear according to your comfort and adjustment.
PFD is a must! It doesn't matter how and where you are going to kayak, you must wear a life vest for having safe kayaking.
4 Benefits of Night Kayaking
Night kayaking trips are always so special for providing several benefits. Kayaking is a great way of physical benefits. Besides having such interesting facts discussed above, there are some beneficiary facts too. Maybe, the benefit is beyond your imagination.
Good for brain
Kayaking accelerates the working ability of the cells of our brain. While paddling through the water, we as well as our brain become conscious of the surroundings, and that consciousness helps the inactive cells of our brain be active.
Weather effects
The greatest scientist Albert Einstein said, "Imagination is more important than knowledge". Imagination gives us pleasure and happiness. Witnessing the beauty of nature, we can imagine more and more about the creations of God. The ambiance is that it will help you imagine. The shining moon, glowing jellies, waves of the sea, breezing wind, babbling water, and all the components of natural beauty will let you think more and more.
Health benefit
Kayaking is good for our health. As kayaking is a good exercise, it increases muscle strength, particularly in the back, arms, shoulder, and chest. Besides, kayaking improves our aerobic fitness, strength, and flexibility. It also increases our cardiovascular fitness. As we kayak applying pressure with our leg, increases the leg strength. Paddling is a low-impact activity, so it reduces the risk of wear and tears on joints and tissues.
Refreshment
After working for a long time, sometimes we get tired and bored. In that time all we need is a good refreshment. Refreshment comes with taking rest, visiting places and doing some different activities which are much interesting to us. Kayaking can give you the refreshment you desire. For the adventurous guys, no other activities can be as interesting as kayaking at the night.
5 Must-Following Night Kayaking Tips
Kayaking at night is somewhat dangerous if one doesn't know about it perfectly. Here, some suitable tips are brought to you for your successful kayaking. However, we have some particular tips for river kayaking, if you wish you can have a look!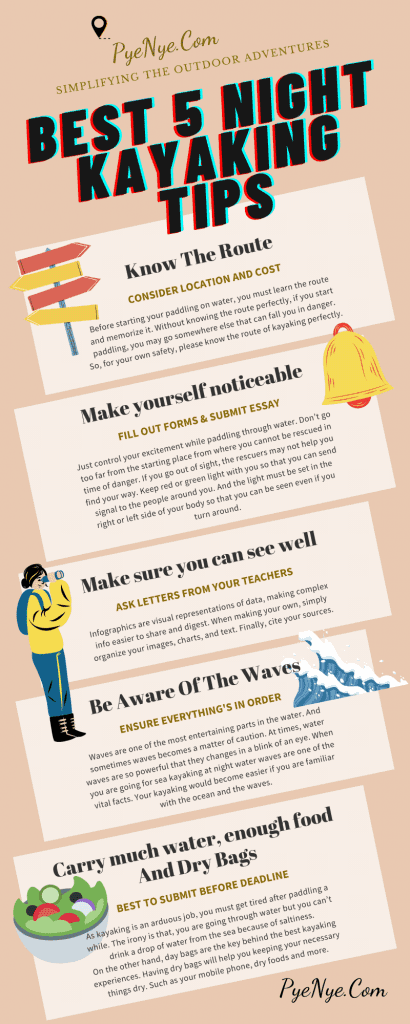 Know the route
Before starting your paddling on the water, you must learn the route and memorize it. Without knowing the route perfectly, if you start paddling, you may go somewhere else that can fall you in danger. So, for your safety, please know the route of kayaking perfectly.
Make yourself noticeable
Just control your excitement while paddling through the water. Don't go too far from the starting place from where you cannot be rescued in time of danger. If you go out of sight, the rescuers may not help you find your way. Keep red or green lights with you so that you can send a signal to the people around you. And the light must be set on the right or left side of your body so that you can be seen even if you turn around.
Make sure you can see well
Purchase quality and a waterproof headlamp so that you can see things around you properly. Clear vision is more important than anything while kayaking at night. Something harmful can arise from the bottom of the sea, an iceberg can hinder your path, and many more barriers you may face in the sea. For such overcoming problems, you must be prepared to assure of your clear vision. Be assured of the light not reflecting from the water, it may cause you some problems with your sight.
Be Aware Of The Waves
Waves are one of the most entertaining parts of the water. And sometimes waves become a matter of caution. At times, water waves are so powerful that they change in a blink of an eye. When you are going sea kayaking, concentrate on the water waves. Waves are one of the vital facts. Your kayaking would become easier if you are familiar with the ocean and the waves. When you are planning for your night kayak trip take a few minutes for studying the ocean. And focus on "how and when the ocean changes". Always be aware of the waves and practice the safety lessons carefully. This is a lifesaver!!
Carry much water, enough food, And Dry Bags
As kayaking is an arduous job, you must get tired after paddling a while. The irony is that you are going through water but you can't drink a drop of water from the sea because of saltiness. So you have to carry a lot of water to drink and enough food to eat for storing energy in your body. Otherwise, not having much strength, you may not enjoy your journey.
On the other hand, day bags are the key to the best kayaking experiences. Having dry bags will help you keep your necessary things dry. Such as your mobile phone, dry foods, and more. You can take your kayaking to the next level by exploring the interesting facts about kayaking.
6 Safety Guidelines For Best Kayaking At Night
Wherever you go, it may be a theatre for enjoying a play, a stadium for enjoying a game, a highway for driving a car, or a sea for paddling at night; safety should be your priority before starting up an adventure. You must follow the following tips to assuring your safety before starting. Here are the entire kayaking safety tips. Have a look!
Avoid the perilous ways
As for the direction of the authority, you must have an idea about the perilous ways of your journey. While paddling, just try to avoid these things that can hamper your life. Don't go the way out of the direction, make sure that you are safe. And try to avoid winter for night kayaking trips. However, you can find winter kayaking instructions from here.
Know the weather report
All of your adventures will go in vain if something bad happens to your life. Don't create any circumstance that can ruin your life. Before starting your journey, know the weather report perfectly whether it will rain or not, whether the sea will remain calm or not, and so on. If the symptom of the weather is not positive, don't start your journey.
Wear a life jacket
Before going to the sea, take a life jacket with you in case an accident happens. While paddling through the water, your kayak may get damaged by clashing with something in the sea. If this awkward situation happens, you have to float on the water for a while until the rescuers reach you. For floating on the water with safety, you must take a life jacket with you.
Check out the equipment
Before starting your journey, check out all of the equipment whether they are motile or not. If the equipment is in a deadlock, you may fall in danger while paddling. Be careful about the equipment you are taking with you, be cautious while using these. Then you will certainly enjoy the ride.
Have fun with caution
Be conscious while paddling at night. Be conscious of the wave of the sea, be conscious of the direction of the wind, and be conscious of the speed of the kayak while paddling through the water. Don't let your unconscious mind take control over your kayak, it may fall you in jeopardy in a fraction of a second.
Avoid ambiguity
Sometimes you may have the intention of going on a path that is not clear to you. I will suggest you avoid this path, as our main concern is your safety. We never know when danger comes to us. So, don't go through an ambiguous path.
Comparing Night Kayaking vs Day kayaking
Kayaking has a lot of diversity. But there are some subtle differences between Night and day kayaking. Here are comparisons depending on the facilities, advantages and so on.
You may face a crowd of tourists and a gathering 0f kayakers while paddling during the day, but at night you will get a solitary place and tranquil environment.
Day kayaking is comparatively tougher because of the sun that burns over our heads.  Kayaking in the middle of the day is arduous and harmful to the skin of your body. But kayaking at the night is not so arduous and harmful because the sun can't shine at night.
The Moon is much more attractive than the sun. To enjoy the beauty of the moon and to avoid the ultraviolet rays of the sun, you must prefer "night kayaking" to "a casual day kayaking".
Life is too short to wait for the next, Plan-Prepare-Go. No doubt, it will be evergreen to your mind, and you will enjoy the sublime adventure. Lastly, discover nature, and have fun. And considering the couples, you will memorize your kayaking night for the rest of your life.