Florida is one of the most crowded regions of the United States. It's situated in the southern part of the mighty U.S. Florida is surrounded by oceans and the state was first revealed by Europeans in 1513. Moreover, oceans, rivers, and natural resources play vital roles in Florida's life and culture. People in Florida are enthusiastic and adventure lovers.
One of the most preferable recreational activities in Florida is kayaking. Kayaking in Florida is like playing in nature. In this article, we'll outline all the best kayaking in Florida with complete guidelines.
Let me amaze you by the meaning of the name "Florida". The original meaning of Florida is "The Place of Flowers" which was derived from the unique Spanish term "La Florida".
Florida has a temperate climate with more than 1000 miles of coastline and more than 1700 miles of the river area. Florida is such a place where most of the time of the year remains spring. The Recreational kayak paddlers enjoy their kayaking in Florida. Here are the best 15 river kayaking spots.
Moreover, tourism, recreation-based service, kayaking in Florida plays a vital role in the state's economy. So from every side, Florida is a place of adventure where kayaking is one of the most preferred pastime activities.
By the way, the kayaking facts will provide solid information that you probably missed. The facts will be an accelerator for enjoying the adventure in the proper way.
Frequently Asked Question on Florida Kayaking
Where can you kayak in Florida?
Florida is an oceanic region of the United States. In brief, there are the best kayaking places in Florida. There is a huge opportunity for; central Florida kayaking, kayaking in south Florida, Kayaking in the east, and West Florida.
In the article, we will be discussing all of the best places for kayaking in Florida.
Is it safe to kayak in Florida?
Frankly speaking, kayaking in Florida has various facts. And nothing is 100% safe. Lack of knowledge is the thing that we should be tensed about. There are crocodiles in the southern region of Florida and they are so dangerous for kayakers.
By maintaining the following safety guideline you will be able to keep yourself safe in such uncertainties. And you can also learn to make your kayaking easy from here.
Do I need a license for a kayak in Florida?
Yes, if you have a motor kayak you need a license and registration for kayaking in Florida. And if you are kayaking by a paddle kayak or pedal kayak you won't need any license or registration.
But Florida has kayaking laws. The guide also contains the regulations and laws for kayaking in Florida.
What is the best Kayaking in Florida?
The United States has the best places for kayaking in Florida. Crystal River, Alafia River, Arbuckle Creek, Shingle Creek, Apalachicola River, Blackwater River, Chassahowitzka River, and West lake park are some of the best places for kayaking in Florida. However, here are the 15 best river kayaking destinations in the US, and here are the top places for kayaking with manatees as well as dolphins kayaking.
Best Kayaking in Florida: Places to kayak in Florida
The U.S. has a lot of places for the refreshment of the body and mind with kayaking. But Florida is such a place, everyone will feel like the place is made for amazing ourselves by the real natural flavor. And after having a few sessions of kayaking in Florida, you would admire that Florida kayaking is so heart-touching.
Moreover, it is a matter of great joy for the paddlers that nature leaves no stone unturned to enrobe the different rivers, oceans, lakes with pure beauty in Florida kayaking. Have a look at the ocean kayak fishing guidelines from here. The one who spends time kayaking in Florida would definitely agree with the term "Paddler's Paradise" for kayaking as it is known as though.
There's a recommendation for enjoying the best flavor of kayaking. Firstly, learn to lessen kayaking difficulties and practice safety guidelines. Secondly, know the place well and double-check for the necessary equipment.
The following map is showing the best kayaking places in Florida with nearby boat ramps, parks, camping, and lots;
Let's go through the guidelines on the best kayaking places in Florida;
Best Kayaking in Central Florida
Central Florida is a good example of ecotourism and kayaking. As it offers to explore clear waterways, great scenic rivers, wildlife, and a combination of multiple adventures.
You're a pet lover, you would love dogs kayaking in Florida. And without hiring any professionals, you can learn everything to train your dog for kayaking from the guide.
Above all Hillsborough River, Crystal River, Alafia River, and Chassahowitzka River are at the top of the best kayaking places in central Florida. The detailed guideline in follows;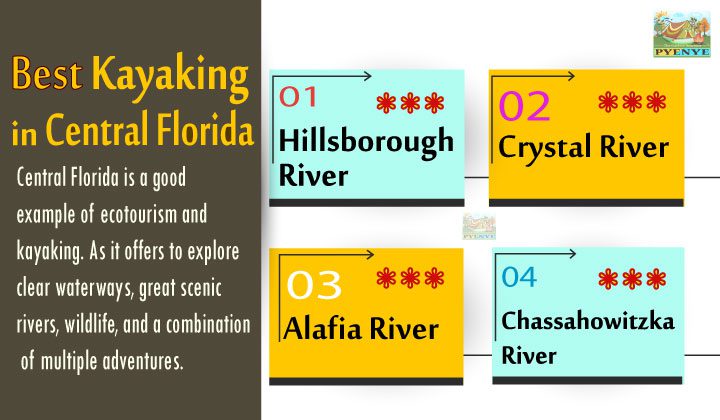 Hillsborough River
Having a history of more than 27,000 years, Hillsborough River is at the top for adventure lovers. Throughout the long history, there have developed a bunch of recreational activities. In a sentence, the Hillsborough River is like a heaven for outdoor adventure.
It's quite easy to find the Hillsborough River in Florida. The river is a short distance from Tampa. Starting from Polk County, the river is about 60 miles long and the downstream goes to Hillsborough Bay. In short, the river offers one of the best kayaking in Florida. Besides, hiking, fishing, kayak camping, group touring, and canoeing, the river is such a great place.
Moreover, the Hillsborough River State Park, Hillsborough River Campground, Fort Foster Historic Site, Hillsborough Upper and Lower Wilderness Preserve accelerate the enjoyment and pleasures. In fact, the state park is one of the oldest and most historic places in Florida.
That is to say, kayaking and camping is the best idea for Hillsborough River kayaking. Besides, there are a lot of opportunities for recreation and adventure. The hiking trail, bike trail, nature trails, wilderness area, group cooking, and camping facilities, fishing, and campfire facilities ensure the best kayaking in Florida. As well, geo-seeking, bicycling, horse-riding, and wildlife observation opportunities are popular there. Here are the best river kayaking destinations. You can have a look here.
In addition, The place is such a great combination of adventures. There are several lunch points and restroom facilities. From the state park, there are about 56 kilometers of kayaking trail to Rowlett Park.
Lastly, we recommend not to miss kayaking in the Hillsborough River. Simply, it is listed top in the best kayaking in Florida.
Crystal River
Crystal River is in the northwest part of Citrus County. The river has pleasing history from the Pleistocene period and now the evolution and surroundings have made the river quite different from previous. The river is located in the "Heart of Florida's Nature Coast". In other words, it was is officially known as the "Big Bend of Florida". And, in 1903, the river developed a town.
Though the Crystal River is not so big in size, it has likely the best wildlife and nature in the region. The wild animals, birds, and riverside nature is really pleasing. For different kinds of boating, the Crystal River is such a place that you should not miss. You can have a look at our comparison on sit-on vs sit-in kayaks from here.
The River is a great combination of multiple adventures. Besides kayaking, the river has awesome opportunities for wildlife observation, hunting, snorkeling, diving, and kayak fishing. Overall, the Crystal River is the best for enjoying diversified adventures. Moreover, Crystal River swimming is beyond description as it has a lot of underwater beauties. People love swimming and kayaking with manatees in here.
Crystal River has Preserve State Park, National Wildlife Refuge, and Archaeological State Park. The Place is well known as the "Home of Wildlife" as the river is enriched with "Three Tire Wildlife". The place has been providing residence to wild animals, birds, and fishes. And, you would find pigs, deer, egrets, raccoons, redfish, trout, and tripletail. The river is known as the "Home of Tarpon".
On the other, sharks and alligators are also seen there. Though the Crystal River is one of the best kayaking places in Florida. The fishing friendliness always infatuates the kayak fishing lovers. Keep yourself safe by performing the instructions.
In addition, there are group touring opportunities like camping, picnicking, get together. Lastly, we found the Crystal River as one of the best places for both water adventures and outdoor adventures.
Alafia River
The Alafia River is located in Hillsborough County, south of Brandon of West Florida. From Lithia Springs Park to Alderman's Ford Park, the river Alafia is a total of twenty-five miles long in length. And has different seasonal water levels. It requires fundamental experience for kayaking in Florida's Alafia River.
Alafia is a dark water river although it's normally clean for recreation. Including kayaking, Alafia River State Park provides different opportunities for recreation like; mountain biking, wildlife observing, fishing, hiking, horseback riding, canoeing, geo-catching and etc.
In fact, camping and Fishing would make your kayaking more enjoyable in the place. Alafia is good for fishing bluegill and catfish. Besides, the State Park of Alafia River offers picnicking, gathering, and wedding opportunities.
After all, the Alafia River and its State Park is an open option for enjoying the best kayaking in Florida with combine recreational opportunities.
Chassahowitzka River
The Chassahowitzka River is located in Citrus County of Florida. It is quite wide and a slow-moving river with natural beauties. The river is fed by the seven sisters' springs.

The 8 kilometers long Chassahowitzka River is very shallow and such a great place for kayaking. Having super clean water and wildlife diversity, the river is one of the best kayaking places in Florida.
The meaning of the word Chassahowitzka is "Hanging Pumpkins". And the meaning is worth it as the place offers an enormous combination of outdoor recreation. Chassahowitzka River is popular for its directional hazards! And the river is a great mixture of saltwater and freshwater. Early morning is the best time for kayaking in Florida's Chassahowitzka River.
The River's campground has both RV camping and primitive camping for pure recreation. And the two camping are separated from others. You can hire kayaks easily from the campground without camping there.
The aesthetic wildlife, various species of birds, manatee, and great blue heron have made the Chassahowitzka River a great place for kayaking in Florida. Sometimes you may find alligators in the river, but they are quite calm in nature and keep a distance from kayaks and other boats. In springs, we can hardly find them in the Chassahowitzka.
The 3 Best Kayaking in North Florida
Kayaking in North Florida offers a large variety of opportunities. It is an entirely open, attractive, and favorite place for the paddlers in Florida. Having a beginning to moderate kayaking anyone can enjoy north Florida kayaking. Let's begin the best kayaking in north Florida;
Ocklawaha River
Ocklawaha River is located in Ocala. Just in the downwards of Caravelle Ranch of North-Central Florida. The river is neighboring Silver Springs. Because of having remarkable wildlife and enhancing natural views, the river has always encouraged outdoor lovers. Though the river experienced several troubles, it's still one of the best places for kayaking in Florida.
For enjoying the magnitude silver ray of spring, the Ocklawaha River is such a great option. The wildlife is quite awesome here, and you can easily enjoy the wildlife abounded with the whole river.
Moreover, the authority of the river has been working hard for keeping the river and its environment safe. People love kayaking and bass fishing in the Ocklawaha River. You will need a fishing license for fishing here. On the other hand, the four (4) boat launch works like the main entree points.
Besides, Ocklawaha River also offers hunting, camping, hiking, horseback riding, group gathering in its surroundings. Lastly, Ocala National Forest gives an acceleration for increased enjoyment.
Pellicer Creek
The long and twisting Pellicer Creek is one of the best outdoor recreational places in Florida. It is located in the East Northern portion of Florida. Flowing amongst Pellicer Creek Campground and Creek's Conservational Area it has a great combination of recreational activities. Among the adventurous lovers, Pellicer Creek is such a place that should not be missed.
With the basic kayaking skills, anyone can enjoy kayaking in Pellicer Creek. To clarify, a survey on best kayaking in Florida found almost 90% interest on Pellicer Creek kayaking and Fishing. In this case, the campground, fishing, and hiking trail, the conservational area make the place one of the best outdoors in Florida.
In addition, if you are kayaking with kids, you shouldn't miss kayaking there. Because the Pellicer Creek Conservation Area has various opportunities for kids and group gatherings.
The place also offers primitive camping, geo-seeking, hiking, boating, and lots more. Besides, kayaking around the Faver-Dykes State Park Area will increase the enjoyment as you can enjoy kayaking between nature and wildlife. At last, Pellicer Creek is the best place for kayaking and combine recreation in Florida.
Bulow Creek
Having a total length of 13 miles kayaking trail, Bulow Creek is in our best kayaking in Florida's list. Bulow Creek is quite narrow and easily located in North-Eastern Florida near Ormond Beach.
Firstly, Bulow Creek has 3 main entry points, in Bulow Plantation Ruins Historic State Park, the second one is in Walter Boardman Lane Bridge and the third one is in Smith Creek Landing. From morning 8 a.m. the creek park opens until the evening. Bulow Creek is known as "The Home of Wildlife and Plants".
Besides kayaking, you can enjoy all kinds of small boating in Bulow Creek and in its State Park. It's overall an idle place for group touring as well as solo kayaking. Together with kayaking and other boating, the Bulow Creek State Park offers hiking, bicycling, nature observing, geocaching, fishing, and lots.
However, kayaking in mangroves, it's a place that offers the best kayaking in Florida. On both sides, greenery and wildlife increase enjoyment while kayaking. Besides, the historic sites and the nature trail is a good way for most vacations.
Kayaking in South Florida
Kayaking in South Florida offers huge opportunities for adventures. Form the entire list we are sharing the four best kayaking in south Florida;
Loxahatchee River
Loxahatchee River is located just beside the Tequesta County Club in Jupiter. It's in the northern part of Palm Beach County and just 87 miles away from Miami. Loxahatchee is Florida's first designated wild, mangrove, and Scenic River for paddling. And the river flows from south to north from freshwater to saltwater. On the other hand, Some sides of the river are twisty and narrow. The river is about 8 miles (around 260 sq. miles) and the water level is not high.
Since 1973, the river keepers are trying their best to maintain the water quality and ecological health. The river is slow flowing and it offers one of the best kayaking in Florida. Loxahatchee River is a partly saltwater river and freshwater. Here are our Green River kayaking facts.
Most importantly, the Loxahatchee River should be on our bucket list for enjoying wildlife and nature. Florida has only two "Wild and Scenic River" and the Loxahatchee River is one of them. And the river is one of the topmost features of Jonathan Dickinson State Park.
The river has two entree points, from the Riverbend Park to Jonathan Dickinson State Park. Besides, the state park is good for base camping and wildlife observing.
In addition, the Loxahatchee River is a great combination of different plants, birds, and fish. Osprey, ibis, wood stork, tarpon, jacks, bass, snapper, and redfish are easily found there. The river is a good example of kayak fishing in Florida.
There you may sometimes find alligators. But you need not be frightened as they remains more scared of your presence. Try to kayak calmly without interrupting them.
West Lake Park
West Lake Park is just between Hollywood and Dania beach. Together with a nature trail, biking trail, several sports, and fishing opportunities the lake park is a good example of recreation.
You can enjoy kayaking between Hollywood and Dania Beach with a mangrove preserve adjacent to the intercostal waterway without any hesitation. After all, West Lake Park offers one of the best kayaking in Florida for weekends kayaking.
There are some fishing regulations for kayak fishing in this lake. Those rules and regulations are quite common, such as; no shocking devices and nets, fees compulsory for Trout fishing and etc.
Fisheating Creek
Fisheating Creek is the only flowing stream of Okeechobee Lake. The surrounding area has a long history behind it. The Okeechobee cultural people occupied the creek area about 1000 years before the Common Era. And some of their archaeological signs are still visible there.
Fisheating Creek is such a great place for kayaking between greeneries. Besides the creek is like a combined package for recreation as there are huge opportunities for fishing, hunting, camping, hiking, wildlife observing, etc.
The creek outpost is popular for wildlife viewing and bird observation. Herons, wood storks, roseate spoonbills, osprey white ibis are commonly seen there. And the riverside greenery will enhance your mind.
Besides, alligator presence may frighten you sometimes. But they are calm in nature. Try to kayak slowly and calmly while passing them. Thereby, they won't get hesitant by your presence and not be a danger for your kayaking.
With a moderate kayaking skill, you can easily enjoy kayaking in Fisheating Creek. In the Fisheating Creek Outpost, you will find kayak rentals, campgrounds, Spring Lake, and lots.
Lastly, apart from urbanity, Fisheating Creek is one of the best kayaking places in Florida. The place is idle for weeklong adventures.
Shell Creek
Shell Creek is located in Punta Gorda in the southwest part of Florida. It's an 80 miles long creek, quit twisting and flowing towards the Peace River. Kayaking in Shell Creek requires low to moderate paddling skills. And it's easy to operate kayaks and other small boats in Shell Creek.
The creek is good for nature observing and slow kayaking. Besides, kayak fishing is another adventurous part of entertainment here. You can begin your kayaking from the Riverside Park and Boat Ramp in Punta Gorda or from Shell Creek RV Resort and Marina or from Hathaway Park as these are the best place for beginning kayaking in the Shell Creek. Besides, Riverside Park and Hathaway Park are about 5 miles away from one another. Therefore you can easily locate the boat launch there.
Alligators are found there. But take a deep breath and follow these alligator kayaking guidelines for such situations. In overall rating, Shell Creek offers one of the best kayaking in Florida.
Florida Panhandle kayaking
Kayaking in the Florida Panhandle area has the best experiences than others. Florida Panhandle has fresh water through the rivers and some of them have salty water. On the other hand, the river shore areas are very unique and highly natural. Have a look at the freshwater kayak fishing rules.
Having various recreation opportunities, Florida Panhandle is like heaven for adventure lovers. As well, the Panhandle area has diversity in recreation as it offers hiking, camping, biking, boat ramp, swimming, canoeing, kayaking, fishing, and a lot of pleasing opportunities.

In winter, the Panhandle is a bit cold. If you have a cold phobia or something like seasonal diseases, then never miss visiting the Florida Panhandle in spring and summer as it is one of the best places for kayaking in Florida. Have a look at our winter kayaking tips.
Having about 63 water springs, Chipola River has one of the best kayaking places in the Florida Panhandle is.

Above all, we recommend everyone not to miss kayaking in Florida Panhandle in springs. At the end of the guide, we will provide the complete guideline for beginners in Florida kayaking with every possible fact. You can kayak in Florida with beginning experiences. But have a look at the safety guidelines as it's the lifesaver.
We have covered a complete guideline for beginners whitewater kayaking. As Florida has a huge whitewater kayaking place, this guide will help you with some more tips.
Let's begin the 4 best kayaking in Florida Panhandle with necessary information and guidelines;
Apalachicola River
The Apalachicola River is near Delta River, 11 no. paddling trips. The river is in between Georgia and Florida's state-owned route. And it has a significant temperate broad-greenery forest.
In the time of British domination, the river performed as the borderline concerning East and West Florida. Since 1998, the authority and the river-keeper have been working hard for maintaining the wildlife, environment, and recreation opportunities.
The River's environment is so enhancing for kayaking and canoeing. It is very easy to kayak here with back paddling facilities without any shuttle.
Lastly, having combined opportunities for hiking, camping, fishing, occasional hunting, the Apalachicola River is such a great recreational place of the Florida Panhandles.
Blackwater River
Blackwater River is another awesome place to go for kayaking. The entire river is around 90 kilometers long. Started from Kennedy Bridge, south of Alabama Border ends in Deaton Bridge, Blackwater River has swift and almost 31 miles of clear water for kayaking.
Nature is quite amazing here as the Blackwater River goes over and done with the State Forest and the State Park of the river. The overall nature of the river is good enough for kayaking and other boating as you will find white-tailed deer, bobcats, and other friendly animals and different birds.
Among the entire 91 kilometers area of the Blackwater River, 50 kilometers river area is good maneuverable for boating purposes. Having cold temperatures Blackwater River is free from alligators. To sum up, the Blackwater River is very popular for weekend kayaking and other boating purposes.
Chipola River
You can locate Chipola River in Calhoun, Jackson, and Gulf Counties. It's a branch of the Apalachicola River. The river rises from the "Forks of The Creeks". Basically, where several creeks come together in northern Jackson. Michael, a massive hurricane made a lot of damages to the forest and trees around the forks of the creek. But even hurricanes do not destroy the natural springs of Chipola River.
The Chipola River has about 51 miles long paddling trail for small boating purposes with 11 entree points. Chipola has around 63 water springs. The interesting thing is, it has the most springs of northwest Florida.
Chipola is a scenic and swamp River for kayaking. Besides, when you go under the water, you will find it as a beautiful wonderland down. The fish, colors and crystal clear ice-cool water is a great place for swimming.
Chipola River is a combination of various recreation. The river offers huge opportunities for the boat ramp, wildlife observing, occasional hunting, and small boating activities.
If you have a real desire for wild outdoors, Chipola River is one of the best of them. After all the ecological diversity of the river is so pleasing for kayaking and other recreations. You would fall in love with the nature of Florida's spring.
Boiling Creek
Boiling Creek is situated in Santa Rosa County. Popular for recreational kayaking. You will be feeling like kayaking in an aquarium here. Because of the underwater grasslands which work like the home of the fishes.
There are some lunch points near the Boiling Creek's entrance, bridge, boat ramp, and Yellow river's bridge. So you need to worry about anything, just go and have fun in your own way.
In fact, Boiling Creek is a great place for swimming and there are a couple of places where you can jump from. Though the name is "Boiling", the water is super cool here.
Florida Kayaking Laws and Rules: A Brief
Florida is one of the topmost regions for recreation and outdoor adventures. However, kayaking in Florida is one of the most popular activities among kayaking lovers. Florida Governing Authority and the Recreation and Parks Authority trying to ensure safe recreations. Thereby, the authority has several laws and rules.

Florida kayaking laws are basically safety-oriented. The main purpose of the Florida kayaking law is to ensure both Human Safety and Wildlife Caring. Here are safety regulations for kayaking.
Let's have a look at the main laws for enjoying the best Florida kayaking;
Personal Floating Device is mandatory for kayaking in Florida, as it is a life savior.
Motorized kayak needs registration for Florida kayaking. And the registration in necessarily needed for both Gas and Battery Motorized Kayaks.
A fishing license is required in some kayak fishing spots. And some of the creek and river authorities have their own laws.
Sound Device or Whistle is instructed in the Florida kayaking laws as it can save a life in times of danger.
Light is recommended for night kayaking or late evening kayaking in Florida.
Florida Kayaking and Fishing: A Simple Guide
Kayak fishing is one of the most adventurous activities among Florida kayaking lovers. Florida kayak fishing is so amazing that it's hard to present it in a brief. That's why we are presenting it in major points. The major tips for Florida kayak fishing are the following;
Using an Anchor is really important. It saves your kayak form sudden drifting during kayak fishing.
Don't compromise with the Fishing Gear. First, make sure what you are going to fish? According to your fishing type and skills try to practice the best fishing gear for your purpose.
Keep a Tackle Box while you are going fishing with a kayak.
Always Use the Best Paddle for you. It will accelerate your kayaking. Here we particularly cove on kayak paddle float.
Fish Finders can be helpful if you are going for advanced kayak fishing.
Know the Map, keep Mobile Phone, Knife, use Gloves, Floating Device is necessarily important.
Practice Saving Energy and using Mineral and Powdered Energy Drinks for the adventure.
Measure Your Kayak Fishing Level, Focus on Your Comfort, and Practice Kayaking with a Friend in the beginning.
Know the Safety Guidelines Properly. In the beginning, stage try day kayaking and practicing the safeties. And always keep Medical Kit with your kayak.
In conclusion, kayaking in Florida is really a pleasing adventure, and we should not miss experiencing Florida kayaking and wildlife observation. Florida is a holy combination of natural beauties. Amongst the paddlers, Florida kayaking is like enjoying nature's divinity. The parks, campgrounds, scenic rivers, wildlife offer to experience the best kayaking in Florida.