Ocean kayak fishing is all about adventure, thrill, and enjoyment. The beauty of kayak fishing in the ocean lies within its challenges and thrill. There is a handful of leisure activities that offers this much thrill and excitement. In recent times ocean kayak fishing became a very popular sport. Some may ask why in a kayak? The simple answer is kayak offers a bigger degree of freedom. Through kayaking, you can roam around wherever you want and however you want to paddle.
Usually, kayaks are not powered by motors. Therefore, it saves the cost to run them. Besides, it offers a calm and quiet environment moreover it is very cheap to operate. The best thing is that kayak incorporates you with what you are doing in a way that no other thing could! Moreover, you feel nature closely calmly by ocean kayaking and kayak fishing in the ocean.
Here are some common queries about ocean kayak fishing;
Can you Kayak Fishing on The Ocean?
Yes, you obviously can kayak fishing in the ocean. People love kayaking and fishing in freshwater lakes and rivers for decades. Recently many kayakers took their kayak fishing skills to another level offshore. Ocean kayak fishing is gaining popularity day by day as it is different from freshwater kayak fishing and offers a bigger degree of adventure and challenges.
Saltwater kayak fishing is now a popular sport event people are arranging this kind of event a lot in present times. It is possible to kayak fishing both in the Atlantic and the Pacific oceans in the American offshore waters. Kayak fishing ocean is popular in many places around the world.
Is It Dangerous to Kayak Fishing in the Ocean?
Kayak fishing is a very cool thing to do. Ocean kayak fishing is by far the coolest, most adventurous, and most challenging thing one can do in a kayak. Kayak fishing in the ocean is tricky and requires a lot of safety majors.
If you ask, is kayak fishing dangerous the answer would be dependent on some factors like which fart of the ocean you are kayak fishing, when, what kind of kayak you using, and what type of fish you will be catching? Kayak fishing can be dangerous but it is an adventurous pastime.
It depends on your comfort level and confidence. If you are comfortable and confident enough you can easily kayak fishing in the ocean. You must have experience and comfort with a kayak before hitting the ocean. Kayaks which are 12-14 feet long are very safe and suitable for kayaking in the ocean.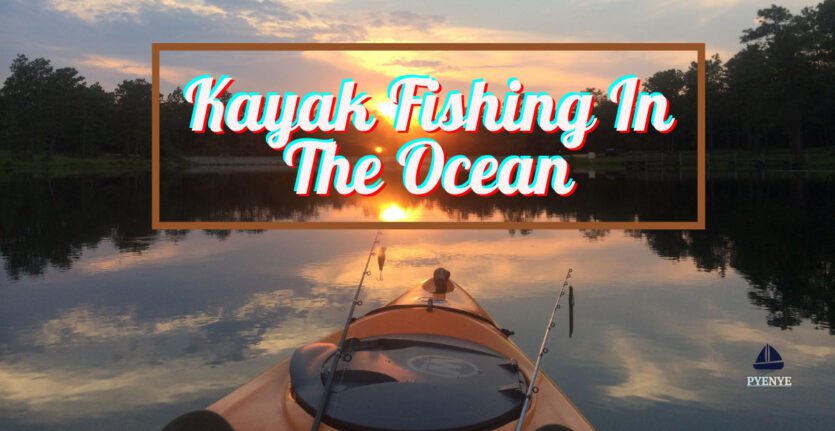 A Brief To Kayak Fishing In The Ocean
There are a lot of ways you can catch fish in the ocean. Generally, these methods are popular as saltwater fishing. The oceans are always a big source of fish and the ways to catch them vary. Mainly you can catch the fish from the shore or go in the water. Above all, get the ocean kayaking checklist first!
Besides, surf fishing is when you are fishing from the shore. Moreover, you can easily perform surf kayak fishing by the shorelines, beaches, or from a pier.
Surf fishing is good for beginners. The motive of surf fishing is to acquaint one with the ocean fishes. It is the best way for Basically one can catch many fishes from shore without not ever going to the water which makes surf fishing so popular. The other way of fishing is deep sea fishing. You can go to the deep or farther water by boat, kayak, or canoe.
Deep ocean fishing requires some basic skills and a lot of additional gear. In the deep ocean either you catch a fish by hook bait or cast net. Generally, anglers go deep-sea fishing with their hook bait they use boats or kayaks. If you want an adrenaline rush deep sea angling is for you.
Ocean Kayak Fishing Setup
If you are planning an ocean kayak fishing then you must prepare for your journey. The ocean is about to through every single challenge in its arsenal so you must be preparing with your best set up to counter the challenges. Here I have put together the ultimate ocean kayak fishing setup.
Adaptable Saltwater Kayak
An adaptable saltwater kayak and a paddle that can tackle the strong ocean tides are essential for kayak fishing in the ocean. The kayak is the most important thing in ocean fishing so you should choose it accordingly. An ideal ocean fishing kayak must be minimalistic, the draft of it should be shallow, stability is must requirement, a skinny kayak is better.
The kayak has low gunwale ease to hop in and out. The size is a critical factor chose a kayak that offers ample space for all equipment and safety gears and also easy to paddle kayak cannot be used without its paddle. A paddle that feels light enough to the hand and strong enough to beat the strong ocean tide is the best. There is a lot of size house according to your kayak.
Rod holders are essential to hold your fishing net and the fishing rod. Mount as many holders as you need in your kayak. The mount behind your seat is for carrying and in front of the seat is for fishing.
Electronics Which Helps To Find Fish
A fish finder is the biggest backer to catch fish. A modern-day fish finder is getting more advance and they also provide some basic facilities like sonar, caning, navigation, and more. Some kayaks have preinstalled devices otherwise it is easy to install one.
When you are in the ocean you defiantly need a lot of storage to keep all your equipment's especially the safety equipment. The ocean kayak storage box faces more abuse. Thereby, you must be rugged and sturdy meanwhile it should be light and must offer ample space. You chose a box that can be easily mounted in the deck of your kayak.
You should take all the necessary fishing tools like the fishing net and the fishing rod. Don't forget to take safety equipment. Bring some Colorful flags and led light in case of emergency a follow the coast guard safety guard your apparel as the ocean offers specific challenges in different seasons.
Personal Flotation Device
A personal flotation device (PFD)is a life Xavierite recent US coast guard report states that in recent years the death rate of paddlers is significantly reduced because of the use of PFDs. PFDs are three types 1,2 and 3. You should choose which suits choose s also have small pockets which help carry goods.
Top 13 Ocean Kayak Fishing Tips for Mastering the Saltwater
Kayak fishing in the ocean may seem intimidating at first but it is a very exhilarating experience. Probably you are a good kayaker and even you are a good angler but you never did both at once. You can have both tests at once in ocean kayak fishing. However, you can also perform kayak fishing in the freshwaters.
But freshwater kayak fishing is not as adventurous as ocean kayak fishing. If you want to be the master of the sea at kayak fishing you have to have some skills. Here I am providing you 13 tips for ocean kayak fishing for mastering the sea.
The tips are provided in three phases according to the whole process of ocean kayak fishing
Pre-Trip Checklist For Ocean Kayak Fishing
While you're going for the big journey, make sure you have a complete plan. Here I've prepared a complete pre-trip checklist for ocean kayak fishing;
Get A Clear Idea About The Place You Sre Going Fishing
As the intention is to catch as much fish as you can then you must have a clear idea about the spot. Check the local fishing reports. What kind of fish is found there and how many of them are there this type of information is needed?
Get The Latest Weather Report
You need to check the weather report as you're going in an ocean the weather must be favorable. Fog, wind, rain, thunderstorm are crucial environmental elements. Fog can make you lose track wind creates waves and lightning is dangerous. Here are the winter kayaking guidelines.
Learn About Other Vehicles In The Fishing Spot
Other vehicles in the area can affect your kayak fishing in the ocean. There may be many motorized vehicles that move fast so you have to be aware of them and make sure you don't go their path and don't let them come near you.
Tips Geting Prepared For Kayak Fishing In The Ocean
Here are the 4 tips so that you can easily get prepared for kayak fishing in the ocean;
Bring An Anchor And Fish Handling Gear
An anchor is a very important piece of gear it helps to stop you and change direction. Many beginner kayakers often overlook this but it is important. Fish handling gears are also very important. So that you need to carry fish handling nets, grips and stringers, and also line cutters.
Pack Etiquette Food And Water
A sea is a challenging place. As you are paddling a lot of energy will be burned and you must be hydrated also so pack as much food and drinkable food as you can.
Skin Protection
You are exposed to burning sun so bring sunscreen, sunglasses, some clothes, and bug spray.
Safety Gear
Safety should be your priority so pack safety equipment like PFD, first aid kit, whistle, fishing rod leash, gloves a lamp, and a kayak repair kit. Above all, go through the kayaking safety guidelines before you go fishing in the ocean.
6 Tips For Mastering The Ocean Kayak Fishing
Here are the 6 tips for mastering ocean kayak fishing;
Drifting With The Waves
Learning to drift with the wave this skill is very helpful and helps you to reach your target easily.
Try To Move Quietly
A slight move or little vibration will create a sound that can scare the fishes so staying quiet is important.
Keep Your Fishing Rod Sideways
If your fishing rod is pointed straight the wind can create drag so keep it sideways and as close as possible to the water.
Change Your Lure Efficiently
Efficient lure changing makes the difference between feeding the fish and catching them.
Sight Fishing
Sight fishing is not much essential but it is a handy skill to have. These days electronic fishfinder makes the task easy you must bring that. Besides that, polarized glass can make it easy to find fish with your own eyes.
Don't Choose A Cheap Paddle
The ground a kayak can cover is surprising and the paddle ensures that. You may think it will be okay to go cheap on a paddle but you are completely wrong. A good paddle makes a good ocean kayak fishing experience.
Your paddle must be light enough to carry and strong enough to beat the fearsome ocean waves.
A bad paddle can make your fishing operation painful. So, expend as much money as you can to buy a good paddle. Besides, here's our take on kayak paddles float.
Best Ocean Kayak Fishing in the US
The continental United States is a vast piece of land and it is surrounded by to big ocean. Atlantic on the east coast and the Pacific Ocean on the west coast. California and Alaska are two good spots for ocean kayak fishing in the Pacific Ocean.
On the Atlantic coast, you can kayak fish in the cost of NY state and also in Florida state. Cocoa Beach in Florida is famous for its ocean kayak fishing. In the Hudson River coastal area there is an opportunity for ocean kayak fishing. Here are the best Florida kayaking destinations.
Kayak Fishing in The Pacific Ocean
The Pacific Ocean is a very good place for ocean kayak fishing. California Central Coast is the place where you can kayak fish in the ocean. The central coast of California is very large and undeveloped and it is accessible all year round all four seasons. A variety of fish is found here that's why it has become an attractive place for ocean kayak fishers.
Sunset Bay State Park is a place in Oregon whish offers calm water and easy access to the beach that makes it famous for kayakers. Barkley Sound which is on the west coast of Vancouver Island is regarded as kayak anglers' paradise. Above all, the Pacific Ocean offers a wide range of opportunities for catching salmon fish.
Oregon Coast is also very prominent for salmon fishing. Five rivers are empties on the coast which attracts a lot of salmon and other species and they attract a lot of ocean kayak anglers. Here are the best river kayaking destinations in the United States.
Kayak Fishing in The Indian Ocean
Kayak Fishing is not much popular in the Indian Ocean region. In the Indian ocean, people often fish in traditional methods with their traditional boats and other water vessels. Though in Seychelles island situated 1000mile east of Kenya is prominent for ocean kayak fishing. The island nation is 176 square miles and there are 115 islands.
Its islands and beaches offer one of the most exquisite beauties of nature. Its lagoons abound with hundreds of fishes and they are surrounded by lush tropical rain forests. Among hundreds of islands a few offer kayak fishing sport. Moreover, its coral reefs are in reach with fishes from bonefish to blue marline. Above all, if any kayak fisher can be made up to this place, he must be overwhelmed. Some kayak fishing opportunities are quite popular in Florida Panhandle.
Various islands in the Maldives offer fishing in fact fishing industries are the second largest here. Mostly they fish traditional fishing but in recent times kayaking and kayak fishing are possible here. Besides, you can have a look at the bay area kayaking guidelines from here.
Kayak Fishing in The Atlantic Ocean
On the East coast of the US, kayaking is very popular and an enjoyable pastime. The challenges and obstacles are different from the west coast. The water is warmer compared to the west coast. Some say that here the fishes are larger and they are more aggressive than their west coast sisters. Though this kind of tougher situation makes the kayak fishing operation more adventurous and joyful.
Kayak fishing can be done along with the Atlantic Ocean. The two hotspots are mainly the Hudson River is in the NY state and on the Florida coast. Moreover, fishing in the NY state is very popular even it is possible in the City of NY harbor area mainly in the warmer seasons. In Florida state cocoa beach and many other places are famous for the sport.
The important thing is that in the Florida region the fishing opportunities remain a long time across the year. You can easily catch a variety of fish from the Atlantic Ocean.
Ocean Kayak Fishing As A Better Leisure
If you are searching for better leisure or spend your leisure in a different way ocean kayak fishing is the best way. Ocean kayak fishing can be your best leisure as it offers a completely different experience from other past times. It is very challenging and adventurous leisure and no doubt it is worth the time. The ocean is a vast place it symbolizes independence and vastness. You can have a look at the top ocean kayaking tips from here.
You can kayak in the ocean and find a suitable place for fishing as you are in the ocean you have an opportunity to catch a huge variety of fish. In the ocean, there is a lot of big fish and they are constantly challenging your fishing skills. It is a very adventurous thing to land the fish.
Adventurers when you catch a fish shark who wants to sneak into your catch then the environment changes a competition between you and the shark who can keep the fish imagine the situation what could be better than that. Kayaking in the ocean is always tricky and requires a lot of safety majors.
Before you go you must have the experience of kayak and fishing in a kayak. It is risky but very adventurous and challenging you hardly notice the time you spend kayak fishing. The natural view is also magnificent especially the time before sunset. However, if you want to lessen the difficulties, have a look at the article on is kayaking hard or not?
What Makes a Kayak Good for The Ocean Kayak Fishing?
You can find a lot of kayaks in the market. And they are of different types for different kayaking purposes. However, some of them are for freshwater some are for rapid waters some for calm lakes and some are for the oceans. Is there any difference? What makes a kayak good for the ocean? If this kind of question comes to your mind often then you are in the right place.
I am clearing the facts that make a kayak good for the ocean. Normally all kayaks work in the same ways. But due to their operational purposes, they are built differently. The main difference is in their lengths. Ocean kayaks are longer and wider because they are made to fight with the waves. The length can be 12 feet to up to 26 feet. Good ocean kayak must be wider so that many equipment and necessary goods can be carried.
Normally ocean is a very vast and remote place so a lot of food and other good is needed so there must be plenty storage space. Good Ocean kayak should be an open hull kayak so that all the equipment is within reach of your hand. Ocean kayaks are sometimes used for ocean fishing an open hull system helps to keep up with your catch.

PyeNye Blog
Ocean kayaks are always sit-on-top style on the other hand other kayaks are mainly sit-in style. Sit on top style ensures good menu variety and in case of emergency, it is easy to enter or exit on a sit on top kayak. The ocean is a rough place so sit on top style is a must in an ocean kayak. Before you purchase one, have a look at the comparison of a sit-on vs sit-in kayak.
Kayak fishing is fun and it offers adventure and challenges. You hardly find this much adrenaline rush in such a low coast in any other sports. Kayaking is a healthy exercise and fishing in a kayak in the ocean takes it to another level. It makes you happy and removes your monotony. You can feel nature in close sight. You can find new places that you never imagined.
The beauty of the ocean and the excitement of the fishes that you hooked up in your line are unexplainable. However, only those who have experience can feel the beauty that lies in ocean kayak fishing. If you are planning a kayak fishing tour you must take all the safety measures to ensure beautiful adventurous kayaking.