Florida is a kayaker's paradise, with miles of coastline, pristine waterways, and an abundance of wildlife. However, there's one creature that tends to make kayakers nervous – alligators! With their powerful jaws and formidable presence, encountering an alligator while kayaking can be a daunting experience.
From calm rivers to open ocean waters, Florida kayaks offer a variety of destinations. Still, some locations are more likely to see alligators. By choosing an alligator-free destination, kayakers can cut the risk of encountering them!
But where to kayak in Florida without alligators? Fear not! In this article, we've scoured the state to bring you a list of the top kayaking destinations in Florida where alligator encounters are less likely.
It doesn't matter if you're a pro or a beginner. Explore these spots, and experience the adventure without worrying about predators. However, if you're in a hurry jump directly to alligator-free kayaking spots in Florida.
Do Florida's Alligators Attack Paddlers?
Most Florida waterways are dotted with alligators. Yet they are generally not aggressive towards humans. But it happened before that alligators attacked paddlers. To cut the risk of an alligator attack, boaters should understand how they behave.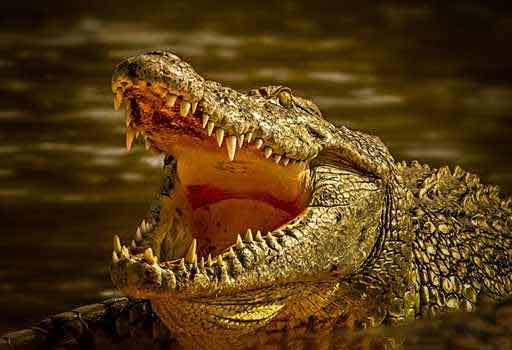 Alligators are cold-blooded reptiles that can grow up to 14 feet and weigh over 1,000 pounds. Having sharp teeth, a strong jaw, and a great sense of smell makes them great predators. When it's summer, you're more likely to encounter gators in freshwater lakes, rivers, and marshes.
1.3 million alligators are estimated to exist in Florida in 2021. In 2021, 9 alligator attacks on humans were reported in Florida. Among them 7 were major. Alligator bites are still rare, with a 1-in-3.2 million chance of being bitten. It usually happens when people swim in alligator-infested areas or feed them. 
But Why Gators Are Too Common In Florida?
Florida's warm and humid climate is ideal for alligators, so they are common in the state. There are 1.3 million alligators in Florida's swamps, marshes, lakes, and rivers.
Encountering an alligator while kayaking can be both exhilarating and intimidating. When threatened or cornered, alligators may become aggressive. Aggressiveness may also increase during mating season and when hatchlings are present.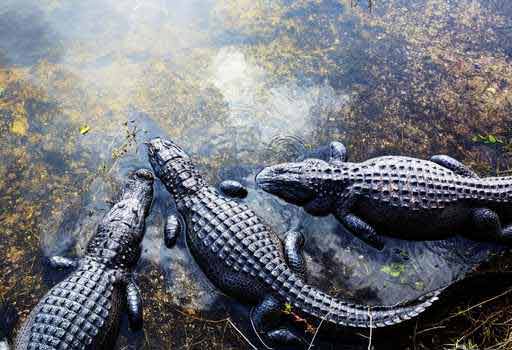 In spite of the risks, kayaking remains a popular and rewarding activity in Florida. Observing these animals in their natural habitat is fun for kayakers. Keep your eyes open and avoid known alligator habitats to minimize your risk.
Some kayakers, however, prefer to paddle whereas alligators are less likely to appear. Paddlers can encounter gators anywhere on Florida's waterways. But kayakers can choose destinations where they're less likely to appear. Safety measures will help you minimize encounter risk. And remember to keep a group together, don't paddle at night, and make noise.
Is there any place in Florida without alligators?
It's natural for alligators to live in Florida's waterways. While alligators are less common in some areas, it's hard to find a place in Florida without them.
Nevertheless, some parks and areas manage alligator encounters strictly. Wekiva River, Ichetucknee Springs State Park, and Silver Springs State Park are some examples.
Alligators are typically not aggressive toward humans. But they can become territorial during their mating season. Or when they're defending their nests. Boaters should stay away from alligator nests and keep a safe distance from them.
It's wise to stay calm if you see an alligator while you're on the water. It is also crucial to avoid feeding alligators. Because this encourages them to approach humans.
Almost Alligator-free kayaking spots in Florida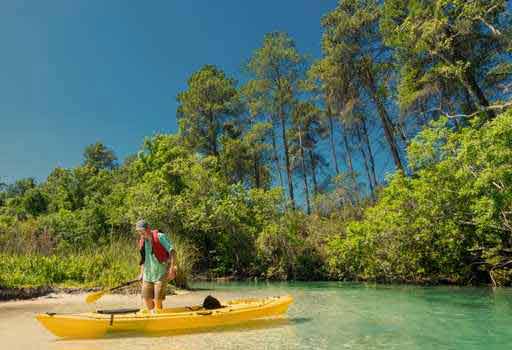 If you want to kayak in Florida without alligator encounters, you're in luck! There are many enjoyable places to paddle and enjoy the scenery.
Ichetucknee Springs State Park
One of the most popular kayaking locations in Florida is Ichetucknee Springs State Park. It's been a favorite kayaking spot since the 1970s. It's home to six springs that feed the Ichetucknee River, which flows through 2,000 acres of pristine woods and wetlands.
Aside from paddling, the park is home to hundreds of birds and wildlife. Alligators may be present in the park, but they usually stay away from areas with people.
Ichetucknee Springs' clarity makes it special. From your kayak, you can see down to the riverbed, and you can even spot little animals. Anglers often catch largemouth bass, catfish, and other species on the river because of its clarity.
Wekiwa Springs State Park
Wekiwa Springs State Park is another great place to kayak without worrying about alligators. Near Orlando, this beautiful state park has springs fed by a creek that runs into the Wekiwa River. With almost no gators, kayakers can explore sand pine forests, scrub oaks, cypress trees, marshes, and more.
Madison Blue Springs State Park
Another great kayaking spot is Madison Blue Springs State Park. A 150-mile-long river, the Withlacoochee River runs through the park near Madison. During the summer, visitors can enjoy swimming in the beautiful spring or kayaking or canoeing in the large pool measuring about 33 acres. Even though there are a lot of wild alligators around, there hasn't been an incident with them at this location since they tend to stay away from places with humans.
It's perfect for those who like to explore the great outdoors on foot and by kayak. Just south of Gainesville, you'll find over 200 square miles of forest with hiking trails, campgrounds, rivers, and lakes to explore! Most sightings of alligators occur along the edges rather than in open water, so your chances are still low compared to other places.
Homosassa Springs Wildlife State Park
Homosassa Springs Wildlife State Park is a great place to go kayaking if you want to see Florida's wildlife up close. The park is home to manatees, otters, and other wildlife, but the alligator population is very low. According to the Florida Fish and Wildlife Conservation Commission, the alligator population in Homosassa Springs is very low.
In addition, Homosassa Springs Wildlife State Park has great kayaking without worrying about gators. With changes in land use, construction, and water management practices, there are fewer gators. Around Lake Henderson, you may see manatees swimming alongside you.
Do Alligators Attack Kayaks In Florida?
Alligator attacks on kayaks in Florida are rare, but they do happen. In 2021, there were six unprovoked alligator attacks on humans in Florida, and only one involved a kayaker.
It's important to remember that alligators are wild animals and can be unpredictable. Although alligators aren't aggressive towards humans, they can become more territorial during mating season.
It's best to avoid known alligator habitats and keep a safe distance from alligators if you see one. Feeding alligators in Florida is also illegal. Because it makes them associate humans with food and gets them aggressive.
Safety Tips for Kayaking with Florida's Alligators
It's not uncommon to encounter alligators in freshwater bodies throughout the state, but they should be taken seriously. To ensure your safety while kayaking in Florida, follow these safety tips:
Before heading out on the water, make sure you know all the laws and regulations for the area you're visiting. Keep an eye out for any local advisories or warnings about alligator sightings or populations in specific areas.
Avoid alligator-infested areas such as ponds, lakes, and rivers when planning your kayak trip. If you come across any signs warning of potential gator activity while out on the water, steer clear!
Alligators love to nest along shorelines or on small islands inside waterways – so respect their habitat and stay away from these areas. In addition, avoid areas with young alligators, since they're more likely to be aggressive if disturbed.
Whenever an alligator approaches your kayak, keep calm and slowly back away from them rather than attempting to make contact or challenge them. Be cautious when encountering alligators near the water's edge.
Finally, never feed or disturb wildlife while kayaking in Florida. While it may seem tempting (especially with baby gators!), feeding wild animals isn't just illegal but also dangerous!  In the long run, this could lead to dangerous situations (like approaching people for handouts) since animals associate human interference with food sources. Besides putting yourself at risk, disturbing wildlife puts them at risk too!
Alligators are a common and native species in Florida's waterways. But kayakers still have some places where they can paddle without too much risk. It's almost risk-free. But even in these areas, kayakers still need to take precautions and follow safety guidelines. It'll make your adventure safer!