Have you ever tried to explore the sparkling waters of Key West after dark? If not, you've no idea what you're missing out on! Night kayaking in Key West is one of the unique ways to explore this beautiful destination.
From tranquil lagoons and mangroves to breathtaking views of the stars, night kayaking gives you a chance to escape the hustle and bustle of everyday life and take in all the beauty that Key West offers!
Elora and I had been planning this trip for months! We had both heard about the magic of night kayaking in Key West. And we were excited to experience it.
We arrived there just in the afternoon. As we brought our kayak in our SUV and quickly set off into the depths of the night.
As we paddled further away from shore, our eyes adjusted to the darkness.
The sky was filled with stars, twinkling like diamonds against a black velvet backdrop. Suddenly, something illuminated the darkness – it was bioluminescent plankton glowing bright blue beneath our kayak!
Then, we continued to explore further out into the depths of the evening, marveling at all of the incredible things we saw – from schools of fish swimming beneath us to jellyfish glimmering like jewels in the moonlight.
As we headed back ashore, Elora pointed out one more sight – a pod of dolphins playing around us! They jumped and splashed around our boat until they eventually disappeared into the dark waters. We watched them go with wonder; it was indeed a magical moment!
In this blog post, we're going to share our experience. So that you can experience the most out of night kayaking in Key West.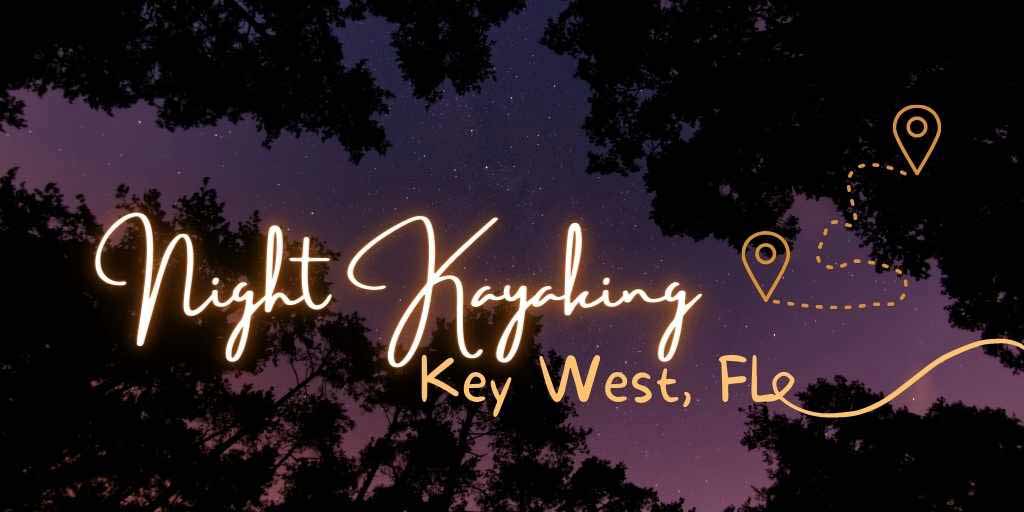 Why choose Key West for night kayaking?
Night kayaking in Key West is also an excellent opportunity for snorkeling and fishing enthusiasts alike. During your tour, you may encounter various fish species, such as grouper, snapper, mackerel, tarpon, barracuda, and more.
Anglers must have a valid fishing license before casting their line offshore, though! Most night kayak tours include all necessary safety gear and experienced guides who are knowledgeable about local wildlife. So your trip will be smoother!
Depending on which tour operator you choose, your tour may include refreshments (like beer or wine) or even a light dinner at either end of your journey!
Where And How To Start?
Key West is a popular destination for tourists and locals alike. And it offers some of the best kayaking spots in the region.
Located at the southernmost tip of the Florida Keys, Key West is easily accessible by car or boat from nearby cities like Miami and Tampa.
To get to Key West, take US-1 South until you reach mile marker zero. Kayakers will have plenty of options when it comes to launching sites. Because there are several public access points located throughout the city.
Surrounded by the Gulf of Mexico and the Caribbean Sea, you can truly escape the hustle and bustle of everyday life during your journey!
Depending on where you stay, there are various marinas that offer easy access to night kayaking tours. This makes it convenient for visitors who want to explore Key West without stressing about transportation.
Best Time To Go Night Kayaking In Key West
The best time for night kayaking in Key West is from May through October when temperatures are mild and often balmy.
The summer months in Key West are usually scorching and humid. However, if you want to avoid these conditions, then try to go kayaking during spring or fall.
Popular Destinations for night kayaking in Key West
From crystal clear waters to mangrove swamps and the famous Sunset Pier, Key West offers a wide range of destinations that can be explored at night by kayak.
Before you begin, have a look at the following destination;
Sunset Pier
First up is the world-famous Sunset Pier, one of the most iconic landmarks in Key West. This pier is the perfect place to start your night kayaking adventure. Paddle out past the pier at dusk and watch the sun dip below the horizon as you take in the stunning views of the Gulf of Mexico.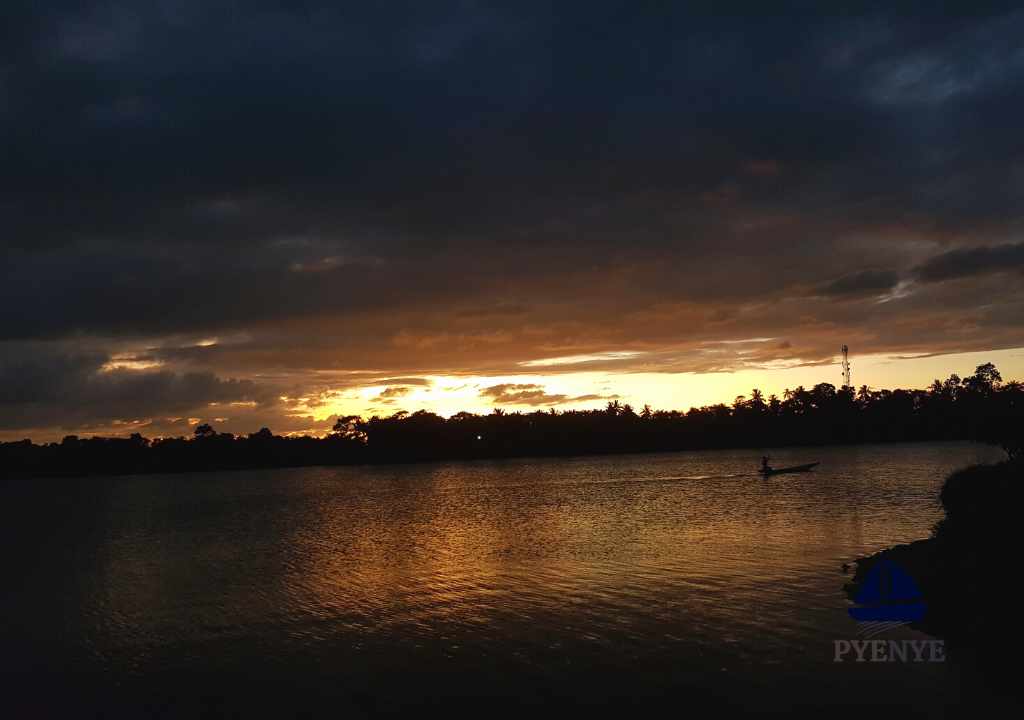 Just be sure to bring your camera to capture the sunsets! However, if you're feeling adventurous, try your hand at night fishing from the pier.
Fort Zachary Taylor State Park
One of the most popular spots for night kayaking in Key West is Fort Zachary Taylor State Park. Here, you can paddle along crystal-clear waters teeming with marine life and explore historical sites onshore, such as a fort that dates back to 1845.
During your journey, you may even spot some of Florida's wildlife, including manatees and dolphins!
Looe Keys National Marine Sanctuary
For those looking for an even more adventurous night kayaking excursion, there are several options available in Key West. For example, Lazy Dog Adventures offers nighttime trips into the remote waters of Looe Keys National Marine Sanctuary.
This full-moon paddle includes paddling around lush mangrove islands and visiting uninhabited islands where guests can view amazing sunsets over the horizon.
Seven Mile Bridge
Another excellent spot for night kayaking in Key West is Seven Mile Bridge. This bridge spans several islands that offer incredible sights and sounds after dark. In short, it's perfect for those who want a peaceful nighttime excursion on their own or with friends.
This bridge also has plenty of shallow areas ideal for paddling around without worrying about getting too deep into the ocean's depths. Just make sure to bring a headlamp or flashlight!
John Pennekamp Coral Reef State Park
If you're looking for a more leisurely night kayaking experience, then John Pennekamp Coral Reef State Park is a great option. Here, visitors can enjoy calm waters while listening to the sounds of nature all around them.
Plus, they'll get to paddle through shallow coral reefs that are home to colorful tropical fish and other marine life.
Western Sambo Ecological Reserve
And if you want to explore nature during your kayak trip, then head over to the Western Sambo Ecological Reserve for some amazing views and wildlife sightings.
With mangrove trees lining its waterways and lots of tropical fish swimming around, this reserve makes for a great spot to explore during your night kayak adventure.
What to Expect When Night Kayaking in Key West
Key West, Florida, is known for its beautiful night sky and rich wildlife. The nearby waters of the Gulf of Mexico offer a unique opportunity to explore nature's wonders up close. In short, Key West provides an unforgettable experience that you won't soon forget.
Types of Wildlife You May Encounter
One of the most exciting aspects of exploring this area is encountering wildlife, such as sea turtles, manatees, dolphins, and other marine life. Paddling through twilight hours provides an incredible opportunity to spot these amazing creatures.
If you're lucky enough, you might even catch a glimpse of one of the beautiful coral reefs that make up the Florida Keys National Marine Sanctuary.
Nighttime kayaking also presents a great chance to observe rare birds like frigatebirds during their nighttime feeding habits.
What To Include In Your Plan
Whether you are a beginner or a pro, night kayaking in Key West is an experience you won't forget. To make sure your trip goes off without a hitch, here's what to include in your plan for night kayaking in Key West.
Before You Go
Before heading out on your adventure, there are a few things you should do to prepare.
First, get familiar with the area and know the rules and regulations regarding paddling around Key West. Be sure to check local tide tables, so you have an idea of when low and high tides occur in order to plan accordingly.
You will also want to make sure you have all the necessary safety gear, including life jackets, flashlights, and paddles.
It's also important to check the weather forecasts so that you know what type of conditions to expect while out in the water.
At The Scene
When you arrive at your launch site, take some time to orient yourself before heading out onto the water. Make sure you know where any points of interest are located, such as reefs or mangroves, as these can be exciting places for exploration.
Once on the water, be aware of buoys and markers that designate areas that are closed off due to wildlife habitats or other restrictions.
Remember that nighttime brings with it limited visibility! So it's essential to stay close together if you are part of a group. And move slowly along shorelines rather than venturing too far from shorelines. Because this can help guide your way back home if needed.
What To Bring Along
Finally, depending on how long your journey is going to take, make sure that all essential safety is on board before heading out.
Together with life jackets and flashlights or headlamps, you also need to bring a waterproof GPS device (to help keep track of where you've been), snacks or drinks, first aid kit.
Additionally, it's often helpful to bring along flares in case of emergency situations and let people know where you're going before leaving shore.
This way, if something doesn't go according to plan, they can come to look for you quickly!
Tips To Make Your Key West Night Kayaking Trip Memorable and Unique
When you're planning a night kayaking trip to Key West, then you'll want to make sure that it's an adventure you'll remember for years to come.
To help you do just that, here are some additional tips to make your trip more adventurous.
Choose Your Route
Nighttime paddling will require different navigation skills than during daylight hours. So plan accordingly when choosing a route for your night kayaking journey.
Pick a way that stays close to shore but far enough away from populated areas that you won't disturb anyone nearby with noise or lights!
Take Time To Witness The Surroundings
As part of making your trip special, take some time before setting out on your journey to learn about the local plants and animals in the area. This will give you a greater appreciation of what you're seeing while out on the water, as well as provide insights into the natural history of Key West.
If possible, consider taking a few minutes at one of the local nature centers or aquariums in town for an even more comprehensive overview of what lives in and around Key West!
Consider Guided Tours If You Need
There are many different tours available for all types of skill levels, so no matter if you're an experienced paddler or newly starting out, there's likely something that will suit your needs.
Tours can range from one hour to two hours, depending on how much exploring you want to do. Most tours offer guides who can provide information about local wildlife and points of interest along the way.
Other Adventures To Do At Night In Key West
Key West is a tropical paradise that offers a variety of thrilling water activities to enjoy during the day and night. From snorkeling to fishing, there's no shortage of ways to explore the turquoise waters of the Florida Keys.
But if you're looking for more than merely kayaking, there are plenty of other thrilling activities to try at night in Key West.
Here are some of the best:
Try Fishing
Fishing in Key West is an iconic experience that many visitors enjoy. There are plenty of warm-water species to target, such as permit, snapper, tarpon, and grouper.
And if you're lucky, you might even catch a shark! You can also join a fishing charter for a night of fishing with a guide.
Go on a sunset cruise
There's nothing quite like watching the sun sink into the horizon while you're on a relaxing boat ride. And there are several companies that offer sunset cruises. These cruises take you around the island and out onto the open waters for stunning views of the sunset.
These cruises take you through the waters of Key West and allow you to take in the stunning views of the sunset. You can even take a dip in the ocean and watch the sunset from the sea!
Go for a night swim
Key West has plenty of beaches to explore. And you can even take a dip in the warm waters after dark. Keep in mind that some beaches may have restrictions, so be sure to check before heading out.
From the stunning views of the sunset over the Gulf of Mexico to the sparkling stars in the night sky, night kayaking in Key West is an unforgettable experience.
With the perfect combination of adventure and workout, it's a must-do for a unique and unforgettable experience.