Kayaking with the manatee is undoubtedly an extraordinary experience that I believe one should experience once in his lifetime. Manatees commonly known as sea cows are lovely water animals. These prehistoric animals are like giant friendly creatures. The most prominent place to kayak with manatees is in the sprigs of Florida.
However, winter is the best time for kayaking with the manatees as they move springs during the winter months. Above all, the crystal clear water of the springs helps to observe and kayak with the manatees. If you're going in the winter, consider these guidelines on cold weather kayaking first.
Is it safe to kayak with the manatees?
In short, it is safe to kayak with the manatee. Actually, by far it is the safest and easiest way to get close with the manatees. As kayaks don't have any engine or electric motor so they don't make any noise. They don't have any propeller blade by which the manatees can be harmed.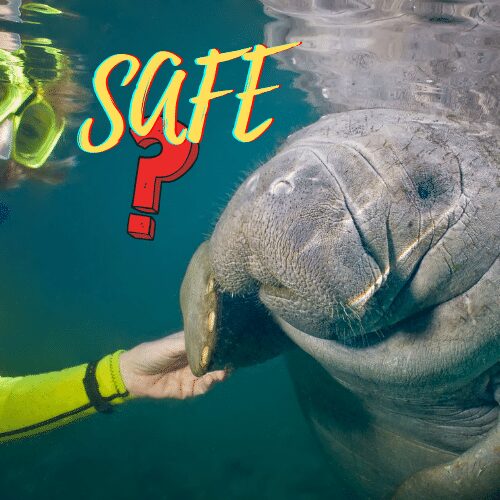 The paddle of a kayak is comparatively light which ensures very less or no harm in case of an accident. Kayaking with manatees is both safe for the kayaker and the manatees.
Where can I kayak with manatees?
Manatees are one of the most popular water creatures. People love to watch them in their natural habitat. The state of Florida is the best place to see them in their natural lifestyle.
Florida has the best places for kayaking with the manatees. the Manatee Park in Fort Myers, Blue Spring Orlando, Silver Spring is amazing for kayaking with the manatees. Besides, there are a bunch of other places to enjoy with them. Above all, we'll be presenting the 5 best places to kayak with manatees later in the article.
5 Best Places For Kayaking With Manatees
Manatees are really beautiful! They're hefty as well as they're playful! These placid titans lodge the saline waters of luminous parts in the southern US and Central America. Here I am stating the 5 best destinations. If once in your life you wished to kayak or see the manatees, have a look at the following destinations;
Kayaking with a manatee in Florida
According to the US Fish and Wildlife Service, there are approximately 6,300 manatees in Florida waters. It's not easy to observe them unless they are in crystal water.
Winter is the best time to observe them as they gather in some hot water springs like Blue Spring State Park. Arguably the blue spring state park is the best of all the best time depends on the weather.
In 2018 this place created a record in daily manatee count with 485 manatees. Crystal River and Three Sisters Spring are also very prominent for their manatee numbers. The crystal river wraps around a large area in king's bay. Here are the top river kayaking destinations.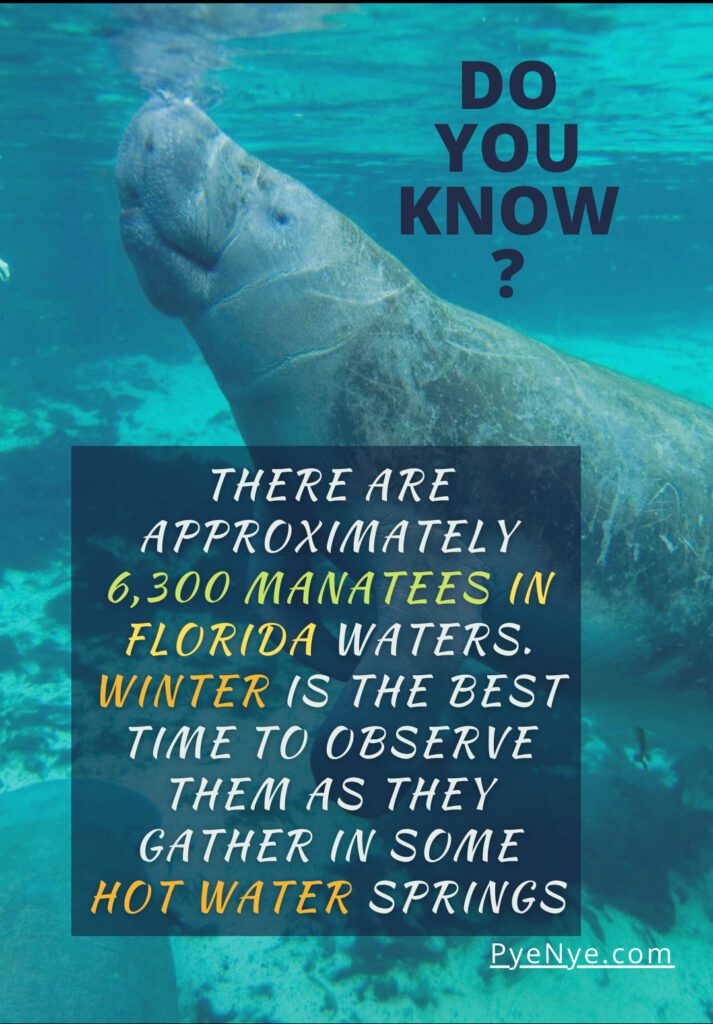 More than 70 springs are here which attracts lots of manatees. The best of them all is the three-sister spring. Where three springs combine with one and it is a part of Crystal River National Wildlife Refuge.
Besides kayaking you can also perform swimming with the manatees is also possible. There are other places like Silver Spring, Ichetucknee Springs, Tarpon Springs: Spring Bayou, Wakulla Springs, Chiefland. However, many steps have already been taken here to increase its number during the last decades and the result is visible.
Kayaking with manatees in Fort Myers
Fort Myers consistently is rated as a top destination for kayakers. Its beaches and Sanibel are paddlers' paradise with a lavishness of scenic spots and water trails. If you have not seen a manatee up close this is the spot to see. you know the manatees love to drift up to paddlers to wave hallo now you can wave them back by kayaks.
In Fort Myers, there are a lot of places to witness and kayaking with the manatees. An expert guide can direct you to some hidden place from other kayaks and boats. The manatee park in Fort Myers is most prominent for watching as well as kayaking with manatees. When the Florida water gets too cold for the manatees, they move to the manatee park area as it is comparatively warmer.
The heat is not generated by any springs but a power plant that segregates its warm water to the park. December to February is the prime time to see them but occasionally they are observable from November to march. Though some zones are limited for kayaking.
The water is comparatively less visible here which creates a bit of a challenge to spot a manatee. You can kayak here by your kayak or rental ones it's free but a parking charge is required.
Kayaking with manatees in Orlando
Blue Spring state park is the best place to kayak and watch manatees in Orlando. You can easily locate this near the Orlando metropolitan area near Orange city. It was established as a state park after a bunch of researchers found that Manatees are swimming here up from St John's River.
Above all, the blue spring is the winter sanctuary for manatees. The best way to enjoy the company of manatees in Blue Spring is kayaking. It is Florida's one of the most exciting and enchanting kayak tours. From November to March the manatees consider the Blue Spring as their winter home. Here are our winter kayaking guidelines.
The 72 degrees temperature is constant in Blue Spring round the year. It is also one of the bulkiest sanctuaries of these beautiful creatures. The water of this spring is very clear that helps to spot them very easily.
Kayaking here allows witnessing and interacting with them in their natural habitat. You will be overwhelmed when one of the animals swims up to you and place its head on your kayak. The sight is very appealing and makes them lovable. they are very curious animals that's why they do that. They have protected animals so you should not touch them.
Crystal River Kayaking with The Manatees
There is no other place like the crystal river to kayak with the manatees. It is the largest manatee sanctuary in the world. This place and its surroundings attract people from all around the globe. If you have an intention to see the manatee in their natural habitat crystal river is the go-to destination for you. The water of this river is crystal clear as the name is also Crystal River. Which makes the manatee spot easily by the human eyes.
The most impressive and attractive of them all is that besides kayaking swimming with the manatees is possible here. The place is good aided with conveniences and easy to reach about 90 minutes from Tampa. Bringing your kayak is allowed here.
Crystal River is located in Kings Bay Park and Three Sister Spring can be reached from the river. The water is fresh and the panorama is succulent. Have a look at the freshwater kayaking tips.
The best time to go is early in the morning and on a weekend when there are fewer people around. Sometimes you might find someplace is closed as the place is crowded with manatees it is done for the welfare of them. The cove range is near 600 acres and it comprises 70 springs. Roughly 800 manatees emerge here in the winter seasons. During crowning manatee months kayaking is banned here.
Cocoa Beach Manatee Kayaking
Cocoa Beach is a big place to explore. Its vastness offers a lot such as Kayaking with manatees and kayak across the Indian River Bay. In the Indian River Bay area, you can find and kayak with dolphins, indigenous and nomadic birds and so much more. All of these opportunities are available here. If you wish, you can have a look at the bay area kayaking guidelines.
There's no problem if you don't have experience in kayaking. Here you can easily learn from our guidelines to get the most of the adventure. Manatee kayaking is one of the most prominent daytime activities in the Cocoa Beach area.
About 200 manatees mate here in the season which makes an eventful trip. Some locals gave a name to the place as a manatee box where 200 manatees are available in the season. During the winter the box provides them heat and rest if the year serves as a resting place. The current of the canal was used as a meeting place for manatee breading heard. If you are lucky, you may witness them meeting.
Manatee Kayaking Laws In The United States
Manatees are endangered species and they are protected by law. If you want to see and kayak with them you should follow particular guidelines. Some acts are imposed to protect the manatees like The Marine Mammal Protection Act of 1972, The Endangered Species Act of 1973, and The Florida Manatee Sanctuary Act of 1978. Some action is stated as illegal by the law like feeding and harassing, followed by killing, hunting, or wounding. Anyone who wants to see or participate in kayaking must abide by this law. Some laws are given below;
You must keep your distance from the manatees and constraint your seeing time in order to not let the manatee notice you.
Be careful paddling through seagrass beds, as manatees enter, exit, and roam around here. give them their space.
Surrounding a manatee by you or your group may affect their natural restraint. That may increase their jeopardy of injury so you should avoid doing that.
Don't offer manatees food or water. As it is prohibited and considered harassment. Let them find their food.
You need to speak quietly and avoid making unnecessary noise while you are in the wild.
5 Tips For Having The Best Manatee kayaking
One should bear in mind that manatees are very vulnerable species so they should be very cautious about their habitat. Manatees are very friendly and curious creatures they will approach you but you should maintain a distance remember manatees are huge animals in size and they have very strong tails also.
If your rapid movement or any splash or any attempt to touch them may scare them. As a result, their rapid reaction may flip your kayak. For such situations, you need to learn how to turn back your kayak. Here's how you can less such kayaking difficulties.
Prepare Your Checklist
Kayaking experts always recommend equipment like a big water bottle to remain you hydrated down the road, sunblock, mosquito repellent, and towels.
You can bring some snacks in your long river-long kayaks but be careful don't throw waste in the water. If you are caring any camera, you must make sure that it's waterproof.
You should keep your mobile phone as well camera in a waterproof bag. Because there is a big chance of dropping them in water so be careful.
If you are planning for kayaking in the ocean or even ocean kayak fishing, you can get the checklist from here.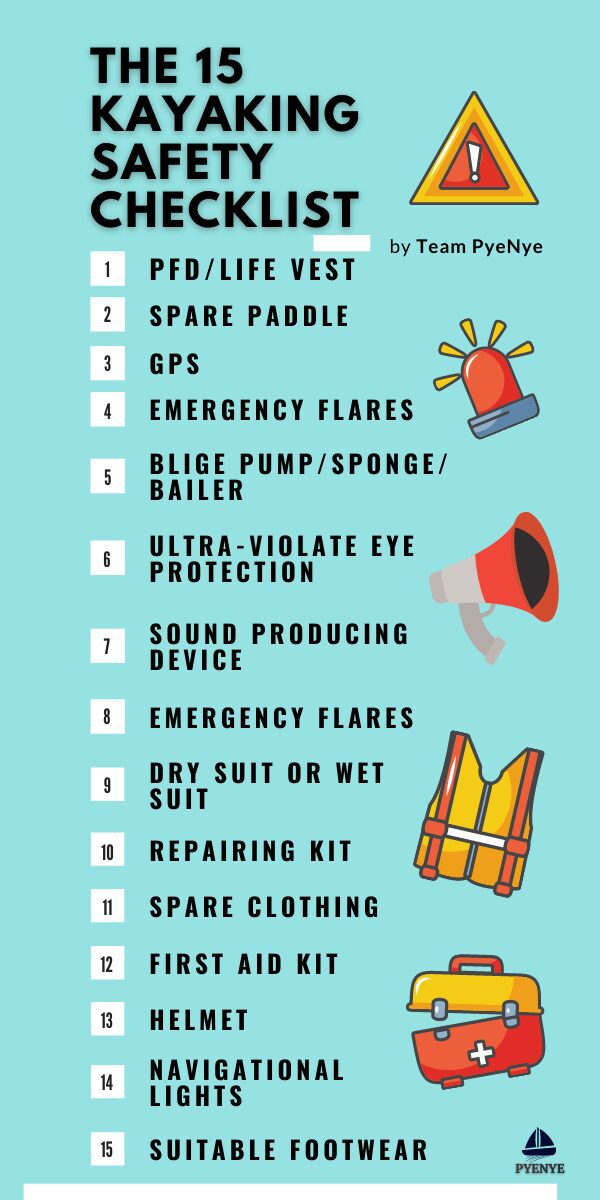 Know The Laws Before Going For Manatee Kayaking
The U.S government is now more careful to protect manatees by several laws. If you want to kayak with the manatees, you must abide by the law otherwise he or she may be in trouble. Remember those laws are created to protect the manatees as they became an endangered species. Moreover, feeding, harassing, killing them is prohibited. Thereby, be aware of the law otherwise you will face the law.
Value The Perfect Outfits
To ensure the best kayaking with manatees, you need to choose your outfit very carefully. you should choose a very fancy dress and you should choose the outfits for the water not for the weather. There is a big possibility that you get a little wet. Chose layers of clothing that dry quickly and don't feel cold.
Besides, you need to bring some towels with you. Your footwear is important Kayaks can be slippery so bring some swimming shoes or sneakers that have a good grip.
Basic Regulations For Kayaking With Manatee
You must keep a safe distance from the manatees. Manatees are gentle animals sometimes they drive by curiosity and may approach you then you should maintain the distance by yourself. Their big size and strong tail can flip your kayak if they become hesitant of you!
Manatees are curious animals so they may come near you to inspect. You should be aware that manatees have a strong tail and their sudden move may flip your boat. So, it is better for you to maintain the distance.
Safety Instructions For Kayaking With Manatees
A life vest is an essential item you should take with you. However, there is no permission to go in the water without a waterproof vest in some places. You should always wear them we know that it's not the fanciest or comfortable thing to put on but it ensures your safety. Here are the complete kayaking safety tips.
Behaviors of The Manatees While Kayaking
Manatees are water mammals who live by plant life. Scientists believed that this mammal evolved from Pezosiren a pre-historic plant-eating aquatic animal. Elephant and the Hyrax are the closest connections to the manatees. Tough manatees are becoming rare to find, you can still find them in some places.
The most known ones are the Florida manatees which are related to the West Indian manatees. Some relatives of these animals can be found in West Africa, the Amazon area, and the Dagang. In 1768 the Steller Sea Cows were extinct due to hunting. Have a look at our cover on Best Florida Kayaking from here.
Here are some common behaviors of manatees;
| | |
| --- | --- |
| Food Habit | Herbivore |
| Lifespan | Around 60 years |
| Size | 10 feet on average |
| Weight | Nearly 800 to 1200 lbs. |
Behaviors of The Manatees
Manatees are herbivorous animals. They eat a huge variety of water plants submerged, emergent, and also the floating ones. Though they are herbivorous sometimes small fish and invertebrates may engulf by them.
Manatees are quite calm. They are huge in size that's why they move very slow and gently. They spent their time eating, playing, moving around, and resting.
Manatees are mammals so they have to surface to breathe. Usually, the surface to breathe on average of 3-5 minutes. When they use a lot of energy then the time can come near to 20-30 seconds.
3 Reasons Why You Shouldn't Miss Kayaking With The Manatees
Undoubtedly kayaking with manatees is one of the best leisure. You shouldn't miss kayaking with the manatees because you will miss a beautiful and unforgettable experience. Here are 3 reasons worthy of kayaking with the manatees;
Reason 1
They are not only big animals but also, they possess some fascinating features and behavior moreover they are very social animals holding strong bonding within them. This thing is also creditable of kayaking with them. They have chubby and puppy-looking faces.
Besides, they have an evenly rounded paddle that moves up and down when they swim. And they create a lot of fascinating scenes when they move around with their big fat body.
The unbelievable thing to experience is that the manatees fart loudly to swim and maintain their balancing water. Above all these animals are very gentle, curious, playful, and friendly which makes them observe them from close. Normally, they approach you for interaction when you are in their habitat.
Reason 2
Manatees are now one of the rare species. They help a lot to balance the ecology. If we kayak with them, we will be able to observe them closely. They are very lovely and jolly animals. Observing them closely especially in a kayak gives us joy, pleasure which will help us to be aware of them and we will feel the need to save them from extinction.
The more we visit them the more we will learn about them and we will be able to raise awareness to protect them.
Reason 3
The normal size of a manatee is 9-10 feet long and of 1,000 pounds of weight. From time to time they grow to over 13 feet and 3,500 pounds of weight. This sheer size makes them super attractive. they have two four limb flippers for their movement and holding the vegetation. However, it is simple and easy to observe and kayak with the manatees.
Manatee kayaking is always refreshing and full of adventure. Besides, it is very toiling which helps sound health. Moreover, kayaking with the manatees brings us close to nature. We can observe nature so close and peacefully by far only by kayaking. On the other hand, manatees are very interesting mammals. They are huge herbivorous animals. Kayaking with the manatees allows us to observe them in their natural habitat with a very close range. Therefore, none should miss the thrill and adventure of kayaking with the manatees.