Mangrove kayaking in Florida might sound like an unusual activity for a Florida resident, but it is a wonderful way to experience a different side of the Sunshine State. What may seem at first to be isolated and difficult to find, the mangroves in the state are actually very accessible if you know which branches to follow.
The closer you get, the better the sights and sounds will be. To get the most out of mangroves kayaking, you need to plan your trip well.
The Florida mangroves are one of the most ecologically diverse ecosystems in the world. These coastal forests are home to over 400 animal species and over 2,000 plant species. The mangroves also serve as a habitat for many threatened and endangered species like the West Indian Manatee.
You can learn where to kayak with the manatees from here. With their lush canopies, delicate root systems, and natural beauty, these trees are both an iconic part of Florida's landscape and an important ecosystem to preserve.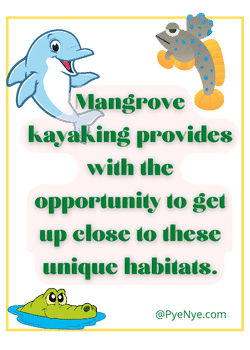 Why Mangroves Are Exciting For Kayaking,…
Mangroves are a fragile, temperate marshland ecosystem that needs protection because of their many benefits.
Mangrove kayaking provides people with the opportunity to get up close to these unique habitats.
When you are planning a kayaking trip, choose between a half-day or full-day tour. Regardless of whether you want to kayak solo or kayak with your kid, mangrove kayaking will make your vacation a memorable experience.
Best Mangroves Kayaking In Florida
If you love nature and the outdoors, mangrove kayaking is an ideal way to enjoy the beautiful Florida coastline. There are several different ways to experience this unique activity, including paddle boarding, kayaking, and stand-up paddleboarding. Whether you prefer a leisurely pace or a more energetic one, mangrove kayaking offers something for everyone. There are many different places to go kayaking in Florida, and there are many things to do.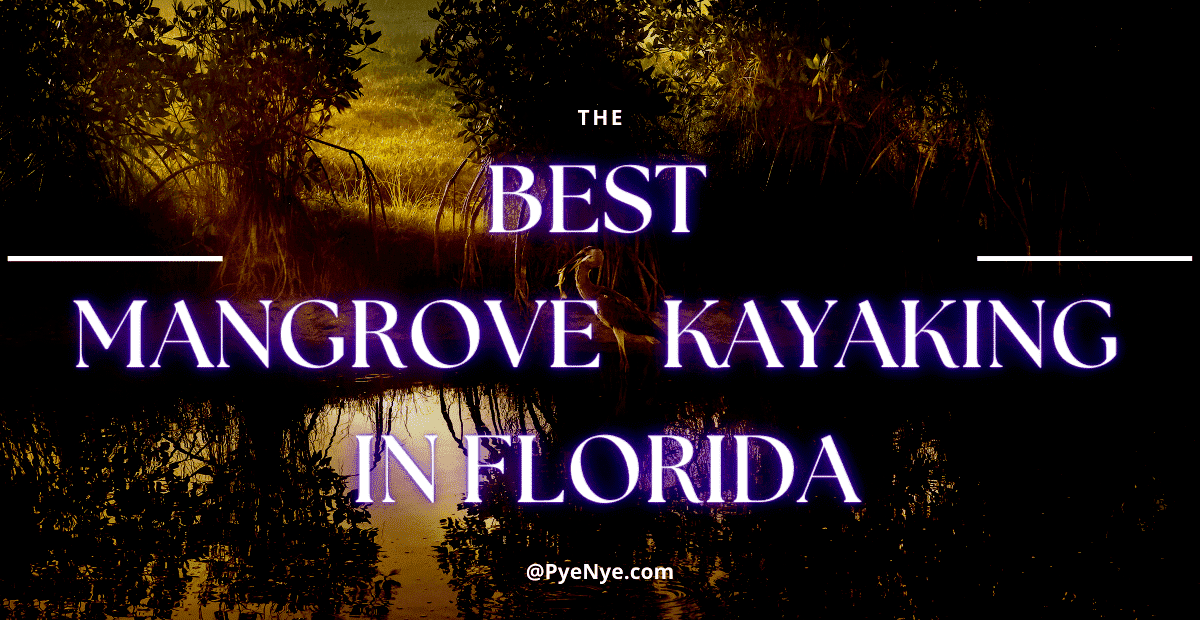 Robinson Preserve in Florida
The mangrove tunnels at Robinson Preserve in Florida are a popular spot for kayak tours. During the tours, you'll be able to watch several kinds of birds. Besides kingfishers and green herons, you'll also see many species of fish and a number of other animals. You can even glimpse dolphins in their natural habitat while paddling through the canals!
Florida Mangrove Nature Preserve
One of the best mangrove kayaking in the United States is a guided tour at the Florida Mangrove Nature Preserve. A guide will lead you through the mangroves for over two hours and point out the history and wildlife that can be found here. You'll even get to see a dolphin or two if you're lucky. And you can't beat the view from a 45-foot observation tower, which provides excellent views of the tunnels.
Mangrove Kayaking In The Florida Keys
Mangrove kayaking is one of the most popular outdoor sports in the Florida keys. This activity is perfect for people who want to get out in nature but don't want to have to worry about the weather. There are several options for kayaking in the mangroves of the Florida keys. Some places offer guided tours. Here we have particularly compiled Florida Keys kayak fishing spots.
Many companies also offer water activities in the area. You can easily rent a kayak from them.
The most popular mangrove kayaking Florida keys tour is the Lido Key mangrove tunnels, which are popular tourist destinations. If you are looking for a guided tour, Sweetwater Kayaks offers two and four-mile loops. You can also enjoy wildlife viewing from a 45-foot observation tower at the end of the trip. There are several tours that will allow you to see a wide variety of birds. You can also check out the archeological site at Emerson Point Preserve in Manatee County.
If you want a guided tour of the mangroves, you can book one through an outfitter. There are many tours available that will let you paddle through the mangrove tunnels without a guide.
However, we've included a self-guided tour plan so that you can enjoy kayaking on your own. Moreover, you need to plan your trip well.
The Lido Key Mangroves
The best mangrove kayaking in the United States is a 2-hour tour through the canals of Lido Key. This tour takes guests through the famous mangrove tunnels and into the open water near Otter Key. The kayaking experience is ideal for kayakers of all levels, from beginners to experienced. It begins with a paddle through the dune grasslands of Lido Key and ends in a private lagoon with the Florida Everglades. You can book the tour twice a day and choose from tandem or single seats.
Siesta Key
Siesta Key is amazing for mangrove kayaking. The trail will take you through the tunnel, and you can see dolphins and manatees in their natural habitats. This is a truly special place to go mangrove kayaking, and you won't soon forget the experience! You'll be glad you did! There are plenty of options for mangrove kayaking in Florida, but some are more expensive than others. If you haven't experienced kayaking on the Siesta Key, you should have a look at this kayak trip planning secrets to avoid disappointment.
Boot Key
A three-hour red mangrove eco kayak tour can be a great way to see the surrounding area. As the tour makes its way into Boot Key, osprey and dolphins often swim alongside the water. This is an incredibly unique experience that will be remembered for a lifetime. It is one of the most special places to experience in Florida. Regardless of your age, you are sure to have a blast.
Best Mangrove Kayaking in the United States
The best mangrove kayaking tours in the United States are those that take you through the mangrove tunnels. Many kayaking tours begin at Ted Sperling Nature Park and paddle through the mangroves for over two hours. The guides will point out native plants and animals to help you get a sense of the natural environment. You may even spot dolphins if you're lucky. But if you don't feel like paddling through the mangroves, there are plenty of places to enjoy them.
Kayaking The Mangrove Tunnels
The mangrove tunnels provide an exciting adventure for anyone. They are usually quiet and cool and are a perfect place to spot dolphins and manatees. The mangroves also filter light, making them an excellent eco-tour. You'll have the chance to see a variety of wildlife and enjoy the natural beauty of Florida. And you'll have a chance to learn more about the fascinating world around you during the trip.
Getting to Florida's mangroves can be fun and exciting. If you're looking for a challenge, you can always take a kayak tour and experience the wonders of this nature. Many tours take place in the mangrove tunnels. Almost Heaven Kayak Adventures offers a two-hour tour through these beautiful natural formations. The guides will point out various native Florida plants and animals. The lucky ones can even see dolphins!
It's a magical adventure, and most mangrove tunnels are peaceful. You can also enjoy cool relief from the hot summer sun while viewing the wildlife and birds in their natural habitat. You can even try kayaking on one of the islands, where you can see the rare and endangered species of mangroves. If you're unsure of whether or not it's safe to kayak in the mangroves, read these tips first.
Tips For Kayaking In The Mangroves
There are a few things you should do to ensure a safe trip in the mangroves. One of the most important is to bring a PFD with you, so you can stay afloat if you fall out of your kayak. Most people who fall out of their kayak can get back up in shallow water, but if you overturn your kayak, you could be in deeper water. A physical map will also save you time and money.
Use The Perfect Outfits
It's always best to wear sunscreen and a waterproof lifejacket when kayaking in the mangroves. The sun can be very harsh, and you need to protect yourself from the rays. While you're out exploring the mangroves, it is also a good idea to bring a waterproof flashlight to use as a safety precaution. A good pair of binoculars will give you a clearer view of the area.
Concentrate On The Tide
Another important consideration is tide. If the tide is too low, you may have a hard time paddling through the mangrove tunnels, so plan your trip accordingly. A low tide can make portaging difficult, and fast tides can be dangerous for kayakers. The tide should also not be too high or too low, as limbs can fall across the passages. A higher tide or flood tide is better for newbies and beginners alike.
The right tide is essential for kayaking in the mangroves. You should also avoid portaging through the tunnels. A low tide will erode the delicate bay bottom and cause portage. A higher or flood tide will be more forgiving to new paddlers. You should also plan for the weather. You don't want to have an accident on your kayak. So, plan your trip accordingly.
The tide is also an important factor when kayaking through the mangroves. Extremely low tides can make portaging through the mangroves difficult. The best tides for kayaking in the mangroves are not fast nor extremely low. A boat can't pass through a passage if it is too low. If you're a beginner, a flood tide is the best option for you.
Self-Guided Kayak Tour In Florida's Mangrove
A self-guided mangrove eco tour departing from Siesta Key is an ideal way to experience mangroves in Florida. This 2.5-3 hour tour takes you through mangrove tunnels, where you can watch wildlife and birds in their natural habitat. Throughout the trip, you'll likely see manatees, birds, and other animals. During the winter months, you can see migratory bird species and see the enchanting sights they share with other animals.
If you're looking for an off-the-beaten-path adventure, mangrove kayaking is a perfect choice. The mangroves are amazing to see both above and below the water, with a large diversity of species. You'll also be able to observe the many species of birds that make these forests a haven for their habitat.
If you've never done kayaking before, you should consider booking a tour. This activity is popular because it takes place in mangrove forests. They are a special type of vegetation that grows in an area where fresh and saltwater meet. Have a look at the saltwater kayaking guidelines from here.
These forests are sometimes submerged, but they always come back to life. You'll get plenty of instruction on how to paddle through them, and you'll get to see the incredible wildlife while you're there.
Mangrove Kayaking For Beginners
If you're a novice to kayaking, you can start with a guided tour through mangroves. This type of kayaking allows you to view the activity both above and below the water. A mangrove is a great feeding ground for birds and serves as a resting and feeding site. During winter migration, bird species are amazingly diverse. You'll be surrounded by birds, so you're sure to have an amazing time!
You will be able to learn the basics of paddling while kayaking in mangroves. And experience the azure and salty waters from the mangroves, and you can also watch the wildlife on your way. Besides enjoying the beauty of nature, mangroves are also great places to learn to paddle. If you're a beginner, mangroves are the best place to learn.
The mangrove tunnels provide a unique experience. Intense shade and cool relief from the hot summer sun are a big plus. The tunnels also filter light, providing you with enchanting views of the wildlife. You'll be amazed by how many species live in these wetlands. And you'll have the opportunity to observe some of them up close. This experience is not for the faint of heart. You'll be surprised at how easy it is to learn to paddle in the mangroves.
The best way to learn about mangroves is to take a tour. You'll be able to see wildlife from the water. If you have a good kayak, you'll also see mangrove animals, such as monkeys, parrots, and iguanas. You'll also get a chance to photograph them! You'll be able to see a number of birds during the tour, including toucans.
Is it Safe to Kayak in the Mangroves?
If you're not afraid of spotting wildlife, you can kayak in the mangroves. The canals are protected from the sun, so you can enjoy the sights and sounds. Unlike the canals in Florida, mangrove tunnels are not so narrow. You can even paddle through their interiors and enjoy a wonderful adventure. If you're wondering, is it safe to kayak in the mangroves, don't worry?
The mangrove forests are important to the ecosystem of the Florida Keys. They act as nursery areas for coral reef fish, nesting sites for birds, and protected shorelines in Florida. Visiting mangroves is an eco-adventure kayaking tour that lets you experience the diversity of the forest by kayak. It's also a great way to get close to the natural life that is common in the area. During a tour, you'll be able to see the beautiful birds, creatures, and other wildlife.
Are There Snakes And Alligators In Florida's Mangroves?
If you have ever kayaked through Florida's mangroves, you know that alligators are common in the area. Alligators can be seen in bays and freshwater canals. You can spot them in the sun or float in the water. They are one of the most fascinating creatures on earth. Before you go, learn how to kayak with the alligators as they are often sight in Florida's mangroves.
Their evolutionary history is incredibly impressive. They have had a limited number of changes to their bodies and survive on a daily basis in the most extreme conditions.
Moreover, Florida is home to alligators. These reptiles are native to the area and can live in any kind of habitat with water. They are frequently seen in parks and scavenging for food. If you come across one of these creatures in the park, never feed it.
It is very important to avoid feeding raccoons, as they are known to carry diseases like rabies. Iguanas are not native to Florida but are invasive and have adapted well to the area. They can be seen resting on branches and are common in mangroves. Iguanas are not dangerous to humans, but they are a nuisance to the region.
The Florida mangroves are home to nine species of snakes. These species rely on mangrove habitats to survive. The loss of mangrove acreage in these habitats is due to human activity, but these are not the only threats to these animals. They also help protect native animals. The roots of mangroves provide sheltered areas for juvenile fish, shellfish, and crustaceans.
Mangrove Kayaking: Guided Tours
While there are a number of other options for kayaking through the mangroves, there are a few places in particular that offer guided tours and expert advice. However, a self-guided tour is a great way to learn about mangroves.
However, you'll find a local guide who can help you get comfortable with the kayak. If you're a beginner, consider a private tour, and if you want more space to maneuver around, you can even hire a guide to take you through mangrove tunnels.
You can also go kayaking on your own. You'll need sunscreen and a hat to protect your eyes from the sun. However, you should bring a camera, sunscreen, and plastic bags to hold any trash you might come across. You'll also need plastic bags and a helmet. You should also bring a waterproof bag to protect your camera from the mud and other water.
In conclusion, a mangrove kayak tour is a great way to explore the Bayou and build an appreciation for our delicate ecosystems. The variety of landscapes one can experience while kayaking in Florida is unique, and the abundance of wildlife to see is unrivaled.
Therefore, I would recommend everyone to go at least once for this unforgettable adventure.