Kayaking and camping are synonymous with a return to nature. I think this is why camping and kayaking go so well. If you like to go kayak camping without any restrictions, then this guide might change all that. Here, I've prepared complete guidelines including a kayak camping checklist, the best destinations to go kayak camping, and lots to help you plan and execute your next kayak camping trip. However, you can get kayak trip planning ideas from this article.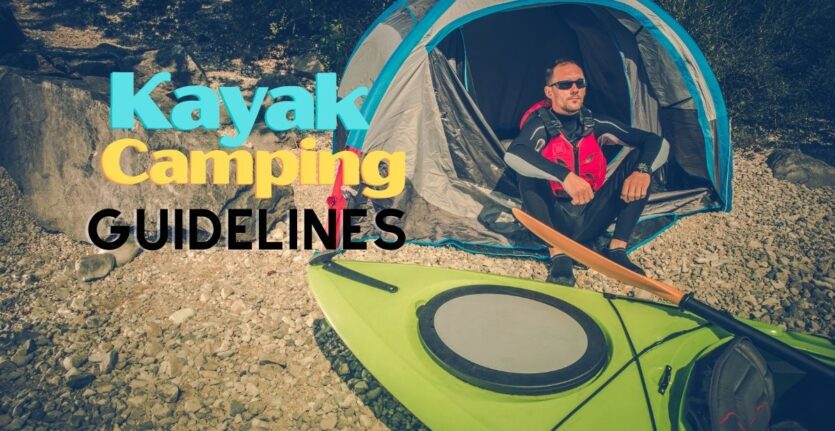 How To Plan A Kayak Camping Trip?
Planning a kayak camping trip involves similar steps as those of planning, well, anything! Here's how you can plan your kayak camping trip from scratch.
First of all, you should state the objectives of your camping and kayaking trip. Is it to just have fun? Or, is it to improve your kayaking? Is it to do fishing? Or anything else! Outlining the objectives will determine the itinerary, what you will need to pack and any measures you will need to take regarding risk management.
Next, you need to describe the situation. You can do this by asking: "What's going on around me at this moment and could change?" This will help you mitigate risks in various scenarios for example weather changes, or any other kind of unforeseen circumstances.
After that, you should list all your options. Later in this guide, you will see a practical example of this, where I will outline different locations that you can pick to go for your next kayak camping trip. Next, you will need to analyze your options, make your choices then decide how you will execute.
Kayak Camping Guidelines For The Cold Water
The cold water environment has always been a challenge for paddlers. Cold temperatures and the constant presence of salt mean that you're going to need some special gear. There are many techniques used to combat these conditions, but I want to show you how cold-water kayaking can be done on a budget. By using old or cheap equipment, you can still paddle through cold water safely.
You might not get all the fancy features during the winter months, but you will have an adventure that is well worth it.
Cold Water Kayak Camping Tips
The ideal camping spot for cold water kayaking is on the edge of a large body of open water and with a good current to keep your kayak stable. A sandy beach can be used as an emergency landing area if you are in difficulty. But it will not provide much comfort unless there is some shelter from wind and wet weather. Here's the checklist for your winter kayaking and camping.
You must have enough experience to paddle out into deep water without becoming entangled in debris. Otherwise injured by obstacles that are lurking just below the surface.
If you cannot find an appropriate spot onshore then you may paddle as far offshore as possible until you feel comfortable about your situation. When choosing a site make sure that waves coming from different directions do not affect each other. Wave action tends to carry debris along so try to choose a location where these waves meet at right angles.
Avoid locations that catch spray which could damage equipment like your stove or tent. Make sure that trees near the campsite are safe to climb. It is also important to know how long the tides will need to reach their maximum height before they begin falling again.
The Ultimate Kayak Camping Setup
The following are some things that I consider when I am planning a kayak camping trip:
Space is important so pick a kayak that has plenty of storage space.
I like fishing so if you are like me, I would advise you to pick a kayak that has a fishing pole holder.
When you are buying your kayak, you have to buy your paddles separately.
For better storage, some paddles can come apart into two pieces and they are very simply to put back together when you are ready to go kayaking.
Smaller is better, safety in numbers. Instead of putting your things in big dry bags, put them in many small dry bags of between five and ten litres or even smaller. The advantage of doing this is that it will let you use the many small spaces in between items. Cooking equipment is usually the most difficult to pack so it is advisable to pack this first. Alternatively, you can carry smaller versions of the cooking equipment.
5 Best Kayak Camping Trips In The US
There are a bunch of kayak camping destinations. But literally love to kayak and camp in the following five destinations;
Kayak Camping in Florida
Central Florida has hundreds of waterways, so it is the perfect place for kayaking and camping. There are many states and national-run campgrounds that are located near springs and rivers. You will be happy to know that all the best waterways can be found near campgrounds.
In the following campgrounds, camping and kayaking go together: Silver Springs State Park, Juniper Springs Recreating Area, Hillsborough River State Park, Wekiva Springs State Park, and Withlacoochee State Forest. Here are the best Florida kayaking destinations.
Camping and Kayaking in Texas
If you want to go camping and kayaking in Texas, then I would highly recommend the following locations: Central Texas, Galveston Island, East Texas/Piney Woods, and Big Bend National Park. Central Texas is located southeast of Austin and before you go there, I advise you to check the river flow levels. If you need some great campsites, look no further than the sandy islands dotting the river.
In Galveston Island, three trails of different lengths make up the Galveston Island State Park Paddling Trail where you can enjoy different wading and shorebird species, plus armadillos and marsh rabbits. If you are into fishing, you will be happy to know that there are inshore species like redfish, speckled sea trout, and flounder. There are both beachfront and bayside campsites but I advise you to make your reservations early enough because this park is quite popular. Have a look at the best bay area kayaking destinations from here.
In East Texas/Piney Woods, there is Martin Dies Jr. State Park, where you can enjoy three paddling trails on three different bodies of water. There are camping facilities at this park but alternatively, you can camp at ten basic campsites located on the Angelina River. They can be accessed only by boat and are maintained by the Army Corps of Engineers.
In Big Bend National Park, you can have an exciting wilderness kayak camping experience. You will need to get a back-country river permit if you do not want a guide to accompany you. Make sure to check the river levels because some of the more challenging rapids can only be navigated by rafters who are experienced.
Kayak camping in Michigan
Regardless of whether you are new to the paddling experience or you are an expert paddler, The AuSable River flows offers breathtaking wooded canoeing and kayaking. You can also try out some kayak fishing. Speaking of fish, in the slower-moving Manistee River, you can find brown trout, walleye, steelhead, and smallmouth bass.
If you are more into relaxed kayaking and camping then I recommend this river. It flows through the Manistee National Forest and there are many campsites along with it. If you are an experienced paddler and fancy a faster kayaking and camping adventure, then I recommend Pine River. You will find places to rent canoes and kayaks and you can camp or stay at one of the cabin rentals located along this river.
Pictured Rock cliffs are one of Michigan's famous landmarks. The best view of these cliffs is either from a canoe or a kayak. Lake Superior is fitting for both new and experienced paddlers, meaning that you don't have to be experienced to rent a kayak so that you can check out these famous rocks. You can make it a kayak camping family trip.
If you are more experienced and want a longer paddling trip, then I recommend the Keweenaw Water Trail. The full-week package includes the watercraft, paddles, where you will stay, and your food. Alternatively, you can go on your own. There are a number of cabins and campsites on the way but be sure to reserve your spot early enough. If you prefer bigger lake kayaking then the Onekama to Arcadia route is the one for you. You can stop anywhere you want on the Lake Michigan coastline, something that is hard to do along the fast-flowing rivers.
If you are planning a family kayaking and camping trip, then I recommend Platte River. It has wide, slow, shallow waters meaning that it is the perfect training ground for new paddlers. If you are inclined to check out the eastern side of Michigan, the Huron River is the place to be. The serene environment will make camping and kayaking in this area a relaxing experience.
Kayak camping in Wisconsin
When you are kayaking on the Wisconsin River, you can choose between the wide river and the intimate channels, thanks to the parallel channels around the forested islands. If you are a bird watcher, you can enjoy glimpses of herons and eagles.
However, if your trip includes both camping and kayaking then places like the Wisconsin Riverside Resort will cater to your camping needs. If you would like the unique experience of kayaking then camping on your very own private island then the Turtle Flambeau Flowage is the area to be at. There are over sixty rustic campsites that are completely free!
It's first-come, first-served so if you are planning to go kayaking and camping in this area then I recommend that you plan ahead early enough. The Kickapoo River water route is quite beginner-friendly. There are rustic campsites within the Kickapoo Valley Reserve.
Camping and Kayaking in Tennessee
Which river in Tennessee is the only natural river to be used in an Olympic games kayak/canoe event? The Ocoee River is located all over the Cherokee National Forest and has class III and IV rapids. You will be happy to know that this river does offer more than twenty continued rapids. Which river is the longest one that is found completely in Tennessee?
Duck River is 284 miles long and has breathtaking scenery. It is in the Duck River State Natural Area and the Yanahli Wildlife Management Area. For more relaxed kayaking and camping experience, I recommend Clinch River, which has low-level class I and class II rapids. There is a lot of wildlife to enjoy so you can make it a family adventure. Buffalo River is a haven for anyone who loves small bass fishing and anyone who would love to see deer, otters, eagles, beavers, and others.
For your kayaking and camping needs, you can check out Bone's Canoe and Campground. If Barren Fork River is your choice for your next kayaking and camping adventure then you should definitely visit Smooth Rapids Outfitters. You can rent your kayak and pick from their selection of services including day trips and camping. Here we've particularly covered the most beautiful river kayaking destinations.
Obey River is in North Central Tennessee and River's Edge Outdoors can help you with your kayak camping needs. For a scenic camping and kayaking adventure, the Tennessee River Blueway is the place to go. The Tennessee River Gorge is a sight to behold, with high mountains and cliffs and a forested canyon.
Checklist For kayak camping
You will need camping cookware, a cooler, a water filter, camping chairs if needed, obviously a tent, a camping pad, a camping pillow, and a camping stove. You will also need a litter bag to store your trash. There should be no littering during your camping and kayaking trip! Be responsible and keep the environment clean.
Below are some supplies that will come in handy for your kayaking and camping adventure:
The Most Suitable Kayak
Generally, there are two main types of kayaks, namely the sit-inside and the sit-on-top kayak. In order to pick the correct kayak for you, you will need to decide which of these two will best suit you. If you are a beginner kayaker and are looking for a user-friendly kayak for your next kayaking and camping trip, then I recommend the sit-on-top type.
If you are looking for a more traditional kayak then the sit-in type is correct for you. It has a cockpit and gives you shelter from wind and water, unlike the sit-on-top type where one tends to get splashed. Sit-ins have more storage space and usually have foot braces. Unlike the sit-on-top types, sit-ins are more efficient to paddle because they have a lower center of gravity. Another option is inflatable kayaks which are good for beginners.
You can easily transport them and they are lightweight and durable. Once you have picked the type of kayak, you can then decide whether you should get a touring kayak, a fishing kayak, a modular kayak, and so on, depending on your camping and kayaking needs.
Dry hatches are the compartments inside sea kayaks that keep out most of the water in case the boat capsizes. Electronics and cameras should be put in dry boxes with O‑ring seals.
Life Jacket
Don't even think of going on your camping and kayaking trip without a life jacket! However, it is not enough to just get any life jacket. You have to look at a number of design features to ensure that you get the correct life jacket that will serve its purpose of protecting your life. Make sure that the life jacket has large army holes so that your range of motion is not restricted because paddling requires this.
You also have to ensure that the life jacket fits you well. It should fit snuggly so that in case you fall into the water, it will remain on you. It should also fit comfortably so that you will be able to wear it throughout your time on the water. Since you are going on a kayak camping trip, it would be helpful if your life jacket had extra storage. You can store signal mirrors, snacks, and signaling whistles in the mesh pockets or zippered pockets of the life jacket.
The D-rings on some life jackets come in handy if you want to attach other types of equipment. Hydration is important while paddling and some life jackets come with pouches for hydration bladders. Also, your life jacket's color is quite important. It is better to have a bright-colored one that will contrast well against the water and will make it easier for you to be seen.
Dry Bag
This is useful for putting in clothes, food, kitchen accessories, fire starters, and other items that you need to stay dry.
Safety Is The Key To Camping And Kayaking Adventures
Safety is key in any camping and kayaking adventure. You need to have the right mindset in order to ensure a safe kayak camping experience. The correct preparation, the required experience, the right equipment, and the proper planning all contribute to a safer camping and kayaking trip. You can learn more about kayaking safety from here.
I bet you believe that water – and all that could go wrong in it – is what you need to adequately prepare for. This is true to a point because there is a bigger enemy than water when it comes to kayak camping. This enemy is you! Or more specifically, your mindset. It is important to assess risks properly as this will vastly improve your camping and kayaking adventure. Good preparation is key in risk management. The following sections will help you in your kayak camping risk management.
There you have it! A comprehensive breakdown of all that you will need for your camping and kayaking adventure. I leave you with one final piece of advice. Have fun because kayak camping is supposed to be fun! There is no point in making all these preparations if you are not going to have fun on your camping and kayaking adventure!