Tarpon Springs, Florida, is a small city located along the Gulf Coast. The area is known for its beautiful beaches, as well as its unique history and culture. From rivers to creeks and lakes to bays, Tarpon Springs has it all for Kayaking. As one of the oldest cities in West Florida, it also boasts plenty of history that can be discovered while gliding through its waters.
Kayaking in Tarpon Springs is an experience unlike any other. The calm and serene waters offer a perfect backdrop for travelers looking to paddle around the city's many islands.
From Spring Bayou to Anclote Island, the options for exploration are endless! As you paddle around these different areas, you can take in all the sights and sounds of nature that make this so special.
Plus, paddling through Tarpon Springs offers adventurers opportunities to observe some of the amazing wildlife that calls this home. Manatees and dolphins are commonly seen in the area, as well as pelicans and egrets fishing along the shoreline. It's truly an incredible sight to behold!
For those looking for more adventure, you can take part in guided tours or rent your vessel and explore the area on your terms. With plenty of snorkeling spots and fishing opportunities, there's something for everyone in Tarpon Springs.
And those who want a more relaxed experience, spend some time on one of the many rivers that traverse through Tarpon Springs. Float downstream easily as you take in all the sights – from old bridges crossing over small streams to ancient cypress trees towering above.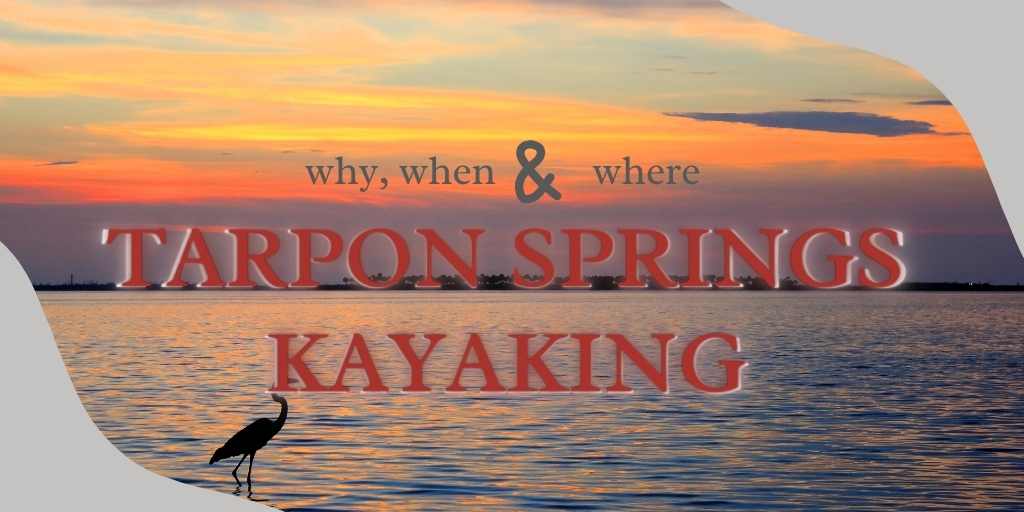 Why go kayaking in Tarpon Springs?
The first reason you should consider kayaking in Tarpon Springs is its stunning scenery. From crystal clear waters filled with manatees and other wildlife to lush mangroves and estuaries teaming with fish, there's something new to explore around every bend. Not only that, but the area offers plenty of opportunities for anglers and nature lovers alike.
Nature Excursions and Wildlife Viewing Opportunities
Tarpon Springs offers some of Florida's best opportunities for nature excursions and wildlife viewing. With its abundant aquatic life – including manatees, dolphins, sea turtles, and various species of fish – you can be sure that your kayaking adventure will give you an up-close look at Florida's incredible natural wonders.
The area is also home to a number of protected parks and preserves. And visitors can explore the mangrove forests from their kayaks. Or take part in guided eco-tours to gain further insight into the local wildlife.
Relaxing Atmosphere and Stress Relief Benefits
In addition to being an exciting activity with plenty of opportunities for exploration and learning about local ecosystems, Tarpon Springs also provides a tranquil atmosphere for relaxation and stress relief. The peaceful waters make it easy to get lost in picturesque views. Besides, you'll find ease from everyday hustle and bustle while paddling along the coastline or around islands.
Family-Friendly Activity with Low Cost or Free Options Available
Kayaking is a great way to spend quality time with family members. Regardless of age or ability level, as almost any watercraft can accommodate two or more people simultaneously! Plus, plenty of low-cost options are available throughout Tarpon Springs. So everyone can join in on the fun without worrying about breaking the bank! 
Historical Sites and Attractions
On top of being able to experience Florida's stunning natural beauty while out on your kayak excursion, visitors can also explore some fascinating historical sites throughout Tarpon Springs. Especially, the Sponge Docks, which were established by Greek immigrants over 100 years ago.
Visitors will also have access to other attractions like museums dedicated to preserving local history and art galleries featuring works by local artists who call this town home.
Variety of Activities Available to Accompany the Experience (Fishing, Snorkeling, etc.)
Along with being able to take part in general sightseeing from your kayak, there are numerous activities that can accompany your time spent out on the water. For example, fishing (which is quite popular among locals). Snorkeling if you prefer diving deeper below the surface level during your explorations. Birdwatching (especially during migratory seasons). Surfing near beaches. Paddleboarding around shallow areas near shore.
All provide you bring proper safety equipment along with you when venturing out!
When To Go Tarpon Springs For Kayaking
When it comes to deciding when is the best time to go kayaking in Tarpon Springs, any time between April and October is ideal due to its warm climate perfect for spending long days outdoors.
For those seeking a more challenging adventure or fishing opportunities, winter months (October through April) are usually better when stronger winds aren't as common. Also, note that certain areas may have restrictions or closures during certain times of the year due to nesting grounds for birds or other sensitive species. So it's always important to check these regulations before planning your trip!
The 5 Best Places To Kayak Near Tarpon Springs
When it comes to finding the perfect place for your next kayaking adventure, Tarpon Springs offers plenty of options to please any outdoor enthusiast. From the Anclote River to the nearby lakes and springs, there are plenty of opportunities for adventure.
While some areas may require a permit or fee to access them, most paddling locations around Tarpon Springs are open to the public without charge.
Here are the five best places to kayak near Tarpon Springs that you should check out:
Howard Beach
Located on the Gulf of Tarpon Springs, Howard Beach is an excellent spot for kayakers of all ability levels. Enjoy stunning views and crystal-clear waters as you paddle along the beachfront. You can also explore inland areas, with mangrove forests and freshwater streams running through the landscape. This is a great spot to get out on the water and enjoy the scenery!
Sunset Beach Tarpon Springs
What better way to end your day than taking in a gorgeous sunset while kayaking? That's what you can do at Sunset Beach Tarpon Springs, where you'll find calm waters and breathtaking views every evening. Paddle around the shoreline and take in all the colors of the setting sun before heading back to shore.
Anclote River
In our list of five great places to kayak near Tarpon Springs is Anclote River – one of Florida's most scenic rivers zigzagging through mangrove forests as far as the eye can see! Hop aboard your kayak here and take in all that nature has offered while exploring this untouched piece of paradise!
Rabbit Key
If you're up for an adventure, Rabbit Key is sure to provide exactly what you need! This secluded island is accessible only by boat or kayak – making it perfect if you want some time away from it all! Paddle around its shores and keep an eye out for interesting wildlife like dolphins and manatees!
Fred Howard Park
Named after its founder, Fred Howard Park has something for everyone who loves being on the water! This park has two ponds with plenty of wildlife that make it perfect for nature lovers and birdwatchers alike. Kayak around these tranquil waters and enjoy a peaceful ride away from it all!
Popular Kayak Rentals In Tarpon Springs, FL
Whether you're an experienced paddler or just starting, there are plenty of kayak rentals in the area that can help you get out on the water and explore all that this beautiful area has to offer.
Here are three of the most popular kayak rentals in Tarpon Springs:
Wheel Fun Rentals
Located on North Anclote River near Fred Howard Park, Wheel Fun Rentals offers single and double kayaks for rent. Their prices are incredibly reasonable, making them a great option for families or groups looking to explore the area at their own pace.
All rental comes with equipment, so you'll be ready to paddle away when you arrive. You can even take advantage of their hourly or daily rental packages. This might be a good idea especially if you wish to spend more time exploring the local waterways!
Get Up and Go Kayaking
Get Up and Go Kayaking is one of the most popular outlets in town when it comes to kayak rentals. They provide all the necessary gear, such as life vests and paddles. So all you need to do is show up ready to paddle away!
They also offer both single and double sit-in kayaks that are suitable for any level of experience. If you're looking for something more adventurous, they even have pontoon boats for rent!
River Wild Kayaking
Located just off North Anclote River in Tarpon Springs, River Wild offers guided tours of some of Florida's most pristine rivers and wetlands. Paddle along with experienced guides who will show you hidden coves and give you tips on how best to navigate your way through the waters around town!
Whether it's a lazy day trip or an extended expedition that's your preference, River Wild has something special in store for anyone interested in exploring Florida's natural beauty by kayak!
Things You Shouldn't Miss At Tarpon Spring
With its mix of historic buildings, stunning beaches, and amazing attractions, it's no wonder why Tarpon Springs is such a popular destination for tourists!
There are so many things to do in this vibrant community that it can be hard to choose which activities to prioritize. That's why we've put together this list of the top things you shouldn't miss when visiting Tarpon Springs.
Pinellas Trail
First on the list is the Pinellas Trail. Spanning over 43 miles, the trail passes through many cities along Florida's west coast, including Tarpon Springs. The trail is ideal for biking, running, and walking as it offers scenic views of nature preserves and wildlife habitats. It also provides access to popular spots such as Fred Howard Park and Anclote Key Preserve State Park. So be sure to bring your camera!
Greek Festivals and Events
Next up are Greek Festivals and Events! A trip to Tarpon Springs would not be complete without attending one of its many annual festivals celebrating its Greek culture.
From folk dancing performances to traditional cuisine tastings, visitors can immerse themselves in the local culture with these festive events that take place throughout the year. However, don't forget to check out some of the most renowned festivals, like Epiphany Day Celebrations and the Greek Easter Sunday Celebration, for an unforgettable experience!
Spring Bayou Wildlife Preserve
Finally, it's about Spring Bayou Wildlife Preserve. This tranquil spot is home to a wide variety of birds and animals, including manatees, alligators, and other aquatic species. Visitors can take part in educational tours or simply relax while enjoying all that nature offers at this beautiful location. Whether you prefer an active day outdoors or just want peace and quiet away from it all – Spring Bayou Wildlife Preserve is worth checking out!
With its abundance of wildlife viewing opportunities, majestic scenery, and easy access points from land-based launch sites available throughout the area – what's not to love? So grab your paddleboard or sit-in kayak today and head over for an adventure you won't soon forget!