Are you looking to conquer the wildest of waters that will make your spirit soar? If so, then kayaking in rough waters is just what you need!
However, kayaking in rough waters is a thrilling experience, allowing you to explore the wilds of nature while challenging yourself in a unique way. But, kayaking in rough waters is no easy feat! 
It requires skill, balance, and confidence that's built over time. However, if you take the time to prepare yourself properly, kayaking in rough waters can be one of the most rewarding experiences of your life.
That's why we have put together this guide to help get you ready for your next adventure. Let's dive in;
what is kayaking in rough waters?
Simply put, it's kayaking in water with strong currents and waves. Rough waters can come from many sources, including tides, winds, and ocean currents. You can easily find such an environment near coastlines or large bodies of water like rivers and lakes.
All of these can create challenging conditions for kayakers. So it's important to understand what you might experience before heading out on the water!
Guide To Conquering Rough Waters with Kayaking
As you are planning on the rough water kayaking, you will need to become familiar with some essential skills and techniques. And these skills will make your journey much smoother and safer!
One of the most important skills is understanding the effects of wind and currents on your kayak. Strong winds and currents can make for a difficult and dangerous journey! 
So it's essential to learn how to read the water and navigate through waves. 
When reading the water, it's important to keep an eye out for any eddies, waves, or rips in the water. Eddies and waves can be used to your advantage. That's why you should use them to keep your kayak on course and give it a boost. 
Rips, on the other hand, should be avoided since they can pull your kayak in a direction you don't want to go.
You should also be aware of how the wind and current can affect your kayak. For example, if you're paddling against the wind, you'll need to use more energy to make any headway.
However, if the wind is at your back, you can use it to your advantage and make good progress. Similarly, if you're paddling against a current, you'll need to use more energy. 
But if you're paddling with the current, you can use it to your advantage and make good progress.
Here are some other essential guidelines for conquering rough water with your kayak;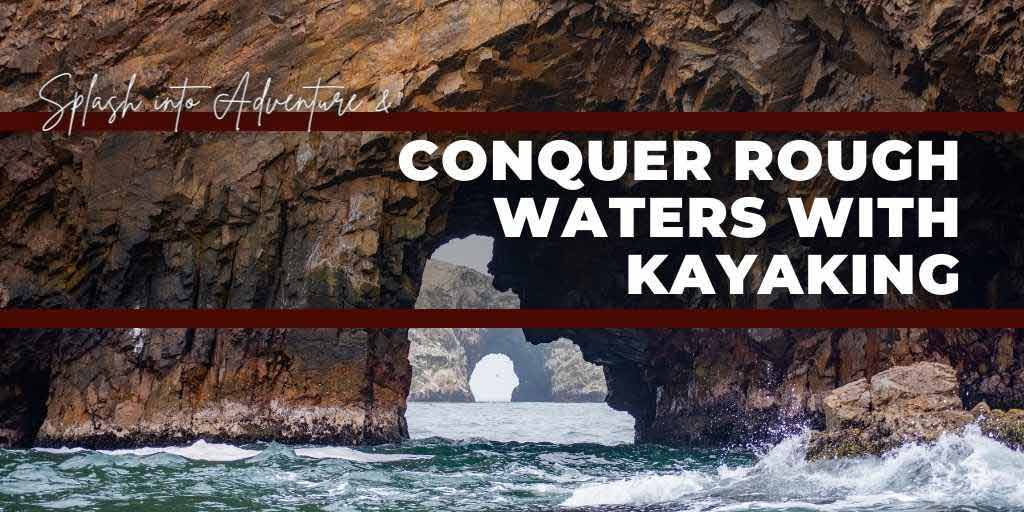 Pre-Trip Preparation For Kayaking In The Rough Waters
When planning a kayaking trip in rough waters, proper preparation is essential to ensure a successful and enjoyable experience. Remember, rough water kayaking can also be unpredictable and dangerous if not properly prepared!
In order to make the most of your time out on the water. Here are some key pre-trip preparations that every paddler should take into consideration before embarking on their journey.
Choose Equipment For The Condition
First and foremost, it is of utmost importance that you choose the suitable equipment for the conditions you will encounter. A sea kayak with good tracking, stability, and speed capabilities is essential for taking on waves, windy weather, and ocean environments. 
Investing in quality accessories such as footrests, pogies (paddling gloves or mitts), as well as a spray skirt (to protect you from splashing water) will help keep you safe and comfortable while navigating through rough waters. 
Learn And Research The Local Environment
Before leaving shore, it's important to educate yourself on the hazards associated with kayaking in turbulent waters like rip currents or overcrowded areas where boat traffic may be heavy.
Researching local tides, wind patterns, and marine life can give you valuable insight into what conditions may lie ahead during your excursion. It's also important to familiarize yourself with navigation aids like buoys or lighthouses that you might encounter along your adventure. And not to become disoriented while at sea!
Line Up Appropriate Safety Gear
Last but certainly not least, it's essential that all paddlers wear proper safety gear when traversing rougher conditions, such as lifejackets and helmets.
Not only do these items provide vital protection from potential injury. But they can also help increase your visibility if necessary!
This can come in handy during an emergency rescue situation or if somebody else needs assistance out on the water.
Techniques to Handle Difficult Situations While Kayaking in Rough Waters
High winds, choppy waves, and strong currents can all make for a challenging day on the water. To ensure your safety and maximize your enjoyment, it's important to keep a few techniques in mind when dealing with difficult kayaking situations.
Here are a few techniques that can help you to handle difficult situations while you're kayaking on the rough waters;
A. Knowing When to Turn Around and Paddle Back
The first step in avoiding dangerous situations while kayaking in rough waters is knowing when it's time to turn around and paddle back.
This could mean being aware of the weather, tides, waves, or other environmental factors that could make it unsafe to stay out any longer. Keeping an eye on the horizon can help you identify potential hazards before they become a problem. 
B. Identifying Potentially Dangerous Areas or Hazards
When kayaking in rougher waters, it's important to identify areas where large waves or strong currents may present danger before getting too far away from shore.
Keep your eyes peeled for signs of potentially hazardous conditions, such as white water rapids or turbulent eddies, which could lead to capsizing if not navigated correctly. 
C. Staying Calm and Assessing the Situation
In tough kayaking conditions, it's important to remain calm and assess the situation before making any rash decisions or acting impulsively.
Taking a few moments to think through what action you should take can help you make smarter decisions. It also prepares you better for handling difficult situations when out on the water. 
D. Utilizing Escape Routes If Necessary
If the situation becomes too treacherous for you to navigate safely, having an escape route planned out can be beneficial in helping avoid potential disasters while out on the water.
Having knowledge of nearby islands or shores that provide safe harbor from heavy winds or choppy waters can put your mind at ease, knowing there is a way out if needed.
E. Using Self-Rescue Techniques if Needed
When you're out on the water, it's important to be prepared for all types of conditions. Knowing proper self-rescue techniques can save you in a sticky situation!
Whether you're sailing, kayaking, canoeing, or enjoying any other type of water activity, it's important to know what to do in an emergency.
One of the most important self-rescue techniques is the ability to swim. Swimming can be a great way to get yourself to safety if you find yourself in trouble on the water. 
It's important to take the time to learn basic swimming techniques, such as the backstroke and freestyle, so that you can stay afloat and make your way back to shore if you get into trouble.
F. Seeking Assistance from Others if Unsuccessful
It's important to remember that asking for help doesn't make one weak; rather, it shows strength because it means having enough self-awareness to recognize when things have gotten beyond your control and reach out for assistance so that safety isn't compromised during your kayak trip. 
Reaching out for help from local authorities or other nearby boaters if self-rescue techniques prove unsuccessful could end up saving lives.
Safety Guidelines For Canoeing And Kayaking In The Rough Waters
Canoeing or kayaking on rough water can also be dangerous if proper safety precautions are not taken. 
Understanding the dangers associated with paddling in rough waters and taking the necessary precautions can help ensure a safe and enjoyable experience.
Understanding the Conditions and Weather
Before setting out on any water adventure, it's important to understand the conditions of the water and the weather. Take note of local forecasts, wind patterns, and tides. 
So, never forget to check for any potential hazards like submerged rocks or shallow areas.
Knowing what conditions you may encounter is key to staying safe while kayaking in rough waters.
You should also research any regulations or restrictions that may apply in the area before paddling out into rough waters. Be sure you have all the necessary safety gear, like a life jacket, whistle, signal flares, etc., with you at all times.
Learn To Communicate With Other Paddlers
When you're out having fun on the rough waters, you'll need to know communication signals and protocols for kayakers. Because it's also important to stay alert and maintain communication with other paddlers and any nearby boaters. 
If paddling with a partner, it's important to stay close together and watch out for each other. However, if paddling alone, it's important to stay near the shoreline and stay visible to other boaters.
Training and Preparation
If this is your first time kayaking in rough waters, it's essential that you get proper training from an experienced instructor before taking on these challenging conditions alone.
Taking a course or workshop will help prepare you for the physical demands of kayaking in choppy waters. Besides, it'll teach you how to respond correctly when faced with difficult situations that may arise on open water. 
It's also important to stay up-to-date on maintaining your equipment and making sure it is ready for use each time before heading out.
This includes checking for any issues with paddles, oars, ropes, anchors, and straps—anything that could be potentially hazardous when faced with unexpected waves or swells should be inspected beforehand!
All of these safety tips are essential when preparing for a kayak trip in rough waters. And following them can help make your outing much more enjoyable and much less dangerous! 
So don't hesitate! And when you're planning for rough water kayaking – make sure to keep these safety tips for kayaking in mind.