The Rainbow River is one of Florida's most beloved natural resources. The river is located in Central Florida, and it is fed by several natural springs. The Rainbow River is approximately six miles long and has a depth of about twenty feet.
The river is a popular destination for kayakers because of its crystal clear waters and gentle currents. The river is also home to a variety of wildlife, including alligators, turtles, and fish.
There are many different kayak rentals that offer trips down the Rainbow River, so you can easily find one that fits your schedule and budget. Most companies offer half-day or full-day kayaking trips, so you can choose the option that best suits your needs.
In this article, we'll be showing top kayak rentals at Rainbow River, and we'll also add all the necessary guidelines so that you can get the most out of your adventure.
best time to kayak the Rainbow River
The best time to kayak the Rainbow River is during the summer months when the water is at its warmest. The average water temperature in the Rainbow River is seventy-two degrees Fahrenheit.
However, the water can get much hotter during the summer months, so kayakers should be prepared for warmer temperatures.
Things To Keep In Mind
Although it is a beautiful river with a lot of wildlife, the waterway is protected.
First, the river is designated as a "no wake" zone, which means that boats must travel at a slow, no-wake speed. This helps to protect the river's delicate ecosystem and keep the water clean.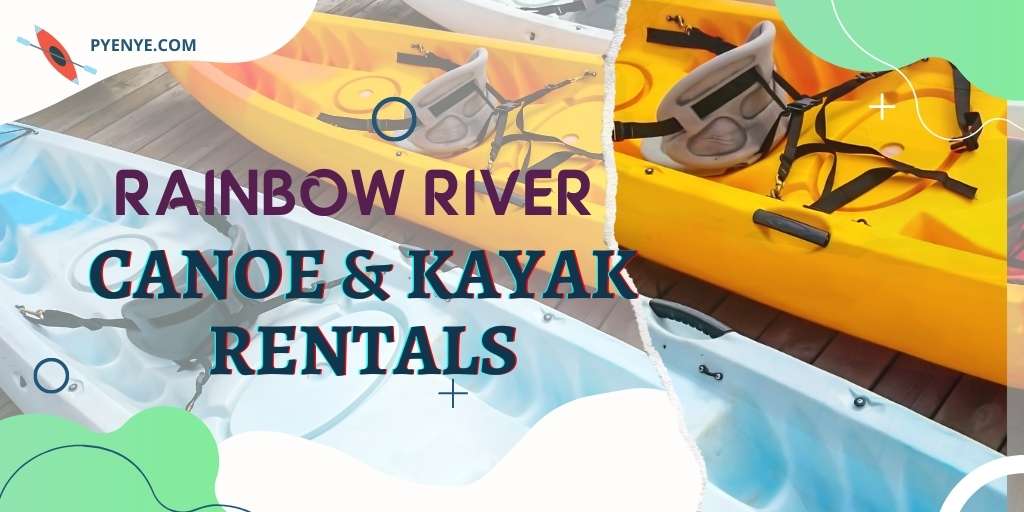 Reviewing Top 8 Canoe And Kayak Rentals In Rainbow River
If you've never kayaked in the Rainbow River before, you can consider renting a kayak from one of the local outfitters. There are several options for kayak rental in Rainbow River, including Get Up and Go Kayaking and the Rainbow River Kayak Shack.
Kayak Shack rents kayaks for a low $30 per half-day fee. This outfitter transports kayaks to K.P. Hole for you, helps you get settled, and even provides maps of the canals.
Get Up and Go Kayaking
Located in Rainbow River, Florida, Get Up and Go Kayaking offers kayak rentals and guided tours through bioluminescent lakes and clear water.
The company's founder, Justin Buzzi, had taken the same entrepreneurial approach that he took when he founded his company and continues to implement the same principles into his business.
To book a GetUp And Go Kayaking trip in Rainbow River, you can complete an online form. The tour takes 2 to 4 hours and is offered three times daily. You'll receive recommendations on what to bring, and you'll be provided with online waiver instructions.
By identifying a demand for a unique experience, Buzzi has created a business that will be memorable for its customers. The company's mission is to make Kayaking a unique experience for everyone. To ensure your safety, be sure to wear kayaking clothes so you can comfortably get wet and avoid catching a cold. And don't forget your camera!
Rainbow Springs State Park
When you are planning a visit to Florida, you must try out kayaking in the Rainbow River. Here you can rent a kayak at Rainbow Springs State Park, located 3 miles north of Dunnellon on U.S. 41. The state park has approximately 1,459.07 acres of upland and 12.83 acres of submerged land.
Its clear water is perfect for Kayaking. If you want to explore the beauty of the park, you can use a kayak rental in Rainbow River.
The state park is open to visitors from 8 a.m. until sunset. Kayak rentals are available near the headsprings. During weekends and holidays, the park sees high crowds, so you should plan accordingly. Once the park reaches its capacity, visitors cannot access it.
Registered campers are not excluded. You can plan your trip accordingly to ensure that you can get in and out without delay. Also, remember that if you leave the park after the park closes, you will not be able to re-enter until the next morning. You can get our kayak camping guidelines from here.
However, if you have never been to the park, you can rent a kayak at the park and experience the water in the park. Two popular options for boat rentals in Rainbow River are a kayak and a canoe. Depending on how adventurous you want to be, you can enjoy the mellow oxbow lakes and take in the spectacular sights of the Rainbow Springs.
Just be sure to wear a hat and waterproof gear if you plan on swimming or snorkeling. You must also pay the entrance fee for the park.
K.P. Hole County Park Kayak Rental At Rainbow River
If you would like to experience a thrilling adventure, Rainbow River Kayak Rentals located at KP Holes County Park can be of assistance. The park offers kayaks, SUPs, and tube rentals. It's about 3 miles from Rainbow Springs State Park and offers shuttle service from May 1 to September 30.
You can also rent a kayak or tube for the day and spend some time swimming or tubing.
Rainbow River Kayak Rentals at KP Holes County Park are the best way to explore the beautiful area. Canoes and tubes can be rented for eight dollars per hour or $10 per hour. If you plan on the tubing for the whole day, you can also opt to purchase a full tube rental package. The price includes park entry, tube rental, and shuttle service. You can also rent tubes and kayaks from other agencies.
Rainbow River Canoe and Kayak Rental Co.
You can rent canoes and kayaks from Rainbow River canoe and kayak rentals for $8 an hour. The shuttle service costs $7.00 per person. You can take the river trip by yourself or rent a canoe and kayak from the park. If you choose to rent a kayak, you can take the two-hour paddle down the river with the park's staff. The park's entrance fee is $2.
Whether you choose a kayak or canoe, you can expect an exciting experience on the Rainbow River. The river is six miles long and spring-fed. While it can be tricky to navigate, it also offers a cool, crystal-clear atmosphere. While tubing on the Rainbow River, it is important to carry a life jacket with you. To protect your personal items, don't bring anything larger than a plastic bottle of water.
If you don't feel like paddling alone, Rainbow River canoe and kayak rentals provide shuttle services to the park. If you'd like to rent a kayak, you'll need to call ahead to reserve a spot. The company will shuttle you to the park and back for $5 per person. If you choose to use the shuttle service, you should plan ahead, as the parking lot gets full pretty quickly.
Depending on your preference, Rainbow River Canoe and kayak rentals are easy to find and can be conveniently picked up right from the campground. Guests can also rent kayaks and canoes at K.P. Hole Park, located at 9435 SW 190th Avenue Road, which is approximately four hours from downtown. Once you're finished, the shuttle will shuttle you back to your car!
The park also provides changing facilities and lockers. You can rent a canoe or kayak, SUP, or other paddlesports from Rainbow River canoe and kayak rentals.
Rainbow River Kayak Shack
For a fun and exciting river trip, consider renting a kayak at Rainbow River Kayak Shack. The river is 6.5 miles long and merges with the Withlacoochee River in Dunnellon. It is not a wild river but a preserve for native wildlife. There are extensive limits on what you can bring on the river, including coolers, bags, paper towels, and other items.
The kayaks are well-equipped to handle a variety of water conditions, including varying water levels. For safety, there are signs along the river indicating that all boaters must operate their motorized boats at idle speeds. In the shallower parts of the river, protruding rocks pose a risk. Divers must use a flag for protection. Also, it is illegal to hang out on private docks in the Rainbow River.
Renting a kayak at Rainbow River Kayak Shack costs $30 for a half-day rental. The shack also transports kayaks to K.P. Hole. They help you set up and provide maps for the area. They are also happy to help you navigate the canals. If you'd like to kayak down the river without hiring a kayak, consider renting a canoe. It costs just over $10 per hour.
If you'd rather rent a kayak, you can also go tubing. Renting a tube costs around $10 and includes a shuttle back to the park. Floatation device owners can pay $7 each way for the shuttle. The river is great for kayaking, but you should be aware that water levels and weather may make the trip longer. So consider renting a kayak if you're visiting the area.
You'll find that if you want to have an exciting kayaking adventure, this is the perfect place for you. The Rainbow River is spring-fed, so it can be tricky to navigate. Paddlers and tubers alike love the crystal-clear water and the cool water. There are plenty of spots for swimming. Just make sure to wear a life preserver and use swim noodles. You'll be glad you did!
Rainbow River Outfitters
While most of the river tour is pretty much straightforward, you may want to take a turnoff and check out some of the other parts of the river. There are tons of fish, turtles, otters, birds, and other wildlife to see. Though manatees are not common on the Rainbow River due to the lock system, you can still see them on other rivers in the area. However, there are some safety measures that you should follow.
The trip can last anywhere from four to five hours, depending on the type of kayak or paddleboard used. You can also opt for a livery service if you have your own kayak or paddleboard. The float is influenced by the weather, but you'll enjoy the scenic scenery as you paddle downstream.
You'll also find many tubers cruising upstream, and your experience will be even more memorable if you paddle downstream!
Aquatic Wilderness Adventures
If you're interested in a kayaking trip, Rainbow River Kayak Adventures is the perfect place to start. You can choose a single-occupant kayak and enjoy a 3.5 to four-hour jaunt down the river. To ensure safety, kayakers are provided with life jackets, which are required in this waterway. A shuttle to and from the water is provided at no extra cost. The river's clear, spring-fed waters are a great place for a family outing, and kid's kayaking.
You can choose to paddle a single kayak for $27 or double kayaks for $40. You can also take a SUP for $37, and you can rent a tube for $10. A shuttle to K.P. Hole and other destinations is available for $10 per person, and the Rainbow River Kayak Adventures team also rents out tubes for an additional fee. The water is cool, and you'll likely see several species of wildlife along the way.
Renting a kayak in Rainbow River is easy and affordable. Kayaks start at just $30 for a single-person vessel. You can also rent a double-person kayak for $35. Rentals last two hours and are suitable for people of all ages and skill levels. You can pay extra to bring your own floatation device. Once you have rented a kayak, you can choose the type and size of inflatable kayak that's right for your body.
Your guide will be Brooke Dawson. Brooke has a degree in Animal Science from Sam Houston State University and is pursuing a master's in Wildlife Biology. She grew up in Texas, and New Mexico, so she has a broad knowledge of ecosystems. Other hobbies include hiking, fishing, art, and travel. Whether it's exploring nature or enjoying the outdoors, she will be able to make your trip more enjoyable and memorable.
Kayak Rentals In Rainbow Springs, Florida
If you're looking for a place to rent kayaks in Rainbow Springs, Florida, then Rainbow River Kayak Rentals would be a good fit. They have a wide selection of kayaks and can help you find the perfect one for your needs.
These local companies rent kayaks and canoes for as little as $8 an hour. They also offer a shuttle service for a flat $7 fee. The Rainbow River is just a mile and a half from Rainbow Springs State Park. Whether you're an experienced paddler or a first-timer, renting a kayak or canoe is a great way to explore the area.
Rainbow River Kayak Launch
The best place to launch your rainbow river kayak is at K.P. Hole County Park, where several outfitters serve as launching points. Kayaks and canoes can also be rented at the park for a per-person fee. The park also offers swimming and restrooms, along with concessions. Guests can also use the park's livery service. After a full day on the water, you can relax by the riverside or grab a bite to eat.
You can paddle upstream for half a mile to the headsprings of the river. Then, paddle downstream and with the current. To return to the launch, you will need to paddle back upstream. Fortunately, there is a public boat ramp located at the end of the Rainbow River.
Average Kayak Rental Cost At Rainbow River
When planning a trip to the Rainbow River, you should first determine whether you'd like a single or double vessel. Rentals cost $25 for a single kayak, while doubles cost $35. You can also opt to transport your own kayak for an additional $20. Once you've chosen your vessel, you'll be able to rent it from Rainbow River Kayak Rentals. It's best to reserve it at least a day in advance to avoid being charged a cancellation fee.
Manatee Sightings At Rainbow River
When the water temperature is just right, you can kayak in the Florida Everglades and watch manatees from the shore. Here when you kayak during the winter months, you can also watch these playful creatures from a boardwalk. During the summer, the waters of Crystal River offer the perfect kayaking trail and the chance to see manatees. Manatees are often seen on land and in kayaks, but you can also take a guided tour and see these incredible creatures.
In the past, manatees used to live in Rainbow Springs, but they were forced to move to the Crystal Riverside after dam construction. Since then, tourists have harassed the animals. But you can still see these gentle giants at Kelly Park and the nearby Rainbow River Kayak Rentals. Whether you're kayaking, canoeing, or taking photos, you shouldn't miss the opportunity to spend time with these amazing animals.
The U.S. Fish and Wildlife Service estimates there are about 1,267 manatees in Florida waters. Although the manatees spend most of their lives underwater, they are more accessible than they were in the past. A kayaking trip offers the best opportunity to see these gentle creatures in their natural habitat.
It's also easy to find a place to rent a kayak and paddle to the park, which is just five minutes off the I-75.
Rainbow River Kayaking Guidelines
Rainbow River is exceptionally clear, and you can see your shadow on the sandy bottom. The fish are akin to aquarium species and are sure to impress you. Aside from Kayaking, the river is also popular for tubing. Visitors can also take a dip in Rainbow Springs, Florida's fourth-largest natural spring. The spring's bubbling vents create a swimming area. You'll be amazed at the beauty of this waterway.
The water clarity on the Rainbow River is incredible. You can see your shadow on the sandy bottom. The fish look like aquarium fish, and you can also go tubing on the Rainbow River – just be sure to bring a dive flag if you want to jump in. It's easy to see why this river is so popular for Kayaking and tubing. The water is crystal clear, and there are several hidden springs and rock crevices that create a unique swimming area.
Rainbow River Kayak Tours And Trips
If you're looking for a great spring kayaking trip, Rainbow River Kayaking Adventures is the place to go. You can kayak, paddleboard, and tubing along the Rainbow River. Whatever your level of skill, you're sure to have a wonderful time. When you choose to rent a kayak or a canoe, be sure to check out the safety tips and equipment required for the adventure.
You'll be glad you did! Rainbow River Kayak Rentals offers a variety of options for those looking for Kayaking in the area. With a variety of rental options available, including tandem kayaks and canoes, there is sure to be a perfect fit for everyone.
Lastly, canoe and kayak rentals at Rainbow River are the perfect places to rent a kayak for your next adventure. With flat water, Class I-III rapids, and even a section of still water for swimming, there's something for everyone to enjoy on the river. So don't wait any longer, come get yourself a kayak today!