Summersville Lake is West Virginia's largest lake and is often called "The Little Bahamas of the East". With more than sixty miles of shoreline, it is considered to be one of the cleanest lakes east of the Mississippi River. Besides, there are some amazing boat and kayak rentals in Summersville Lake.
Boat rentals in Summersville Lake include kayak rentals, pontoon boat rentals, and pontoon rentals. The lake is accessible by car, RV, or trailer, making it a perfect destination for a family vacation, and kayaking with kids.
The lake is surrounded by incredible sandstone cliffs, and its natural beauty makes it an ideal spot for a recreational kayaking trip. Kayakers can explore the lake's coves and waterfalls and swim in the crystal clear water. To find a top kayak rental in Summersville Lake, read on to learn more about the best places to rent a kayak.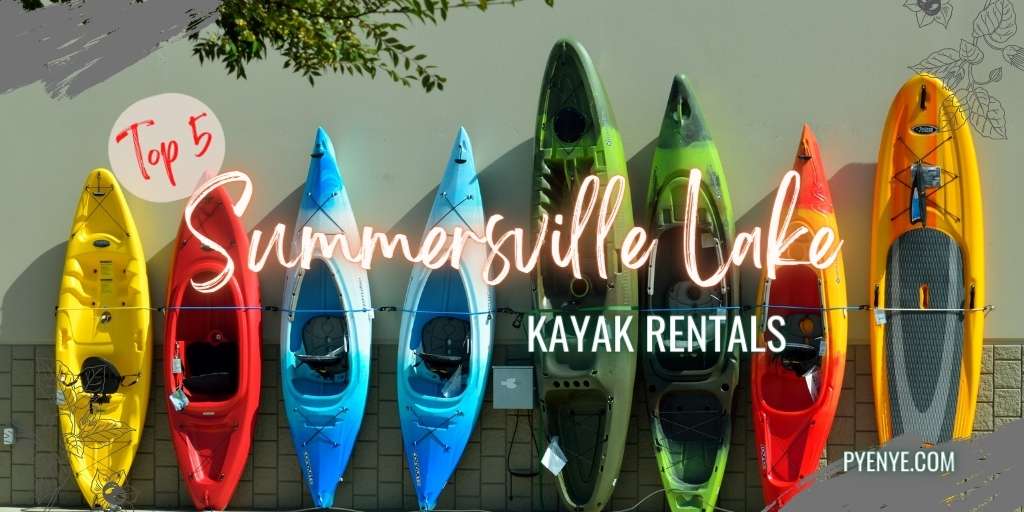 Are there kayak rentals in Summersville Lake?
Summersville Lake is a beautiful place to kayak, but does the lake rent kayaks? The answer is yes; you can rent kayaks from the concession stand at the lake. Kayaks are also available for rent from several businesses in the area.
Moreover, Summerville Lake has plenty to offer paddlers of all levels, from easy stretches for beginners to challenging routes suitable for more experienced kayakers.
Where is the boat ramp in Summersville Lake?
The boat ramp in Summersville lake is located on the eastern side of the lake. It is accessible from State Route 539. It is a short walk from the parking lot. The ramp is located near the dam and is open from dawn to dusk year-round. And it is free of charge, and there are several parking spaces available.
The ramp is well maintained and makes getting out on the water a breeze. There are plenty of shorelines to stop at while cruising around the lake.
Is Summersville Lake open for boating?
Summersville Lake is open for boating during the summer months, but there are a few things to keep in mind before you take to the water. The lake is located in a remote area, so be prepared for a long drive if you're looking to get out on the water. The lake is also quite cold, so make sure you have proper gear if you plan on spending any time out on it. Besides, you can have a look at our winter kayaking guidelines.
The Top 5 Kayak Rentals In Summersville Lake
If you are looking for kayak rentals in West Virginia, Summersville is the perfect location. The lake features guided tours, beautiful scenery, and the perfect setting for quality time with friends and family. If you're looking for a new adventure, rent a kayak in Summersville. There are many places to rent kayaks in Summersville, but here are some of the best:
Sarge's Dive Shop
If you're looking for the perfect way to enjoy the beauty of Summersville Lake, you've come to the right place. Sarge's Dive Shop is located on the lake, one of West Virginia's top tourist attractions. This full-service scuba center offers classes, scuba diving charters, evening cruises with a catered dinner, and kayak and paddleboard rentals. They offer discounts of 15% off most scuba gear.
The team at Sarge's Dive Shop has been a diving business in the Summersville area for four decades.
They are friendly, professional, and helpful, and they are available to help you plan your next trip.
Whether you're looking for a family outing or a romantic date, Sarge's has kayak rental options for every taste.
For the ultimate summertime experience, you can choose from a variety of kayak rentals in Summersville. From two-hour dinner cruises to scuba diving classes, Sarge's offers it all. You can even get scuba certified if you're interested. The Summersville area offers a variety of activities, and scuba and snorkeling charters are the top attractions for locals and tourists alike.
In addition to kayak rentals, Sarge's Dive Shop offers scuba classes, gear, and scuba certification. The store even has its own dive boat! This company was one of the first dive shops in the state and recently got a new dive boat! It's a good place for beginners and experts alike. And, if you're looking for an adventure, Sarge's Dive Shop is a great place to start!
If you're looking for a place to go rock climbing, you'll enjoy Summersville Lake's rock-climbing location. You can climb a rock formation called Orange Oswald or the infamous "Black Rock" in the lake, with ropes and anchors above the ground. Some climbers even climb from a pontoon boat! And deep-water solo kayaking was recently legal in Summersville Lake!
Lakeside Outfitters
One of the best places to rent a kayak or paddleboard in Summersville is from Lakeside Outfitters. This outfitter opened on Friday. In addition to kayak and paddleboard rentals, it also sells groceries and basic camping supplies. Lakeside Outfitters is the only store in Nicholas County to sell live bait, and Fat Eddies is located next door. The shop is open from 8 AM to 8 PM through Memorial Day and from Memorial Day until Labor Day.
In addition to kayak rentals, Lakeside Outfitters offers three deluxe houseboats that can accommodate groups of up to eight people.
All three boats have an upper deck canopy, a water slide, and a kitchen.
The company's services are top-notch, so make your next vacation a memorable one by renting a kayak or paddleboard. The company also offers overnight slips.
Summersville Lake has over two hundred acres of water, which makes it a great destination for families and groups. During the summer, the lake covers over two hundred acres, with 65 miles of shoreline. It's also the cleanest freshwater lake east of the Mississippi River. In Short, kayaks, pontoon boats, jet skis, water skis, paddleboards, and motorboats are common on the lake. Renting a kayak is a fun and unique way to explore the water.
Summersville Lake Retreat Kayak Rentals
The 57-acre Retreat overlooks Summersville Lake in West Virginia. Guests can choose from RV or primitive camping, cabin rentals, and kayak rentals. Watercraft rentals are also available. The Retreat is conveniently located 15 minutes from the New River Gorge National Park, as well as numerous other WV outdoor experiences. Paddleboards, kayaks and canoes are all available for rent. Kayaks are a popular watercraft rental option, as they are great for cruising the lake and exploring the surroundings.
You can also rent a pontoon boat, paddleboat, or boat overnight at Summersville Lake retreat.
You can even reserve a pontoon boat for the day and enjoy the lake's beautiful scenery. Pontoon boat rentals are also available, with room for up to 10 passengers.
For an additional fee, pets are allowed. To rent a pontoon boat, you must make a reservation and sign a release waiver. Kayak rentals are more casual and have fewer restrictions.
Kayaks can be used in any season to explore the lake's many attractions. You can paddle in a variety of waters and explore different types of water wildlife. Besides, guests can enjoy the calm waters of Summersville Lake or explore the majestic waterfalls in the surrounding area. Kayak rentals at Summersville Lake are the perfect way to see these natural wonders. Just remember to plan your trips around other visitors and avoid peak summer hours.
If you are planning a visit to Summersville Lake, you can make reservations at the resort's kayak rental office. You can book cabins with hot tubs and lake views or camp in an RV site and use the lake's watercraft rentals for a day at the lake. Kayak rentals at Summersville Lake retreat and other activities are available through the site. So if you prefer to be on the water, you can rent a kayak from the Retreat.
In addition to boat rentals, the Summersville Lake retreat also offers fully equipped West Virginia cabins and pull-through RV sites, which are big enough to accommodate large coaches. Guests can also visit the Gauley River Lighthouse, West Virginia's only working lighthouse. The lighthouse is open daily, weather permitting, and tours are scheduled every half-hour. It is also possible to rent watercraft on-site, as well as paddleboards.
Summersville Lake Marina
The Summersville Lake Marina is a full-service marina with a long waiting list for boat slips. Located on the shores of Summersville Lake, it has easy-access ramps and several watercrafts available for rent. Besides, diving enthusiasts will enjoy the lake's clear water, as the visibility is over 80 feet! The summertime marina also provides food and fuel for boaters.
Summersville Lake Marina is a place where people can enjoy the outdoors and the beauty of Summersville Lake.
The marina has a full-time staff that provides boat rentals, fishing supplies, bait and tackle, and more.
Guests can even enjoy a variety of activities on the lake, such as swimming, boating, and windsurfing.
The rates for each slip vary depending on the time of year and the size of the boat that is parked there. For a full list of pricing information, please visit the marina website.
Summersville Lake Jet Ski Rentals
Jet skiing is a great way to spend a summer day, and Summersville Lake is the perfect place to do it. There are many places to rent jet skis, but the best place to rent them is at Summersville Lake. The lake is very large, and it's easy to find a good spot to start your ride. The water is crystal clear, and the breeze makes for a great ride.
In short, some popular rental spots include Ralph's Marina, Steamboat Marina, and the Summersville Marina. Besides, each of these locations has its own amenities and prices.
Regardless of where you choose to rent your jet ski, be sure to take into account the weather forecast before making a decision.
Summersville Lake Kayak Fishing
Summersville Lake is a popular spot for kayak fishing. Moreover, the lake is surrounded by wooded hillsides and offers plenty of cover for any type of fish. The lake is also well known for its largemouth bass, bluegill, and crappie.
Summersville has many parks and lakes where fishermen can catch a variety of fish. The most popular lake for fishing is Lake Murray. Other popular spots for fishing include the Green River and the Elk River. There are also several public parks that offer great fishing opportunities.
Kayakers can use a variety of strategies to find fish, from trolling to casting. Kayakers should be aware of the conditions the lake is currently experiencing, as these can change quickly.
Summersville Lake Vacation Rentals
Summersville Lake is the jewel of rural West Virginia. Nestled in the rolling hills of the Allegheny Mountains, the crystal blue waters of Summersville Lake are clear and calm, perfect for swimming, boating, and fishing.
Besides, the resort town of Summersville offers a wide range of vacation rentals to suit every need, from cozy cottages to spacious villas.
Whether you're looking for a quiet getaway or want to explore the area, there are plenty of rental properties to choose from. Some of the nearby attractions include Bushnell Park and the Mohawk Valley Scenic Railroad.
Rustic Retreat Cabins
Rustic cabins are a great way to do just that. The cabins are located in the woods near the lake, and they offer peace and tranquility. They're also a great place to fish, swim, and kayak.
The price range for a cabin rental starts at $129 per night and goes up to $239 per night.
The cabin rentals come with all the amenities necessary for a comfortable stay, such as air conditioning and cable TV.
There are also several restaurants and shopping facilities close by for visitors to use.
Foley Orthodontics Vacation Rentals In Summersville Lake
Foley Orthodontics offers a variety of rental services to make your treatment experience as comfortable and convenient as possible. From chairs and braces to digital x-rays, our team is here to help you get the most out of your orthodontic experience.
In short, their orthodontic rental equipment is perfect for both children and adults. Plus, their friendly staff is here to help you every step of the way.
Why I Love Summersville Lake For Kayaking?
In addition to boating and kayaking, the area is also home to rock climbing, hunting, whitewater kayaking, and rafting. In addition to kayaking, the lake is also a hub for spring and summer recreation. Whether you're looking for a flat-water kayak for a quick trip or a more advanced recreational watercraft, Summersville Lake Kayak Rentals has what you need for a great vacation.
There are a number of activities to keep you entertained on Summersville Lake, from pontoon adventures to scuba diving. With 65 miles of shoreline and the highest concentration of freshwater lakes east of the Mississippi, Summersville Lake is an excellent place to go scuba diving.
A local marina offers overnight slips and pontoon boat rentals, and Sarge's Dive Shop has classes and rental equipment for divers. The scuba diving facility provides air and scuba gear, as well as charters.
Summersville Is A Hub Of Spring And Summer Recreation
If you're looking for a place to rent a kayak, consider a trip to Summersville Lake. This Tennessee lake is home to hundreds of caves and waterfalls, as well as wide, calm creeks. While this lake is great for novice scuba divers, it's also great for experienced divers who want to see more than a few fish and crystal clear waters.
The first campers in Summersville Lake started as a joke, but they soon grew into an oasis. Today, they offer motorhome hookups, cabins, a playground, and even a gift shop. The lake is the most popular destination in West Virginia, and there are over 1 million visitors each year. The lake is located in a valley that was once a deep valley with a river.
Summersville Lake Is West Virginia's Largest Reservoir
Summersville Lake is located near Summersville, West Virginia. Its 60 miles of shoreline and 2,700 acres of water are sure to impress visitors. Boaters, anglers, rock climbers, and wildlife enthusiasts flock to this lake every year. Its deepest point reaches 327 feet. A rock-fill dam impounds the lower Gauley River, creating a large lake that is the largest in West Virginia.
Unlike many dam releases, Summersville Lake is not a reservoir that reflects the natural beauty of West Virginia. The Army Corps of Engineers begins scheduling releases of the Gauley River in September. While the Upper Gauley is one of the world's premier whitewater destinations, the Lower Gauley is easier to navigate but still boasts some epic rapids. The summertime release of this river brings in thousands of paddlers from around the world for summer and fall rafting trips.
As West Virginia's largest lake, Summersville Lake offers a variety of recreational opportunities for visitors. In addition to water sports, tourists can also enjoy the surrounding attractions of Summersville, including the New River Gorge National River, Carnifex Ferry State Park, and a Civil War battleground. The lake is also home to an active community, including a working lighthouse. There are four public access points at Summersville.
In conclusion, Summersville Lake kayak rentals are a great way to get out on the water and enjoy the beautiful summer weather. With plenty of different paddle routes to choose from, there is sure to be something for everyone. However, if you're looking for a fun day out with friends or family, kayaking is the perfect activity. So don't wait any longer; head out to Summersville Lake and rent a kayak today!