Kayaking is a thrilling adventure that allows you to explore the beauty of nature from the water. But have you ever wondered if a kayak can sink? Yes, a kayak can sink if it takes on too much water or if it becomes damaged in some way. 
While kayaks are generally designed to float on the water and stay afloat, they are not completely immune to sinking. This is why it is important for kayakers to understand the factors that can cause a kayak to sink and to take steps to prevent it from happening.
Kayak sinking refers to the situation where a kayak takes on water and becomes unstable, causing it to become difficult or impossible to maneuver. This can happen due to a variety of factors, such as improper loading, damage to the hull, or capsizing. 
If not addressed quickly, kayak sinking can lead to a dangerous situation for the kayaker and potentially result in injury or even death! 
Knowing how to stay afloat while waiting for rescue, exit a capsized kayak and signal for help can be critical skills in a potentially life-threatening situation.
Therefore, it is important for kayakers to be aware of the potential for kayak sinking and take necessary precautions to prevent it from occurring. 
In this article, we'll delve deeper into the factors that can make a sink and explore ways to prevent it! We will provide you with practical tips and techniques to help you stay afloat, even in challenging conditions. 
So, let's get started on this exciting journey of learning how to stay afloat in a kayak.
Factors That Make a Kayak Sink
While kayaks are designed to float on water, it is essential to understand that they can sink under certain circumstances. And here, we've prepared those factors that can contribute to a kayak sinking, making it a nightmare for paddlers.
In 2018, the U.S. Coast Guard reported 4,145 boating accidents, with kayaks being the second-highest vessel type involved in accidents. Out of these accidents, 19% resulted in fatalities.
Weight of the Kayaker
The first factor that affects a kayak's buoyancy is the weight of the kayaker. If the person in the kayak is too heavy, their weight can cause it to sink into deeper waters. It's important to try and keep your weight evenly distributed while on the water to ensure that your kayak remains buoyant.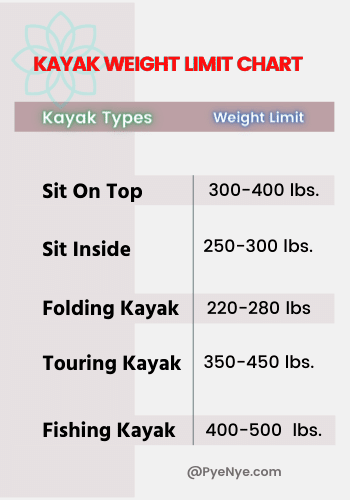 Additionally, packing light and using lighter materials, when possible, can help keep your kayak afloat. 
Water Type
The type of water you are in can also have an effect on how well your kayak floats or sinks. The more turbulent or choppy waters, such as ocean waves and rapids, can create eddies that cause drag and affect buoyancy negatively.
On calmer waters such as those found in lakes or slow-moving rivers, there is usually less turbulence. And, therefore, less drag meaning your kayak should remain afloat more easily than in rougher waters. It's important to be aware of what type of water you are in. So that you can adjust accordingly and stay safe while on the water. 
Weather Conditions
Weather conditions can also play a role in whether your kayak sinks or floats. Windy days or storms with heavy rain can create large waves. And this can lead to capsizing if you aren't careful enough. 
In 2019, two kayakers were rescued off the coast of California after their kayak sank in strong winds and high waves. Here are the details of that rescue.
To avoid this kind of situation, it's best practice for kayakers to take precautions by wearing a lifejacket and monitoring weather conditions before heading out onto the water.
Heavy loads/overloading
Accidentally overloading your kayak is another common factor that leads to sinking boats. If there is too much weight inside the boat, especially at one end, it will become unstable and eventually start taking on water.
To combat this issue, make sure you check capacity limits before loading up with supplies. Besides, follow best practices for distributing weight evenly throughout. 
Inadequate drainage holes
Another potential problem with sinking boats is inadequate drainage holes. Drainage holes allow excess water from splashing inside the craft or from rain falling outside to escape back into the body of water instead of accumulating inside. Without adequate drainage holes, even small amounts of extra liquid will add up over time, leading to sinking issues.
For this reason, it's important to regularly check drainage systems for any signs of leakage or blockages. 
Damage to the Hull
Damaged hulls don't provide much resistance against waves meaning they're more susceptible to sinking unexpectedly whenever taking part in rough waters activities like surfing!
Related: Let Your Kayak Sparkle With These Essential Maintenance Tips
Therefore, always inspect each section thoroughly prior to embarking on every single journey. This ensures no major damages have been incurred previously, which could result in potential issues down the road! And invest in protective covering such as waterproof tarpaulin covers. This will help reduce the chances of suffering further damage either way!  
Poor design or construction
Finally, poor design or construction could also be a factor when determining why a boat sinks. Badly designed parts may not fit together properly, making them vulnerable spots where unwanted liquids could enter.
Similarly, poor-quality materials may not be able to handle pressure from waves or other external forces, leading them to break apart under stress. It's essential, then, when choosing materials for building a craft, that they are strong enough for their intended use.
Ways To Stay Afloat and Prevent Kayak from Sinking
When it comes to staying afloat in a kayak, there are some key tips and tricks to make sure you don't end up sinking. Even the most experienced paddlers can find themselves in difficult situations on the water. So it is important to be prepared. 
The first tip is to choose the right type and size of kayak for your needs. It's important to get the right fit for your body type and skill level. You also want to make sure you have adequate space for all your gear and supplies. This will help prevent any unbalanced weight distribution that can cause your kayak to sink.
In addition, using proper paddling techniques is essential for staying afloat in a kayak. Make sure you understand how to balance your weight properly when paddling and learn basic paddle strokes such as forward sweeps, draws, and J-strokes. These techniques will help keep you balanced while paddling and aid in keeping the kayak from tipping over or sinking.
It is also important to ensure adequate drainage holes are in place on top of the kayak so that water can escape quickly if needed. To do this, check that all of the holes are clear of debris and open enough for water to escape freely. If not, create additional holes with a knife or drill bit – just make sure not to damage any structural integrity of the boat! 
If you do find yourself in an unfortunate situation where your kayak starts sinking, there are some steps you can take to reenter it safely without panicking: 
Securely attach yourself or a buoyant object (e.g., life jacket) onto the stern of the kayak with rope or webbing
Make sure no air pockets have formed under the hull by pushing them out with your hands or feet 
Use an oar or paddle blade as leverage between yourself and the submerged part of the boat  
Reenter one leg at a time while holding onto something stable until both legs are inside
Push down on the centerline with both palms flat against each side of the hull until you're able to sit inside comfortably  
Again, kayaks can sink! But with a proper understanding of the factors that cause sinking and how to prevent it, kayakers can take measures to stay afloat and avoid accidents on the water. It's always a good idea to inspect and maintain your kayak regularly before taking it out on open waters. This includes checking all drain plugs, hatches, bungees, gunwales, seats, etc. Making sure they are in good condition and ready for use at any time!