Kayaking against the wind is an exhilarating and thrilling experience that can take you to new heights. It involves paddling against the current, which can be a challenging task but immensely rewarding.
But it can be tricky even for experienced paddlers. And it takes skill and patience to master this. Paddling against the wind takes skill, determination, and an understanding of the elements to make it out successfully.
Here, strategy is your key! You'll want to use long, powerful strokes to move your kayak forward and stay close to the water's surface to reduce the amount of drag. You should also use your paddle to help you keep your balance and stay upright in the wind.
But why take on such a challenge? For some, it serves as an opportunity for personal growth as they build skills and confidence through successful navigation. For others, it's an exciting way to experience nature in its rawest form – with all its unpredictable beauty.
In this guide to kayaking against the wind, we'll cover how to safely handle such an unexpected challenge with confidence, as well as on-water kayaking strategies for beating the wind.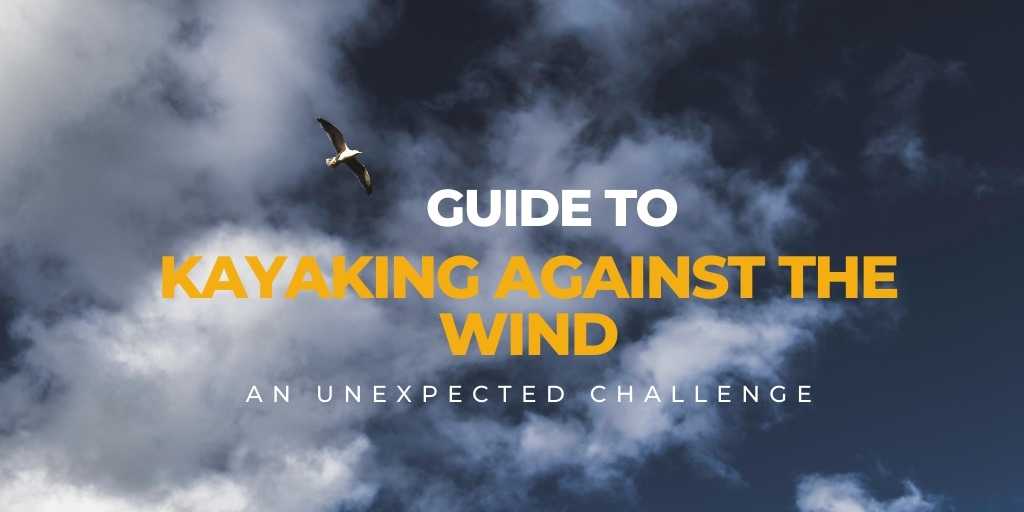 Why Kayaking Against The Wind Is a Challenge? 
Paddling against strong winds requires tremendous effort on behalf of both the paddler and the boat alike.
Without proper technique and stamina, kayakers may find themselves quickly losing ground, even if they're making great progress initially. This makes it difficult to stay on course or make any real headway despite your best efforts–and that's part of why kayaking against the wind can be so rewarding once you do finally get going!
In addition to challenging yourself physically and mentally, it's also an excellent way to experience nature up close with incredible views that can only be seen by braving these elements.
The Ultimate Guide To Kayaking Against the Wind
The journey of kayaking against the wind can be both challenging and rewarding. With the right preparation and understanding, you can maximize your success out on the water.
The wind is one of the most significant factors in kayaking. Because it affects your course, speed, and comfort level on the water. Knowing how to properly adjust your stroke to make up for changes in the wind is essential for an enjoyable trip. 
Understanding How Wind Affects Your Course and Speed
When kayaking against the wind, it's important to understand how it will affect your course and speed. The stronger the wind, the more difficult it will be to make headway in the desired direction.
To help combat this, you must adjust your stroke accordingly so that you are not fighting against strong gusts of wind every time you paddle. This means paying attention to which way the wind is blowing and using a combination of low-angle strokes and high-angle strokes, depending on where you are going. 
Adjusting Your Stroke to Maximize Efficiency
One of the most effective ways to maximize efficiency when facing strong winds is to adjust your stroke technique accordingly. Low-angle strokes involve pulling closer toward your body, while high-angle strokes require more arm extension away from your body. This will allow you to maintain balance while keeping up with powerful gusts of wind as they pass by your boat. 
Determine How To Position Yourself In The Water For Best Results
It's also important to consider how you position yourself in the water when kayaking against the wind. You want to make sure that you are balanced enough so that any sudden changes in direction don't cause you to flip over or capsize unexpectedly due to strong gusts of wind. It can also be beneficial when facing strong winds to paddle close together with other boats for support so that you can work together in order to stay on course during turbulent waters. 
Practice Patience & Perseverance For Maximum Success 
Just like any outdoor endeavor, kayaking against the wind requires patience, perseverance, and practice before mastering this skill completely. Don't let discouragement stop you from continuing, as it is natural for conditions such as these to take time to get used to and hone in the necessary skills needed for success.
With each trip comes to experience that will ultimately lead kayakers closer to their goal of making headway, even against strong winds!  
Avoiding Common Mistakes And Potential Dangers
There are some common mistakes made when kayaking against powerful winds, such as overcorrecting movements or underestimating power behind gusts which could lead paddlers into dangerous situations if not careful enough! Always keep aware of potential hazards such as changing currents or sharp rocks beneath the surface level, which could cause injury if not prepared properly beforehand!
Also, be mindful of avoiding areas that may be prone to storms or lightning strikes, as waves will become much rougher than expected during these times!
Tips For Battling Strong Winds And Rough Waters
The best way to battle strong winds and rough waters is by staying focused on maintaining control over movements at all times while always keeping safety a first priority! Be sure that each member has adequate instruction about proper techniques for battling intense weather conditions, along with being aware of possible dangers lurking beneath the surface level!
It's also helpful if everyone involved has an understanding of what type of strategy should be implemented depending on current weather conditions in order to maximize chances at success while remaining safe throughout the entire journey!
On-Water Kayaking Techniques for Beating the Wind
As kayakers, we often face the challenge of navigating our craft in windy conditions. The wind can be an obstacle to our progress, but it doesn't have to be a show-stopper. With the right strategy and techniques, you can reduce the effects of headwinds, tailwinds, and crosswinds. 
Strategies for Paddling with Headwinds
Paddling against headwinds can be one of the most challenging tasks when kayaking in windy conditions. To minimize fatigue and maximize speed, try these techniques:
Choose your paddle stroke wisely: When paddling into a headwind, use longer strokes with fewer strokes per minute; this will help conserve energy.
Increase your angle of attack: When going into a headwind, point your bow slightly higher than normal. This will help keep you on course better while conserving energy by reducing drag on the hull.
Try feathering the paddle: This technique involves using alternate sides of the paddle blade on each stroke to create less resistance while still providing forward motion.
Adjust your body position: Make sure to lean back slightly more than normal. Because this will raise your center of gravity (CG) and reduce drag on the water's surface.
Tips for Paddling with Tailwinds
Tailwinds can provide a welcome respite from strong headwinds and make getting around much easier. However, they can also become dangerous if not managed correctly. Here are some tips for managing tailwinds:
Avoid surfing waves: If you're moving quickly due to a tailwind, avoid surfing down waves, as this could cause you to lose control or even capsize in extreme cases.
Adjust your body position: Leaning back slightly more than usual will help keep you upright as well as increase speed by reducing drag on the water's surface.
Choose lower paddle strokes: When paddling with a tailwind, use shorter strokes that are closer together in order to maintain speed without expending excessive energy unnecessarily. This is especially important if riding large swells or choppy waters caused by high winds.
What to Do When Caught in a Crosswind Situation
Crosswinds present an additional challenge when kayaking since they come from both directions at once. This can make it difficult to maintain directional control; however, there are some tactics that can help manage them effectively:
Change direction frequently: Crosswinds tend to move in circles. Thereby changing direction periodically will help you stay on course without expending too much energy trying to fight them directly. Try alternating between starboard turns, and port turns whenever necessary.
Don't overcorrect: As tempting as it may be when dealing with crosswinds, it's important not to overdo it as this could lead to greater loss of control due to excessive force applied against them. So focus on making smaller corrections which should prove more effective overall.
Use sail power: If available and appropriate for your situation, consider using sails. Because these can provide an extra boost against crosswinds and help keep you heading in the right direction more easily.
Practical Considerations for Challenging Conditions
The first step is to prepare yourself with the basic rules of navigation. Understand how currents work, which landmarks should be used for reference points, and become familiar with the area's hazards. By learning these basics, you'll have a much better foundation from which to start honing your kayaking techniques.
Once you feel comfortable navigating in calm waters with basic navigation rules, you can begin practicing different strokes and maneuvers.
Whenever you're looking to perfect your turning quickly in tight spaces, try practicing in a calm lake. The slower speed and less crowded environment make it easier. Because here you can focus on technique without worrying about getting caught up in fast-moving currents or other boats!
Practicing different strokes and maneuvers will give you confidence as well as skill when approaching more challenging waters later down the line. Practice makes perfect!
Spend some time in flat water mastering your technique before heading out into an unknown environment. So that when the time comes, you'll be ready for whatever challenges may come your way.
Most importantly, remember that kayaking against the wind should be fun! Although it may seem daunting at first, don't let fear stop you from trying this thrilling activity and exploring new territories. As long as you take all necessary precautions and put safety first, paddling upwind can be an incredibly liberating and enjoyable experience that will stay with you forever!