Kayak rentals at Crystal River are perfect for those who love the outdoors and want to experience all that the river has to offer. With a variety of rental options available, there is sure to be something for everyone. From beginner-friendly kayaks to more challenging models, renters can explore all of the area's waterways with ease.
With Crystal River being so close to Orlando, there's never been a better time to get out on the water!!
While you're out on the water in a Crystal River, you'll have a chance to encounter and kayak with the manatees. These gentle creatures are known for their playful nature. Depending on the season, you'll have a chance to spot a variety of other wildlife, such as dolphins, bald eagles, and apple snails.
Another attraction at Crystal River is Three Sisters Springs. This spring is particularly beautiful and clear and is accessible only by kayak, canoe, or swim. The park features a kayak launch, a boardwalk, and change rooms. The park is also a great place to swim with manatees! And if you're looking for a day trip to Crystal River, these rentals and tours offer an array of activities for the whole family!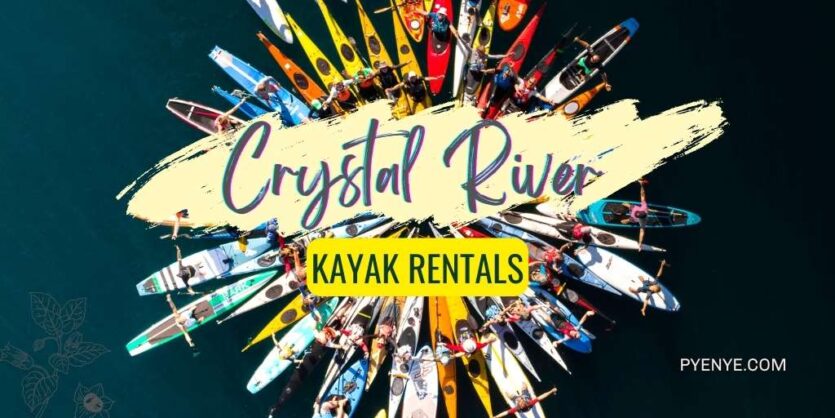 How much does it cost to kayak Crystal River, Florida?
It costs around $25 to kayak the Crystal River in Florida. This price includes the rental of a kayak, paddle, life jacket, and drinking water. However, the costs may vary. And the average kayaking trip costs $60 per person, including equipment, guide service, and lunch.
Can You Bring Your Own Kayak to Crystal River?
Crystal River is a popular destination for kayakers and can be a great place to practice your skills. However, you may not be able to bring your own kayak if you're visiting during the summer. There are several places where you can rent kayaks or buy them. But there are also several places where you can't. Make sure to check the rules before you go!
Top 9 Kayak Rentals At Crystal River
If you want to enjoy the waters of the Crystal, Florida, area, you can rent a kayak from several outfitters. Many of them offer guided tours, and you can choose from a variety of kayak rental options. Some of them offer kayak fishing.
Crystal River offers some of the best inshore fishing in Florida, and there is no shortage of fish to be found.
Other businesses in Crystal River sell kayaks, canoes, and SUPs and can help you find the perfect vessel for your next adventure.
Paddles Outdoor Rentals
One of the top five kayak rentals in Crystal River, Florida, is Paddles Outdoor Tours. Known for their kayak tours of Three Sisters Springs, Paddles also offers paddleboard and water bike rentals. In addition to kayak tours, they also offer water bike rentals and guided eco swim tours.
Open seven days a week, Paddles Outdoor is a great choice for your next rental. Their customer service is top-notch, and the kayak tours are highly admired.
Paddles Outdoor Rentals provides top-rated tours in Crystal River, Florida, including guided eco-swims and kayak tours to Three Sisters Springs.
However, they offer a variety of packages that are ideal for families and couples.
In addition to kayak rentals, Paddles Outdoor Rentals offers the best tours in Crystal River, Florida, including guided eco-swims, swims with manatees, and paddleboard rentals. They also offer water bike rentals, wetsuit rentals, and more.
You can rent your equipment at any time of the day and can even book a swim with manatees tour in advance. They are open seven days a week, and their staff is dedicated to providing excellent service to all customers.
However, kayak rentals in Crystal River can be found near Hunter Springs Park, just across the street from the city's parking lot.
Cool Waters Kayak
Cool Waters Kayak rents canoes, kayaks, and stand-up paddleboards (SUP) to individuals and groups. They have a variety of kayaks that you can rent, and they also offer good prices. For example, you can rent a kayak for just $8 per hour, or you can rent it for the whole day for just $20.
Cool Waters Kayak Rentals is located at the Crystal River National Recreation Area in Florida. They are open from 10 am to 6 pm.
Furthermore, they also offer a wide range of equipment to accommodate everyone's needs, from beginner canoes to advanced kayaks.
Crystal River Kayak Company and Dive Center
The Crystal River Kayak Company and Dive Center is a family-owned business that has been operating since 1978. They offer kayaks, scuba diving equipment, and snorkeling gear for sale.
They also offer instruction in both kayaking and scuba diving. The company offers a variety of classes that are designed to teach beginners how to safely explore the waterways around Crystal River.
Besides, their kayaks are some of the best on the market, and they have a large variety of dive equipment to choose from.
The dive center also offers PADI-certified divers access to a variety of diving sites, including wrecks, coral gardens, and mangroves.
Customers can enjoy the convenience of being able to pick up their equipment at one location and start enjoying their surroundings right away.
If you're kayaking with kids or small children, you'll love the opportunity to paddle alongside them and keep them safe.
Crystal River Adventures
River adventures offer the ultimate Florida adventure tour, including up-close-and-personal manatee encounters. This is an amazing opportunity to see wildlife in its natural habitat, as well as enjoy the stunning scenery.
You can also take a scalloping expedition or a cruise on an airboat. All of these activities will make great Instagram posts, and many of them are also car-free!
The company offers tours and rentals for canoes, kayaks, and rafts, as well as stand-up paddleboards. They also offer nature walks and fishing trips.
The attractions are family-friendly and easy to navigate, making them great choices for groups of all ages.
Here all boats have been inspected and are operated by licensed captains. The tour packages include scallop hunting, manatee snorkeling, and swim-and-paddle manatee tours.
If you're interested in manatees, try a crystal river kayak tour from the center. You'll be surrounded by Wildlife Refuge lands, and kayaking with manatees is a unique experience.
Furthermore, they're open seven days a week, and you can book tours and kayak rentals online. It's easy to find a place with kayak rentals and stand-up paddleboard rentals in Crystal River, FL. There are numerous locations to choose from, and all staffs are knowledgeable and helpful.
Crystal River Kayak Co. & Dive Center
Crystal River Kayak Co. & Dive Center is located at 1422 SE US Hwy 19 in Crystal River, Florida. To get there, drive to Citrus County, approximately 60 miles north of Tampa. The center provides kayak rentals, life vests, and waterproof maps. Guests can explore the local waterways and observe the natural wildlife as they go.
The Kayak Eco Swim Tour is one of the most popular tours at the Kayak Co. & Dive Center. You can rent a single-seat kayak for an hour or two, depending on the length of the tour.
Double-seat kayaks are also available for hire. The Clear Kayak Adventure Tour, meanwhile, costs $60 to $99 per person and takes up to three hours.
Depending on how many people you're traveling with, you can choose between a sunset or sunrise tour.
Crystal River Water Bike Rentals
Crystal River Water Bike Rentals offers the best way to experience nature without having to get wet. The rental company offers both kayaks and water bikes, which allow customers to get up close and personal with the various waterways in the area.
Both of these watercraft are equipped with high-quality equipment that allows customers to explore the waterways at their own pace.
With both kayaks and water bikes, customers can enjoy a variety of different waterways, including the crystal clear waters of the St. Johns River and the mangroves of Crystal River National Wildlife Refuge.
With a variety of sizes and styles to choose from, you're sure to find the perfect rental for your needs. Plus, with crystal-clear waters and stunning views, you'll be sure to have a blast while cruising around on our rentals!
In addition to providing kayak rentals, the company also provides cruising equipment for its customers. Customers can launch from a private cannon, and they need to equip life vests and waterproof maps to help them navigate the waterways.
Manatee Paddle Sales & Rentals
The Manatee Paddle Sales & Rentals at Crystal River offers visitors a unique way to enjoy the crystal clear waters of the area. With rentals available for both single and tandem paddles, these canoes provide an enjoyable experience for all types of paddlers.
Their rental fleet includes both traditional and electric paddleboats, and our sale inventory includes both new and used paddleboats.
Whether you're a beginner looking for an easy introduction to boating, or an experienced sailor looking for a new challenge, the Manatee Paddle Sales & Rentals at Crystal River have the perfect boat for you!
Family Adventure Charters
Crystal River Family Adventure Charters offers a unique, family-friendly experience that can't be found anywhere else in the area. With multiple options for adventures, including kayaking, tubing, fishing, and horseback riding, every member of your group will have their own unique experience. From beginners to experienced adventurers, there is something for everyone on our tours.
They provide all the boating equipment and supplies you'll need. So you can just relax and enjoy the ride!
Plus, our knowledgeable guides are always on hand to provide information and answer any questions you may have about the area.
Customers can choose a half-day or full-day adventure. Besides, there's plenty to do on each trip.
From paddling through mangroves to exploring the Many Waters Resort and Marina, their trips will offer something for everyone. Above all, the beautiful waterways provide ideal conditions for boating, fishing, and kayaking all year long.
Hunter Springs Kayaks
There are a variety of crystal clear kayaks and canoes for rent, as well as regular and hybrid models. Hunter Springs Kayaks offers free public parking. And its location is two blocks south of 1st Avenue and four blocks from Hunter Springs Park.
You can also rent a paddleboard from here. Before you go, you'll need to determine the perfect one for you. A regular kayak is approximately eight feet long. You can rent kayaks as small as ten feet long, while a hybrid is approximately 20 feet long.
One of the unique features of Hunter Springs Kayaks is the location. Within a three-minute walk of the company's headquarters, you can see year-round manatees frolicking in the springs.
Moreover, you can paddle a short distance to Three Sisters Springs, where you can snorkel with manatees!
Life vests are provided to keep you safe and above the water. For beginners, you can even try a yoga pose while you paddle!
Crystal River Kayaking Regulations
Crystal River kayaking regulations are designed to protect the environment and the public. The following are some of the regulations that you must follow while kayaking in the Crystal River:
The crystal river kayaking regulations consist of a minimum age requirement of 12 years old and a maximum weight limit of 225 pounds. Both the kayaker and the accompanying boat must have a current edition of the National Oceanic and Atmospheric Administration's (NOAA) Recreational Boating Rule (RBR) or equivalent document.
The RBR includes safety information specific to kayaking such as how to handle a capsize and how to use a VHF radio.
What is the ideal time to encounter manatees in Crystal River?
Crystal River is home to the largest concentration of manatees in Florida. The manatee population peaks during the winter months, between December and March. During this time, the water temperature is warm enough for the manatees to survive but cold enough to keep them from coming in too close to shore.
Are there alligators in Crystal River?
Crystal River is known for its crystal clear water and pristine beaches. But many people are unaware that the Crystal River has alligators. Alligators have been living in Crystal River for over 100 years, and they are considered part of the community.
The alligators in Crystal River live in a man-made lagoon that was created in the 1930s, and they typically stay close to the shoreline. Here are the precautions for kayaking with gators.
Crystal River Kayak launch
Crystal River Kayak launches are the perfect way to explore the area's waterways. With a kayak, you can explore the calm waters of the river and its tributaries without ever having to leave the safety of the launch.
Here are three different kayak launch locations at Crystal River:
North of Crystal River on US Hwy. 19
Crystal River Kayak launches are located at the mouth of the Crystal River on State Road 19 in Crystal River, Florida. You can easily access the launch from either the east or west banks of the river. However, the best launch locations are on the east bank, just below where State Road 19 crosses the river.
The launch has a dock that can hold up to four kayaks, and there is also a floating dock for canoes or SUPs. The surrounding area is full of wildlife, including alligators and turtles. Besides, you can have a look at our guidelines on kayaking with alligators from here.
The launch for the East Fork Crystal River is located in a swampy area next to a creek.
The launch for the West Fork Crystal River is located on a small island in the middle of the river.
So whether you're planning to explore the waterways or simply want to get out on the water for a relaxing paddle, kayak rentals at Crystal River offer all kinds of boats. With plenty of options for both beginner and intermediate kayakers, there's sure to be perfect for you!