Anna Maria Island is a standout destination for kayaking. The island features crystal clear waters and diverse ecosystems, making it the perfect place to get out on the water and explore. From easy beginner trails to more challenging routes, there's sure to be a kayaking adventure that suits your skill level. 
The calm, shallow waters of Anna Maria Island are perfect for new kayakers. Bimini Bay, in particular, is safe for beginners and is surrounded by land. Just be sure to keep a close eye on the depth of the water to avoid damaging fragile seagrass. 
The most scenic part of Anna Maria Island is its waterways, which are dotted with beaches. Many of the islands' kayaking spots are located on the bays where Tampa Bay and the Gulf of Mexico converge. Some of these beaches are Manatee Beach and Coquina Beach.
For those looking for a more challenging paddle, there are several other options. You can also take a tour with Happy Paddler, a kayaking company in Manatee Beach. There are also plenty of resorts and lodges offering rentals and guided tours, so you can easily find an activity that fits your needs.
Check out these top kayaking spots on Anna Maria Island. And don't forget about the mangroves on Lido Key!
Top 7 Kayaking Destinations Near Anna Maria Island
Anna Maria Island is known for its beautiful beaches and crystal-clear waters, making it a perfect destination for kayaking. Some of the best kayaking spots include the Gulf of Mexico, the Straits of Florida, and the Caloosahatchee River.
Here are some of the best kayaking destinations on Anna Maria Island: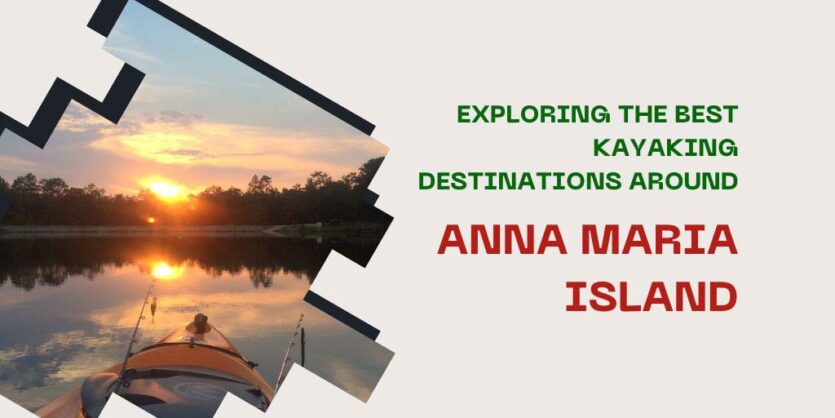 Manatee Beach
Kayaking is a great way to enjoy Anna Marie Island's beautiful beaches and turquoise waters. Manatee Public Beach, Bean Point Beach, and Manatee Bay are all great places to kayak on the island. Located on the northern tip of the island, these three locations provide a more tranquil experience than other shorelines. The pristine water and white sand make this spot a great spot for a romantic beach picnic.
Here's my take on manatee kayaking, this includes guidelines and other destinations for kayaking with the manatees.
If you're looking for a more challenging kayaking experience, head to the Perico Preserve. This preserve is located right on the island, with pristine water and salt marshes, uplands scrub, and oak hammocks. No matter your level of experience, there's a place for you to learn and explore. Just be sure to bring a camera, because there's no shortage of wildlife to view!
Coquina Baywalk
Taking a stroll along Coquina Baywalk is a nice way to spend an afternoon if you are looking for something to do on a sunny afternoon. It is also a great place to go beach volleyball or just relax and enjoy the sunshine. This easy trail takes you from Longboat Key to Bradenton Beach and beyond.
Besides, if you're planning a family vacation, Coquina Beach is an excellent option. The beach has a public parking area, restrooms, and a cafe. The Baywalk itself is less than a mile long, but it's very beautiful and has plenty of picnic areas. Once you've completed the coquina Baywalk, you can launch your kayaks.
Bayfront Park
The northern part of Anna Maria Island is home to Bayfront Park. It runs along the bay between the Rod & Reel Pier and the Anna Maria City Pier. There are picnic tables, shelters, and an expansive beach area. You can access the bay from either Leffis Key or the Robinson Preserve. Both locations offer spectacular views of the island's wildlife. While you're on the bay, take some time to enjoy the shops and waterfront restaurants.
For families, the waterfront park at Bayfront Park offers ample amenities such as restrooms, showers, and a pull-up parking area. Kayak and paddle board rentals are also available here. Kayak rental in Bayfront Park is very popular among visitors. The water at this location is tranquil, clear blue and the waves are calm. Afterward, you can relax and enjoy yourself at the park's picnic pavilion.
You can also enjoy the island's culture and the local arts and culture by visiting a nearby historic town. There are several restaurants on Anna Maria Island that serve fresh seafood, and many of them have live entertainment.
Bean Point
If you're interested in kayaking on Anna Maria Island, you may want to head to Bean Point. The area is scenic and perfect for watching wildlife. There are two entry points for the water sports, one on Fern Street and one on Gladiolus Street, and both are marked by signs. You can take a free trolley to Bean Point or walk from the Anna Maria City Pier. It takes about 16 to 20 minutes to get to each location.
Bean Point is a private beach on Anna Maria Island that was once a secret but is now one of the island's most popular attractions. It has incredible sunset views and some of the best vacation rentals on the island. Bean Point is named for the first permanent resident of Anna Maria Island, George Emerson Bean. The beach is located at the northern end of Bean's original homestead.
Leffis Key Preserve
Another popular kayaking location on Anna Maria Island is the Leffis Key Preserve, which is a 20-minute drive from Anna Maria Island. The preserve is on the southernmost tip of Anna Maria Island and is accessible from the south by going through Longboat Key Bridge. Upon arriving at the preserve, turn left before the bridge to the island preserve. It is on the right after the bridge.
You can find plenty of parking and restrooms along the way. The preserve is open from eight in the morning until sunset. Whether you choose to kayak or hike, you will surely enjoy the beauty of the Anna Maria Island landscape.
Fort DeSoto
If you are looking for a great place for kayaking near Anna Maria Island, then look no further than Fort DeSoto. This park spans over 1,100 acres and is nestled between the Gulf of Mexico and Tampa Bay. It is a great place to paddle in a kayak or rent a canoe. If you want to spend some time on land, you can visit the Fort DeSoto Museum, which features the history of the area and its inhabitants.
In Fort DeSoto Park, there are two swimming pools with shallow, calm water. Besides a lifeguard station and picnic area, the beach is lined with trees. Be sure to grab a fishing license while you're there!
You can also stay at Fort DeSoto Park Campground for a more relaxed experience. Campsite amenities include modern restrooms, laundry facilities, and dump stations.
On the island, you'll find three public beaches. On weekends, these beaches fill up fast, and traffic is heavy along Gulf Drive. You can park in one of them and then walk along the shore.
Bean Point is also a great place to watch the sunset. The island has lots of cute shops and restaurants, and there's no shortage of things to do. Just make sure to bring your camera because parking is a bit limited here.
Lido Key mangroves
The first stop on your trip is Lido Key, a picturesque drive south of Tampa. The water is calm and shallow and a great place for younger adventurers to learn about the area's native wildlife. You can even spot dolphins and manatees during your trip. If you're inexperienced at kayaking, consider taking a guided tour.
There, you can rent a kayak from Sea Life Kayak Adventures and paddle through the mangrove tunnels in a day. You'll also find guided tours, which are a great way to get a full overview of the area. These tours are great ways to experience Anna Maria Island's mangroves while observing wildlife up close.
Top Fishing Charters in Anna Maria Island
When it comes to water activities, Anna Maria Island is known for its beautiful beaches and crystal-clear water. And if you are looking for a great place to go fishing, the top choices for charters on Anna Maria Island are many. This article will discuss a few of the top fishing charters and their captains.
Read on to find out why they are great. And don't forget to book ahead of time!
Captain Major
Captain Major Fishing Charters may be your best choice for Anna Maria Island fishing charters. The company is owned by Captain Sam Major, a fifth-generation native of the Tampa Bay area. You can choose from different charter options in the Gulf of Mexico or inshore/nearshore waters. All equipment, bait, and cleaning are provided for you, as well as a list of what to bring with you. You can also expect a fun and memorable experience with Captain Major and his team.
While fishing on the Gulf of Mexico is the most exciting activity on Anna Maria Island, you can also try catching a variety of other fish species. There are 13 fishing charters on the island, so you'll never run out of options! With a charter from Captain Major, you'll be sure to catch something big! In addition to shark fishing, there are also charters that specialize in catching Tarpon. Tarpons live in shallow waters, and crab is the go-to bait.
Captain Mike
One of the best things about fishing with Captain Mike is his attention to detail and his ability to customize trips to fit your needs.
Located in the Tampa Bay area, this charter has great reviews from satisfied customers. His knowledge of the local waters and the local fisheries allows him to take you to the hot spots for the biggest bites.
The captain will also assist you in getting your license. If you're an experienced fisherman, you can also benefit from his extensive knowledge.
In addition to fishing, he offers other boating experiences that will leave you feeling energized and rejuvenated after a day on the water.
Besides fishing for permit, snook, and sharks, this charter also targets flounder and snapper. The captain provides all necessary fishing equipment, licenses, bait, and tackle. If you bring your catch home, you can simply freeze it and enjoy it later. The captain will file your catch so that you can savor the flavor of fresh, local seafood.
Top Boat Rentals in Anna Maria Island
If you're planning a visit to Anna Maria Island, you'll definitely need a boat. A small barrier island is a great place for water activities like dolphin tours and fishing charters. There are many different boat rentals on the island to choose from.
Here are some of the most popular types of kayak and boat rentals. Read on to find out more about them. Whether you're looking for a day of fishing, or a romantic sunset cruise, Anna Maria Island can accommodate you.
Island Pearl Excursions
For your private boat rentals, Island Pearl Excursions is a great choice. Located at the Bradenton Beach Marina, this company offers sunset cruises and daytime sightseeing tours. In addition to offering a variety of excursions, they also have a wide selection of accommodations to meet your needs. You can choose from a variety of different kayaks and other watercraft, including pet-friendly rentals and group rentals.
Island Pearl Excursions offers various types of excursions, from dolphin watching to fishing trips and private charters. There are many regional organizations and boat rentals to explore Anna Maria Island's waters. For those looking for an activity on the water, the company also offers kayak and paddleboard rentals.
Anna Maria Island Boat Rental
AMI Adventure Rentals offers affordable boats for all budgets and can accommodate large groups. Their eight-seat pontoon boat can cruise the silky waters of the AMI peninsula, while a guided eco-tour can be booked through the company's website.
In conclusion, Anna Maria Island offers a variety of kayaking destinations, each with its own unique features and attractions. Whether you're looking for secluded coves to relax in or challenging rapids to explore, there's somewhere on the island to go kayaking. So pack your gear and get out on the water!