Kayaking through the Grand Canyon is a great opportunity for introspection and growth. Kayaking is one of the most scenic ways to experience the Grand Canyon. The waters of the Grand Canyon are tranquil and serene. You can even go on a fishing expedition here.
Do you love the feeling of kayaking down a river as the scenery changes around you? If so, then maybe your next vacation should include a trip to the Grand Canyon. As one of North America's largest and most iconic landmarks, it is important for those who visit to take advantage of one of the many other ways to see and experience this natural wonder.
The experience will leave you feeling at peace, at the moment, and filled with sheer joy…! If you are planning your first trip to the Canyon before, don't worry! Here are some things to keep in mind while planning your trip.
Let's begin with the following questions;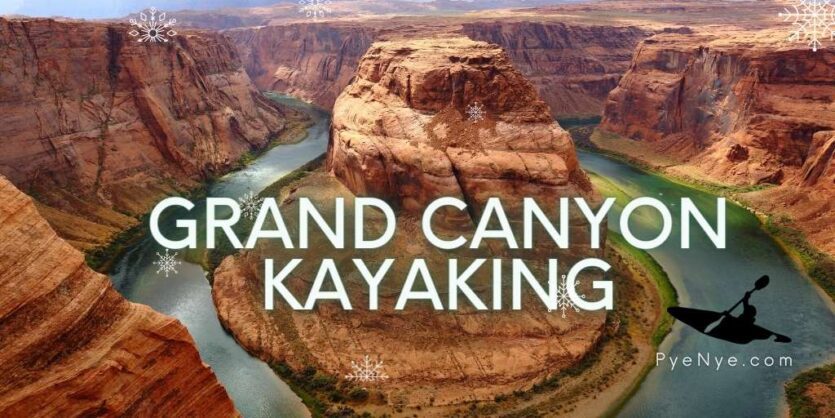 Do You Need A Permit To Kayak in the Grand Canyon?
Yes, a permit is required to kayak the Grand Canyon. These permits are issued on a weighted lottery basis in February. If you miss the draw, you'll have to apply the following year again. If you do decide to go kayaking through the Grand Canyon, it's best to plan your trip for a cooler month and avoid high water.
As water temperatures in the Grand are consistently 52 degrees, you'll need to pack clothes that dry quickly. You'll also need rain gear, hiking boots, sun protection, and water shoes.
First, you will need to obtain a permit to kayak in the Grand Canyon. The waiting list for a permit used to be 27 years long, but now it is a weighted lottery system. While your chances are lower, they are still good. There are two main ways to get a permit, either through commercially guided trips or by applying for private permits. The wait time is the same, but the wait for a permit is longer in the summer months.
Where Can I Kayak in the Grand Canyon?
If you wish to kayak in the Grand Canyon, you have come to the right place. The Colorado River flows through the Canyon, providing you with an unforgettable experience. It is also a great way to see the beauty of this National Park up close. Those who are new to kayaking may wonder if they're up for the challenge.
A guide can help you decide if the Canyon is the right place to try this sport. In the Grand Canyon, kayaking is a great option for those who want to see the natural beauty of the area from a different perspective. The river offers excellent scenery and is a great way to spend the day. The clear and shallow water makes kayaking more adventurous!
There are two main sections of the Grand Canyon. The upper section begins at Lee's Ferry and continues past the Angel Bright Trail, which is a landmark at the halfway point. Most guides split the river into two sections; the upper section begins at mile 89 and ends at mile 225. The lower section begins at mile 89 and goes all the way to the mouth of the Canyon. There are numerous outfitters that can provide you with the gear you need for the trip.

Best 5 Kayaking Spots In The Grand Canyon
The Canyon is a vast landscape with many spots to paddle. Kayaking in the Grand Canyon is a great way to see the stunning scenery from a new perspective. If you're a beginner, you should consider trying the Whitewater Rapid. This is a short, gentle, and relatively easy rapid. After you've gotten the hang of it, you can head for the Zambezi line to the right of the top pour-over. Be aware that the river can be rough and that you should be careful when choosing where to paddle.
Black Bridge
Kayaking is a great way to explore Western North America. The Black Bridge on the Colorado River, near the Grand Canyon, is one of the best kayaking destinations in the region.
Located at mile marker 203, the Black Bridge offers limited parking and attracts many people for its fishing spots and short hiking trails. It also provides easy access to kayakers who want to explore the off-the-grid canyon walls that surround it.
The black bridge is filled with trees, plants, and wildlife which are all abundant in this area. A rainforest would be very similar to this because there are many plants that grow in it. It is only accessible by boat or by hiking upstream from Black Bridge Campground over a not-so-easy but doable two miles hike. It's a popular kayaking destination, where kayakers head to the Black Bridge for its scenic beauty and white water rapids.
Phantom Ranch River Trail
Kayaking in the Phantom Ranch River Trail is one of the best ways to experience the Grand Canyon. The trail boasts many offers for paddlers, from calm meandering rivers to steep whitewater rapids. Kayaking in the Phantom Ranch River Trail is one of the best ways to experience the Grand Canyon. The trail offers many offerings for paddlers, from calm meandering rivers to steep whitewater rapids. It's perfect for both novice and experienced kayakers alike.
When you are kayaking down the river at Phantom Ranch, Arizona, you are one step closer to the Grand Canyon of Arizona. The river begins just below the Bright Angel Creek Bridge and stretches for 23 miles before emptying into the Colorado River at Phantom Ranch.
If you are a nature enthusiast or enjoy water-based recreation, this is a beautiful place to visit!
Granite Camp
Rowing on the gentle waves of the Granite Camp is not only a great way to take in the beautiful scenery, but it will also provide you with an unforgettable experience. In spite of the rich history, beautiful scenery is best experienced through kayaks.
The water here is fresh and clean, making it perfect for kayaking. It is no wonder that kayaking trips are one of the most popular things to do in this area. There are many different types of kayaks available for rent at the Grand Canyon National Park store.
The Granite Camp near Grand Canyon is a national park in Arizona where you can kayak down the Colorado River. You can also take advantage of other water recreation, including swimming, fishing with kayaking. On your way to the Granite Camp, you will see how different scenery looks depending on which side of the river you are on.
The Ruby Rapid
Kayaking in the Ruby Rapid near Grand Canyon is a thrilling and adventurous experience that will leave you feeling exhilarated and accomplished. This is the first big rapid in the Grand Canyon. With a decent grade of 40 feet per mile and an average speed of 8 miles per hour, it's no wonder this section of the Colorado River was named for its rich red hue.
The route to follow is on the far left, where you'll find the best kayak line. It's a great spot for those who want to make it as long as possible. There's a large hole on the left side of the river, so be prepared for a big wave. It's a challenging rapid, so be sure to check the water levels and the weather before you go.
Here, most of the kayaking trips consist of a two-day, one-night trip, and they include a meal at Phantom Ranch. With only 25 kayaks available per day, these excursions sell out fast, so contact your travel agent today!
Kayakers can explore these waters by day and then camp nearby to enjoy stargazing at night. Brands such as Jackson Hole Outfitters offer guided trips for different levels of kayakers, and rental gear is available for those who do not own their own kayaks and life jackets.
Pipe Creek
Kayaking in the Pipe Creek near Grand Canyon is an awe-inspiring experience. Just six feet above the ribbon of water run through with white, wispy cascades of foam; one can spot damselflies, dragonflies, and butterflies perched on rocks. The occasional canyon walls rise abruptly along either shoreline—and redwing blackbirds perch on top, watching kayakers go by below.
If you are looking for an alternative way to enjoy one of America's natural wonders, consider kayaking in Pipe Creek near the park.
How Long Does It Take to Kayak Through the Grand Canyon?
There are several ways to find out how long it takes to kayak through the Grand Canyon, but there's no set time. Depending on the amount of water, it can take anywhere from four to six hours. If you're wondering how long it takes to kayak through the Grand, it's best to start early in the morning or even during the week. You'll also see fewer other kayakers, which makes it less hard and much safer.
If you plan to kayak through the Grand, it can take about five to ten hours. You'll want to pick a guide with some experience, but the cost can be prohibitive.
You'll be able to choose between the two most popular routes. The first is the Cataract Canyon, which offers the best views. The second is the Westwater Canyon, which is famous for fishing. You'll pass many large waterfalls, but you'll have to wait for your turn at Horn Creek. If you're looking for a more leisurely route, you can take the Colorado River, which has a lower gradient.
Grand Canyon Guided Kayaking Tours
Grand Canyon Guided Kayaking Tours are a great way to explore the world's largest Canyon. If you are looking for an active adventure, this is the tour for you! You'll paddle your way down the Colorado River through one of seven different routes, all of which have their own uniqueness. The more adventurous trips also venture into high-walled side canyons through narrow passages and even slot canyons.
Four Season Guides
Kayaking in the Four Seasons Guides has long been one of the most popular activities for tourists visiting the Grand Canyon. Visitors to the popular complex will be able to enjoy kayaking through calm waters surrounded by canyon walls or through fast-moving rapids, depending on their preference. There are also guided tours available. Kayaking is a great way to explore the Grand Canyon and see it from a new perspective!
The Four Season Guides offer many different programs for solo kayakers and groups alike. For individuals looking to tour the Canyon on their own, they offer a private 3-day kayak tour where you can explore at your own pace with one or two paddlers.
Arizona River Runners
Kayaking down rapids can be an exhilarating experience for those who have done it before. The Arizona River Runners provides a kayaking trip that is perfect for beginners or those who want to try something new. They offer a lot of different options – from just a few hours to a multi-day trip and from a scenic downriver run to a more challenging whitewater excursion.
The Arizona River Runners offers kayaking trips through the Grand Canyon and recently launched three new features for this summer's season.
It can be accomplished by anyone who has kayaked before and is ready for a challenge. As you paddle your way down the Colorado River, you will experience an unforgettable way to enjoy all that Grand Canyon National Park has to offer.
Grand Canyon Kayaking Tips And Guidelines
Kayaking in Grand Canyon can be a thrilling experience, but it is also not without risks, especially if you have never been there before. Whether you are new to kayaking or experienced, these tips can help make your kayaking trip to Grand Canyon safe and enjoyable. To help with your trip, here are some kayaking tips for beginners.
Kayaking in the Grand Canyon is not difficult, but it does require prior experience and a leader for the trip. Moreover, the price of a permit to kayak in the Grand Canyon also varies depending on the size of the group and its length. The following is a guide to getting a permit to kayak in the Grand. Each year millions of people come to kayak in the Grand Canyon. The challenge is not just getting there, but how to enjoy the beauty and serenity the Canyon has to offer.
If you are considering renting kayaks in the Grand Columbia, read on to discover the costs.
Know The Rapids
The first thing you should know is how to navigate the rapids. If you have no experience with whitewater, try portaging or scouting ahead. The second thing is to make a plan, so you're sure to get out and enjoy yourself. You can also hire a guide to help you navigate the Canyon. A guide will also give you tips on where to put your kayak. Once you've made a plan, it's time to paddle.
The most popular rapids are Class III and IV. If you're soloing, you need to be confident enough to run and scout these waters. Otherwise, you'll have to endure a swim through a boulder garden, which is not fun. Once you're past the Crystal Hole, you can paddle the Gems Rapid, which has several fun rapids: Tuna, Agate, Emerald, and Ruby. The Gems Rapid is another series of lateral waves. After the gems, you'll reach Nixon Rock, which is a fun end to your trip.
Make Sure You Dress Accordingly
While the water is cold, it's a great experience, and the best way to get there is by kayak. You can also rent a paddle to go kayaking and rafting. If you're a first-timer, make sure to bring your own drysuit. A paddler's floats are incredibly comfortable. The river's currents are cool and make the trip an unforgettable adventure.
Don't Forget The Essentials For Kayaking In The Grang Canyon
First, you'll need a guide who's familiar with the Canyon and a group leader. Then, you'll need to bring your own gear because most airlines don't accept kayaks and canoes. You'll have to arrange private cargo shipping, which can be pricey, depending on the size and weight of your equipment. In this case, renting gear is the best option.
Grand Canyon Kayak Launch And Rent
If you want to spend a day in the Canyon, you can rent a kayak at a Grand Canyon kayak launch. While this may seem like an expensive luxury, you will be glad you did once you experience the stunning natural beauty. While you're there, you can check out the nearby hiking trails and take advantage of free wifi. In addition to the boat rental, there are also many other places you can enjoy the outdoors. During your trip, you can enjoy a breathtaking view of the sweeping Canyon.
The first place to launch your kayak is at the Bair Ranch Rest Area, which is on the Colorado River. This section of the river is home to a number of kayak launches, and you can get a permit from the Bureau of Reclamation. After you obtain your permit, you can begin your journey down Colorado. Once you've reached Yuma, you can paddle through Arizona and California. Then, you can paddle to the next destination.
Once you have your permit, you'll be able to launch your kayak at the Grand Canyon. The river itself is so beautiful and so wild that you'll be paddling through a world of beauty. However, the river can be very dangerous if you don't know where to go. If you decide to kayak downstream, plan on being picked up or taking a towed upstream. If you're going to see the sights, you might even spot some Anasazi petroglyphs or other fascinating rock formations. You can stop for a picnic at one of the Grand Canyon's wash beaches.
Kayaking in the Grand Canyon is one of the most awe-inspiring adventures in the world. The Canyon's depth and breadth are hard to comprehend when viewing it in person, but even harder yet when viewed through a photo. Experiencing the Grand Canyon up close and personal can be breathtaking; this is why many people take guided kayaking tours along the Colorado River that run along its edge.