Kayak rentals around Lake Havasu offer some great opportunities to explore the area and view the scenery. There are many options for rentals, from a wide range of styles and sizes to those for beginners. There are also several different types of watercraft, including kayaks and paddleboards.
The water is calm and clear, making it perfect for kayaking. There are also a few small islands that can be explored.
A Brief To Lake Havasu Adventures
---
Lake Havasu is a large reservoir in Arizona that was created by the construction of the Parker Dam on the Colorado River. The lake is a popular destination for fishing, boating, and other water sports.
There are so many businesses that rent kayaks around Lake Havasu, and furthermore, there are several places where you can put in and paddle.
That's why I particularly love Lake Havasu!
Besides, the lake offers good opportunities for fishing for bass, catfish, and other species.
And if you're looking for a unique way to experience the beautiful lake, you can choose to rent a Hobie kayak. To find a Lake Havasu kayak rental, you can look for one near a ramp or beach. If you're planning on paddling the Colorado River or the upper portion of the lake, you'll find a Western Arizona Canoe and Kayak Outfitter, which can arrange guided trips of all levels and experiences.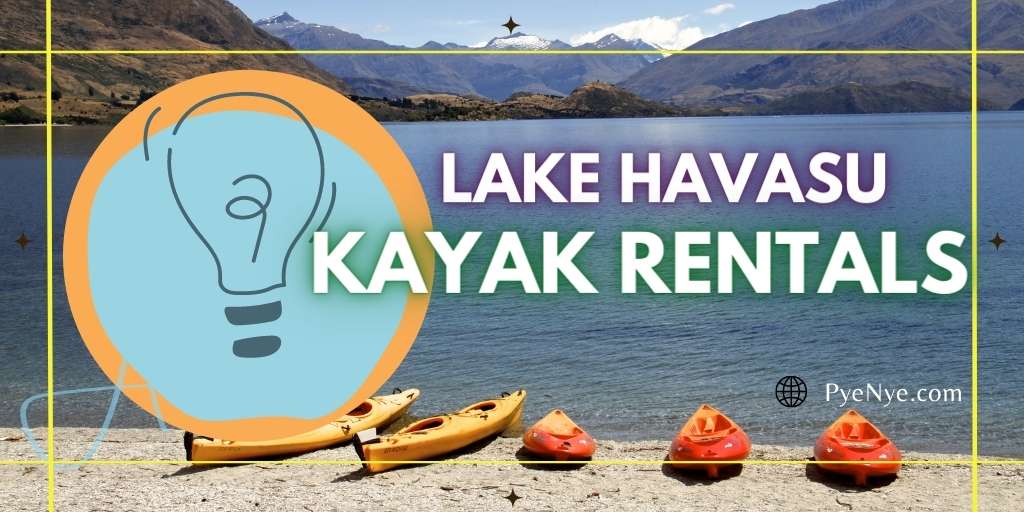 Top Kayak Rental in Lake Havasu
You can easily rent a canoe or kayak in Lake Havasu. The Colorado River and Lake Havasu's warm water make this a great destination for a paddleboard. This inland body of water is perfect for any kind of water sports, including stand-up paddleboard rentals.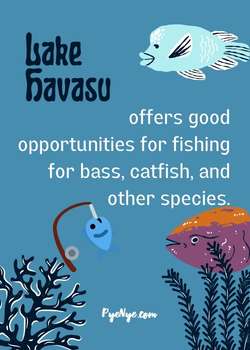 You will need a license for any portable unpowered watercraft if you plan on kayaking in inland waterways. It's also important to remember that you'll need to pay a small fee to enter the lake, but it's well worth it!
Here are the top kayak rentals in Lake Havasu;
Wet Monkey Powersport Rentals
If you're looking for the best boat and jet ski rentals in Lake Havasu City, Arizona, Wet Monkey Powersports is the company for you. They provide boat and jet ski rentals, as well as ATV and jet ski tours. They're the premier ATV and boat rental company in Lake Havasu. This rental is located on the beautiful shores of Lake Havasu, which means that you'll have a great time.
Wet Monkey can be an excellent choice for people who enjoy boating and is a great choice for those who want to try something new.
The staff is extremely friendly and helpful, and the prices are affordable.
You'll be picked up early in the morning and dropped off at the same time every day. Then you'll be dropped off in an air-conditioned van that seats six people.
Remember to come back early or you might end up putting down a non-refundable deposit. The boat is also gas-gauge, so you'll know how much to fill up your tank before returning it.
Overall, Wet Monkey boat rental is one of the most professional kayak rentals in the area. However, there are some other kayak rentals at Lake Havasu.
Nautical Watersports Boat Rentals
If you are looking for a lake boat rental in Lake Havasu City, look no further than Nautical Watersports Center. With convenient locations on the water, they offer everything you need for a fun day on the water. If you're a first-time renter, consider a free lesson before you make your reservation. Here's a detailed review of the services you can expect.
To start off, try a houseboat rental. This type of watercraft rental is great for family vacations or road trips with friends.
You can also rent motor yachts, pontoons, or ski boats. If you're looking for a thrill, you can rent a jet ski or Sea-Doo.
You'll want to wear a hat and sunscreen so you can avoid the sun's harmful UV rays.
Another option is a houseboat rental, which is perfect for a road trip with friends. Other types of boats you can rent on Lake Havasu include pontoons, motor yachts, and ski boats. If you're looking for an adrenaline rush, you can rent jet skis or Sea-Doos. Whatever type of watercraft you choose, you'll be sure to find something fun and exciting to do on the water.
Another option for boat rentals is a small yacht rental. A half-day boat rental on Lake Havasu will cost around $140, while a full-day rental can cost $4,000 or more. You can even rent a fishing boat if you have a large group. If you're a first-time renter, be sure to ask about the price in advance.
Champion Rentals
If you're looking for the best rates, Champion Boat Rentals in Lake Havasu would be the perfect one. This company offers great rental rates and great customer service.
The staff at Champion Rentals is always on hand to answer your questions. You'll be able to get the exact type of watercraft you're looking for and even get a discount for booking a few days in advance.
Unlike other rental companies, Champion kayak rentals in Lake Havasu offer a cancellation policy.
If you have to cancel your stay for any reason, you can get a full refund if you cancel at least 14 days before your check-in date.
But if you cancel less than seven days in advance, you'll lose half of your deposit.
A Brief To Lake Havasu Kayak Tours
A Brief To Lake Havasu Kayak is a tour company that offers guided kayak trips throughout the area. If you don't own a kayak, you can rent one in town. A number of companies offer this service, but you can also rent a kayak from the company itself. A brief to Lake Havasu Kayak Tours involves renting a kayak from a local vendor.
Take Lake Havasu kayaking to the next level.
---
To kayak on the Colorado River, you will need to take the Havasu National Wildlife Refuge. This reserve protects over 30 miles of the Lower Colorado River. The Topock Gorge is a natural stretch of the river with high cliffs on both sides. This riparian area is home to a number of unique species of birds, including the southwestern willow flycatcher. You can also enjoy a scenic view of the canyon from a boat on the river.
One of the most popular multi-day trips is the Davis Dam to Lake Havasu City. This trip is perfect for the novice paddler or those looking for a more challenging trip. Most people do the El Dorado Canyon on Lake Mohave in three days. This is another scenic trip that can take several days but is a little more challenging. If you have the time, it is worth booking in advance.
Vacation Rentals On The Beach
A vacation rental is a great way to get away from the heat and sunshine of Arizona. Lake Havasu is an ideal location to rent a boat. With three bedrooms and comfortable furniture, this luxurious home will provide you with everything you need to enjoy your stay.
With free internet, HD TV, and kitchen equipment, you can enjoy all the amenities of a resort, but still have room to relax and unwind.
A vacation rental condo at the Lake Havasu Marina will provide you with amazing views of the lake and channel. The condo has a fully equipped kitchen and can accommodate up to six guests. The property also has its own swimming pool for guests to use.
The rental company has a great reputation, so be sure to read their reviews before booking. There are many great places to visit during your stay in this stunning location.
The two-bedroom rental offers a large boat parking area, heated swimming pool, and spa.
This unit is a great choice for families, couples, and groups of friends. It features a well-equipped kitchen and two well-maintained bedrooms.
And it also opens to a garden-style patio with a table and chairs. It is located in a quiet area of Lake Havasu City, just a short drive from the beach.
Where can you kayak in Lake Havasu?
Depending on your skills, you can find plenty of options in the city of Lake Havasu for kayaking. Luckily, the area is home to several designated canoe and kayak sites and boat ramps. You can also rent a kayak or paddleboard for your trip. However, all the kayak rentals in Lake Havasu operate differently.
Some require that you pick up your equipment from a specific location, while others will deliver it for a fee within a specific radius. Before heading out on the water, be sure to contact the company to make sure it's still in business.
Do you need a permit to kayak in Lake Havasu?
If you've ever wanted to kayak in Lake Havasu, the answer is "yes!" Luckily, it doesn't require a permit. Many places offer easy access to the water for canoes and kayaks. Launching your boat from one of these sites is easy, and you can usually find a parking spot right at the water's edge. But if you want to paddle the entire length of the lake, you'll need a permit.
How can you rent kayaks and canoes in Lake Havasu?
You can easily rent kayaks and canoes in Lake Havasu City. The different kayak rentals in Lake Havasu operate differently. Some are located on the water while others offer delivery within a certain radius.
It is best to contact the rental company in advance so they can ensure that the equipment will be available when you need it. Also, the rental prices can vary. You may want to compare prices from different companies so you can find the best deal!
Guidelines To Kayak Rentals In Lake Havasu City AZ
Those looking for kayak rentals in Lake Havasu City, Arizona, will want to consider several factors. First of all, they must know the rules. This is a water sports area, and there are many regulations that you must follow. If you're a beginner, you should take a lesson from a professional before taking out a rental. Next, you need to know the rules of the lake, because it's a deep body of water!
There are a number of kayak rentals in Lake Havasu City, and finding one that's convenient will make your trip a breeze. For example, you don't have to worry about driving. Just go to the marina and pick up your rental. It's a great location to rent a kayak. Once you've picked up your kayak, you can choose between full-day or half-day rentals.
When renting a kayak at Lake Havasu, make sure that the company offers a safety class. You must take a federally-approved boating safety class before you can rent a kayak. Look for the logo of the organization in order to make sure you're in good hands. This will help you avoid injuries while on the water. You can also ask about the safety requirements for kayak rentals in Lake Havasu. You should also be prepared for the weather and any other unexpected problems that might occur.
Boating Safety Class
Before you get on the water, be sure to complete the boating safety class. This is a must in order to rent a kayak. Look for a company with the logo of the boating safety class to ensure that you're safe. Be sure to look for a company that meets these requirements. They should also have a federally-approved safety program and state-approved staff to make your kayaking experience as safe as possible.
Lastly, kayak rentals at Lake Havasu are a great way to explore nature. The lake is beautiful and the kayaks are easy to use. There are plenty of rental shops around the lake, so it is easy to find a place to rent a kayak. If you are looking for a fun day out on the water, kayaking on Lake Havasu is the perfect activity.