If you're planning to go kayaking in Key Largo, there are several things that you need to be aware of. The tropical area of Key Largo is a great place for all recreational water sports, but it is especially well-known as a kayaking destination.
With calm waters and clear sky views, it is a perfect destination for planning kayaking trips to escape from their daily lives!
Though The water in the keys is warm and clear, you need to be aware of the wildlife and the other boaters. It's also important to pay attention to the surrounding environment and wildlife. For example, manatees can be dangerous if you interrupt them! You can have a look at the manatee kayaking guidelines from here.
Where To Kayak In Key Largo?
If you're an experienced kayaker, you can find some hidden gems around the area. For example, if you venture off west of the park, you can kayak in the mangroves and find patches of seagrass.
If you are new, you can try it at John Pennekamp Coral Reef State Park. Whether you're looking for a leisurely paddle on calm waters or want to go off-roading through winding mangrove channels, there's something for everyone. The first thing to consider is what kind of kayaking trip you're looking for.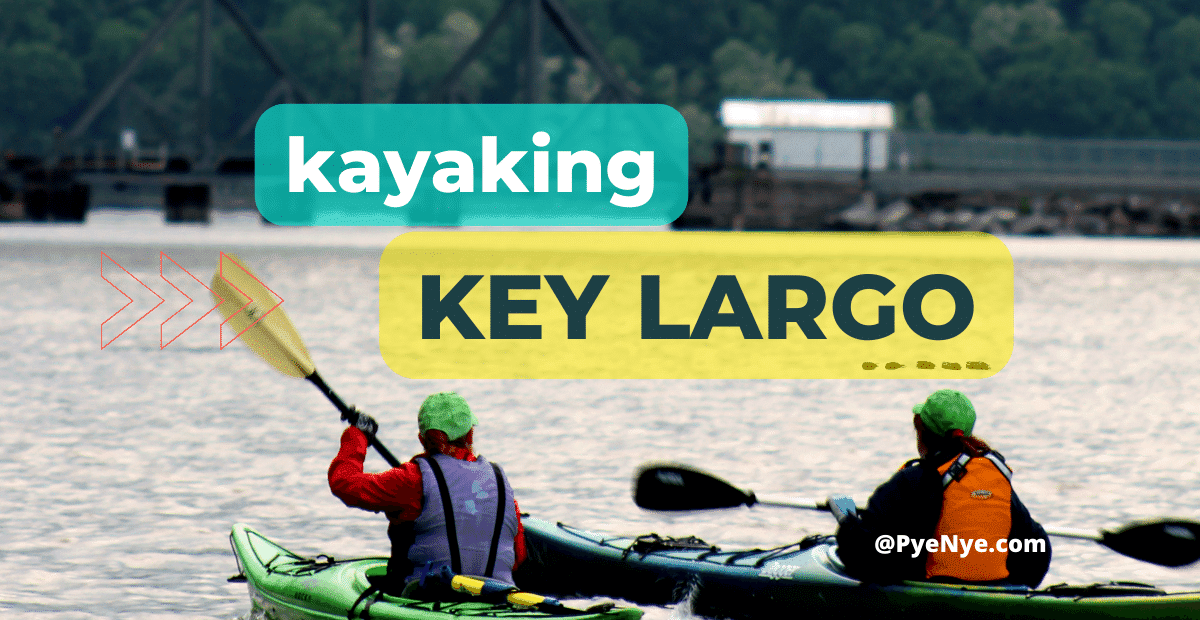 Best Kayaking Destinations In Key Largo
It's time to get out on the water and explore the Everglades! One of the best places to kayak is in Key Largo. This area of Florida is a popular kayaking destination, with gorgeous beaches and plenty of activities for tourists. However, a nice option for those who want to avoid crowded waters, Key Largo has many spots perfect for kayaking with crystal clear waters and beautiful reefs.
There are many places where you can kayak in Key Largo. Some of these spots are famous for their manatees, and some are less well known. Moreover, there are also some locations where you can snorkel. These waters are known for their sponge gardens and beautiful coral. No matter what you choose to do, you're sure to have a great time. Below are some of the most popular places to kayak in Key Largo.
John Pennekamp Coral Reef State Park
John Pennekamp Coral Reef State Park is the only marine state park in the continental United States. It is located on Key Largo, about 2 hours north of Miami, and attracts around 700,000 visitors every year. Visitors can enjoy snorkeling, scuba diving, fishing, kayaking, canoeing, and many other activities.
A kayaking adventure through the park offers visitors an up-close look at this watery wonderland featuring natural marine habitats of living coral, conchs, sea urchins, rays, barracudas, and more.
Each year, kayaking attracts tourists from around the world to John Pennekamp Coral Reef State Park in Key Largo. Kayakers are drawn for the opportunity to take in the natural beauty of the reef without having to deal with saltwater all over their gear. Besides, the shallow water also provides a safe place for younger children to take on this adventure activity. This is an excellent way for families to spend quality time together exploring the rich history of Florida's only living coral barrier reef.
From kayaking to fishing, there are plenty of choices for the avid angler. John Pennekamp Coral Reef also provides a campground with bathhouses and picnic areas, as well as lodging for visitors. The park offers guided tours of the reef during the winter season.
Harry Harris Beach and Park
You might be thinking of kayaking in the turquoise waters and exploring the coral reefs and shipwrecks. Harry Harris Beach and Park is a great place to start kayaking in Key Largo, Florida. The water is calm, and the views are spectacular. Although, there was one time when a man-eating shark attacked me!
The fun starts when you paddle out of the calm water of the bay leading up to the park. The waves are gentle enough for beginners to take on but can get choppy if you are not careful. Families with small children love the area because it is not very deep and there is plenty of fish to see.
Rock Harbor
Kayaking is a great way to explore the wildlife and nature preserves of the Florida Keys. The ocean is a perfect place for kayaking as it provides calm waters, expansive scenery, and a temperate climate year-round. Besides, Rock Harbor on Key Largo offers a full-service kayaking experience with all equipment included.
Florida is a state with plenty of water and is perfect for those who like to kayak. Rock Harbor in Key Largo is one of the most beautiful and open spots to kayak, and many people come to this area for this reason.
Best of all, you can bring your own kayak or rent one from a local business, so it's cheap too! Besides, Mile Markers Restaurant is located directly on the water and has dock facilities with covered parking nearby.
Lower Sound Point
Kayaking in Lower Sound Point, Key Largo, is a great way to explore the beautiful shoreline. The water is calm, and you can spot various types of birds that are native to Florida. Keep an eye out for stingrays in the shallow waters.
Lower Sound Point in Key Largo has something for everyone. With the water around the shore almost a deep blue color, it is easy to see why this would be a beautiful spot for kayaking. It is also very secluded and calm, which is perfect for people who are looking for some peace and quiet.
The best time to come is winter and late fall when the water is cool and calm. This twelve-mile paddle is great for those looking for an adventure as there are mangroves, coral reefs, and plenty of sea life to see.
North Sound Creek
North Sound Creek in Key Largo is a well-known kayaking spot for boaters who want to explore the waters of the Gulf. Above all, the creek is considered one of the best kayaking spots in Florida and offers various islands just offshore for you to explore.
It has an average depth of 3 feet, and the water level is usually very calm. The creek spans from 26 miles all the way to Miami. The creek starts in the Everglades National Park and ends at Florida Bay, which is a saltwater estuary. Though it is mostly freshwater, there are some sections that have a mix of fresh water and saltwater.
North Sound Creek has a variety of living creatures, including manatees, turtles, and mangroves. The creek may also have alligators, so be careful! Here's the guide on kayaking around the alligators.
Looe Key National Marine Sanctuary
If you're looking for an adventure that will take you out of the ordinary and into the Florida Keys, then come to Looe Key National Marine Sanctuary. Visitors can see old shipwrecks or enjoy the many types of marine life that inhabit these waters.
There are many kayaking tours and companies located in Key Largo which offer kayaking tours through the beautiful channels and mangrove forests. The water is calm and clear, so it's a great way to see wildlife such as loggerhead turtles, sea turtles, nurse sharks, stingrays, and even some small fish.
The sanctuary provides natural beauty and is home to many species of marine life. Throughout the sanctuary, there are multiple canoe and kayak launching sites with signs instructing visitors what precautions they must take before entering kayaks in the water. There are also several islands for exploring during daytime or nighttime adventures.
Key Largo Mangrove Kayaking
One of the most popular activities in Key Largo is mangrove kayaking. If you've never been on one of these tours, it's time to do it! You can rent a kayak and even paddleboard and venture out on your own. You'll need water, sunscreen, sunglasses, a hat, a camera, and plastic bags to carry your kayak and other gear.
The Key Largo mangrove kayaking is a tour of the mangrove forests and shallow water. Mangroves are trees that live in saltwater. They grow as far as 3 miles inland! Kayak tours let you explore this beautiful ecosystem up-close and personal.
Key Largo mangrove kayaking – a unique and exciting way to see the Florida Keys in an area much less traveled than other parts of the island.
A variety of mangroves make up the Florida Keys, including some that are not accessible by road or boat. Mangroves grow along estuaries, rivers, and lakes, providing valuable habitat for many species, including fish, birds, reptiles, and mammals. This is where you can truly experience nature at its best. In fact, most of the flora and fauna on these islands are found nowhere else!
Key Largo Kayaking Trips And Tours
Key Largo kayaking tours are a great way to explore the beautiful mangrove forests and natural wildlife of this Florida region. A variety of kayaking tours can be found, from a half-day to a full-day trip, including group and private tours. Tour guides will take you down the Indian River Lagoon and share their knowledge about the flora and fauna that inhabit these waters.
A kayak tour through the mangroves in Key Largo is a unique and beautiful experience. The adventurer in you will never forget the gorgeous views and the incredible wildlife that you've encountered on your tour. There are many different tour companies that offer mangrove explorations in the area, so you're sure to find one that suits your style and budget. While you're in Key Largo, don't hesitate to contact one of these tour companies!
A variety of kayaking tours can be found, from a half-day to a full-day trip, including group and private tours. Tour guides will take you down the Indian River Lagoon and share their knowledge about the flora and fauna that inhabit these waters.
These tours are great for people who are looking for an adrenaline rush or just want to spend a few hours on the water. Stand by Tours was founded in 1994 and has been conducting kayaking trips ever since!
Kayak Fishing In The Key Largo
Kayak fishing in the key largo is a great way to fish and explore at your own pace. The best time for kayak fishing is usually early morning or late afternoon when the fish are feeding. Moreover, fishing with a kayak allows you to fish around submerged mangrove roots, poles, and poles that might not be accessible from a dock or boat.
The waters surrounding the island have some unique characteristics. The area is home to over 600 species of fish. Kayak fishing in Key Largo is a great way to catch Tarpon, Grouper, and Redfish. There are several parks in the area that offer paddling opportunities, including John Pennekamp Coral Reef State Park, the first underwater park in the U.S., and the Everglades National Park, a collection of wetlands and forests.
One example of how kayak fishing is becoming an increasingly popular sport is that in Key Largo, there are already ten kayak rental businesses. However, one main attraction for kayak fishing is that it can provide a cheaper alternative than owning a boat or hiring one.
Key Largo Kayaking Guidelines 101
The lagoons surrounding the city of Key Largo are perfect for kayaking. The 6700-acre refuge is home to the only living coral in the continental U.S. A kayak trip to Key Largo's mangrove wilderness is a great way to explore the island and see the mangroves up close. When you kayak in the winter, you can even scuba dive on the scuba diving grounds of the refuge.
If you're an experienced kayaker, you can visit the nearby Sammy Creek Landing to try out the area. You can access these two locations by paddling either way, but you should go clockwise on the ocean leg. The wind direction is important to choose a route, as going the opposite way may result in a choppy ride.
Besides, snorkeling is very popular in Key Largo. For kayaking and snorkeling, the Key Largo reef is one of the best places to kayak. However, you'll need to pre-book your trip to avoid the pandemic season. If you're interested in snorkeling, you can visit the nearby islands. During this time, you'll want to plan your tour to coincide with low tide.
Moreover, you can kayak through the manatees' habitat. In Key Largo, you can paddle through the canals and channels. If you're a beginner, you can even kayak along the ocean without any safety concerns. The manatees are a common sighting and a great way to see them in the wild. In addition to exploring the island's coastline, you'll find many kayaking destinations within the city.
If you're looking for a more relaxing kayaking experience, try Tom's Harbor Cut Bridge area of Curry Hammock State Park. Both places are excellent places for beginner kayakers. For a more adventurous adventure, head to Cocoa Plum Beach. While the water here is not as calm as the other places in Key Largo, it's still a nice place to paddle. Besides, if you have kids, try Sombrero Beach. The waters here are perfect and the playground for children.
However, you can go kayaking at any of the parks in the area. There are sheltered waters that are protected from the wind. For a more challenging outing, you can go fishing in the open waters. However, if you're into fishing, consider a sit-on-top kayak, which is a comfortable way to stay in the water. For a more adventurous day, head to Tom's Harbor Cut.
In conclusion, the key largo kayaking is a great way to experience nature while getting exercise. There are many different kayaking opportunities available for different skill levels and interests, such as mangrove kayaking, fishing, and snorkeling. Kayak rentals are affordable, and there are multiple companies that offer tours.
Above all, If you're looking for a fun way to spend your day with friends or family, key largo kayaking is a perfect choice!